Lopez blitzed early as Marlins drop opener
Righty allows eight runs, grand slam in first inning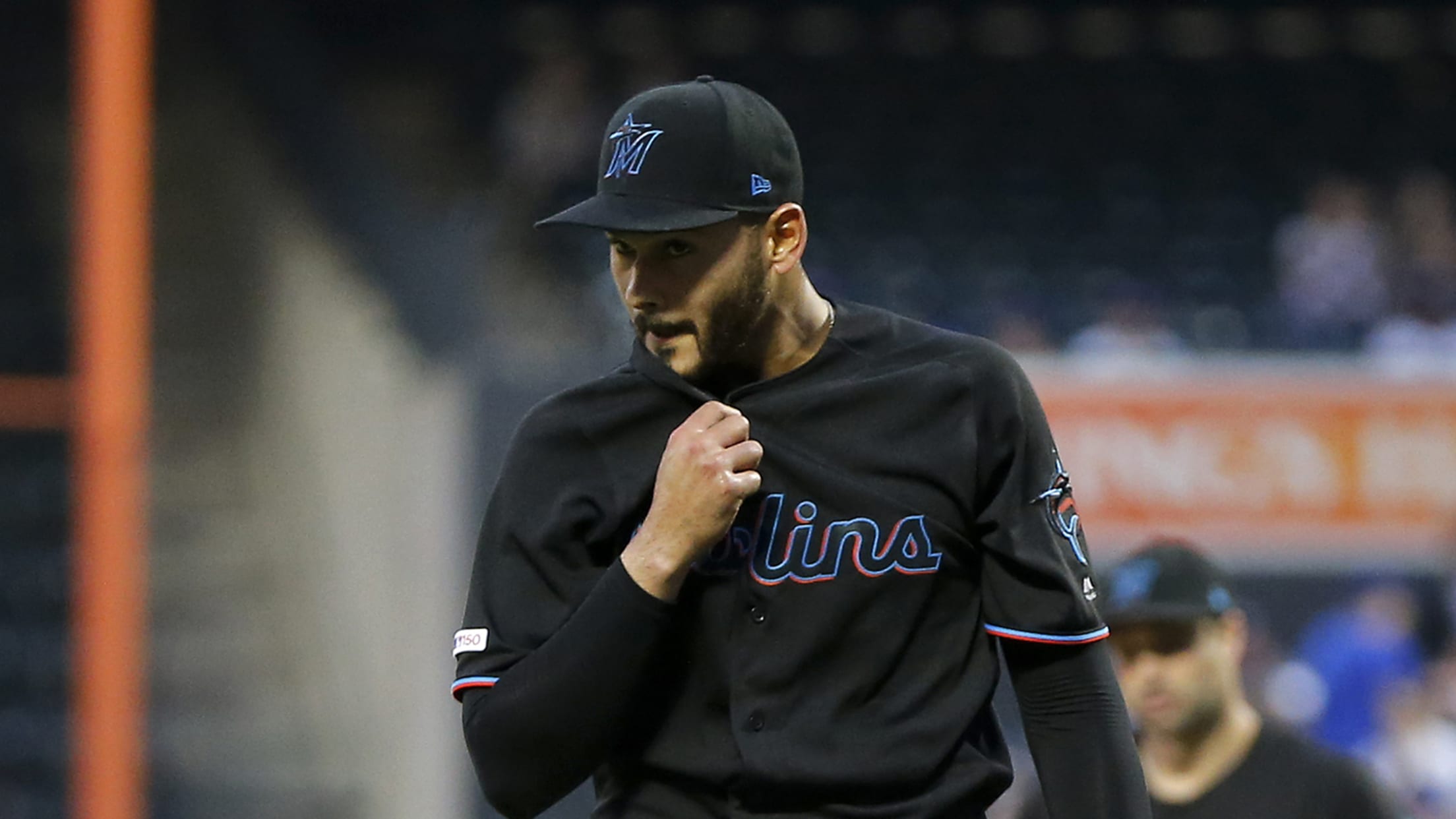 NEW YORK -- It was the case of Pablo Lopez taking one for the Marlins. He lasted three innings and allowed 10 runs as the Mets trounced Miami, 11- 2, at Citi Field on Friday night. Before Friday's game, Lopez had a WHIP of 0.43 in the first inning. That
NEW YORK -- It was the case of Pablo Lopez taking one for the Marlins. He lasted three innings and allowed 10 runs as the Mets trounced Miami, 11- 2, at Citi Field on Friday night.
Before Friday's game, Lopez had a WHIP of 0.43 in the first inning. That number escalated in a big way. To start the game, eight batters reached base before Mets right-hander Zack Wheeler struck out. In all, 13 batters came to the plate that inning, while eight runs scored. Amed Rosario highlighted the scoring by hitting a grand slam.
"Everything was clicking there. To get out to a good lead is something that's been tough for us, so it is huge," Mets left fielder Jeff McNeil said.
By the time the inning ended, Lopez's first-inning WHIP had soared to 1.63.
"It looked like he didn't have life on his fastball. He wasn't locating very well," Marlins manager Don Mattingly said. "Things got snowballed. You could tell guys [knew] what [pitch] was coming. It's hard to get that many hits in a row."
Lopez said he didn't throw enough first-pitch strikes and needed to slow the game down.
"You can't expect good results when you are leaving stuff over the plate," Lopez said. "They swung the bat and hit the ball hard. That's what they did to me."
Lopez thought he was going to get out of the inning unscathed when Marlins right fielder Brian Anderson threw out McNeil at third base on J.D. Davis' single for the first out of the inning, but things spun out of control for Lopez after that.
"That was a great throw by Anderson," Lopez said. "He has been doing that all season. I knew then I was one pitch away [from getting out of the inning], but everything kept happening quickly. I kept falling behind and getting hit."
One would think that Lopez would be taken out of the game after that inning, but he lasted two more frames and allowed two more runs. Lopez did throw 36 pitches in that first inning, but as Mattingly put it, he wasn't going to allow his bullpen to pitch eight innings. By the time he left the game, Lopez saw his ERA balloon from 4.03 to 5.93.
"It didn't go well from the beginning," Mattingly said. "They kept coming. We were hoping the second inning would be better. Even though he gave up one that inning, it didn't feel it was getting any better. It was one of those nights."
Lopez said he can't wait to get back on the mound in five days.
"I'll get back here, get back to work, watch video. Tomorrow is the first day of preparation," Lopez said.
Bill Ladson has been a reporter for MLB.com since 2002. He covered the Nationals/Expos from 2002-2016. Follow him on Twitter and Facebook.