Sandoval to get second opinion on shoulder
After MRI finds 'great deal going on,' third baseman to see Dr. Andrews on Monday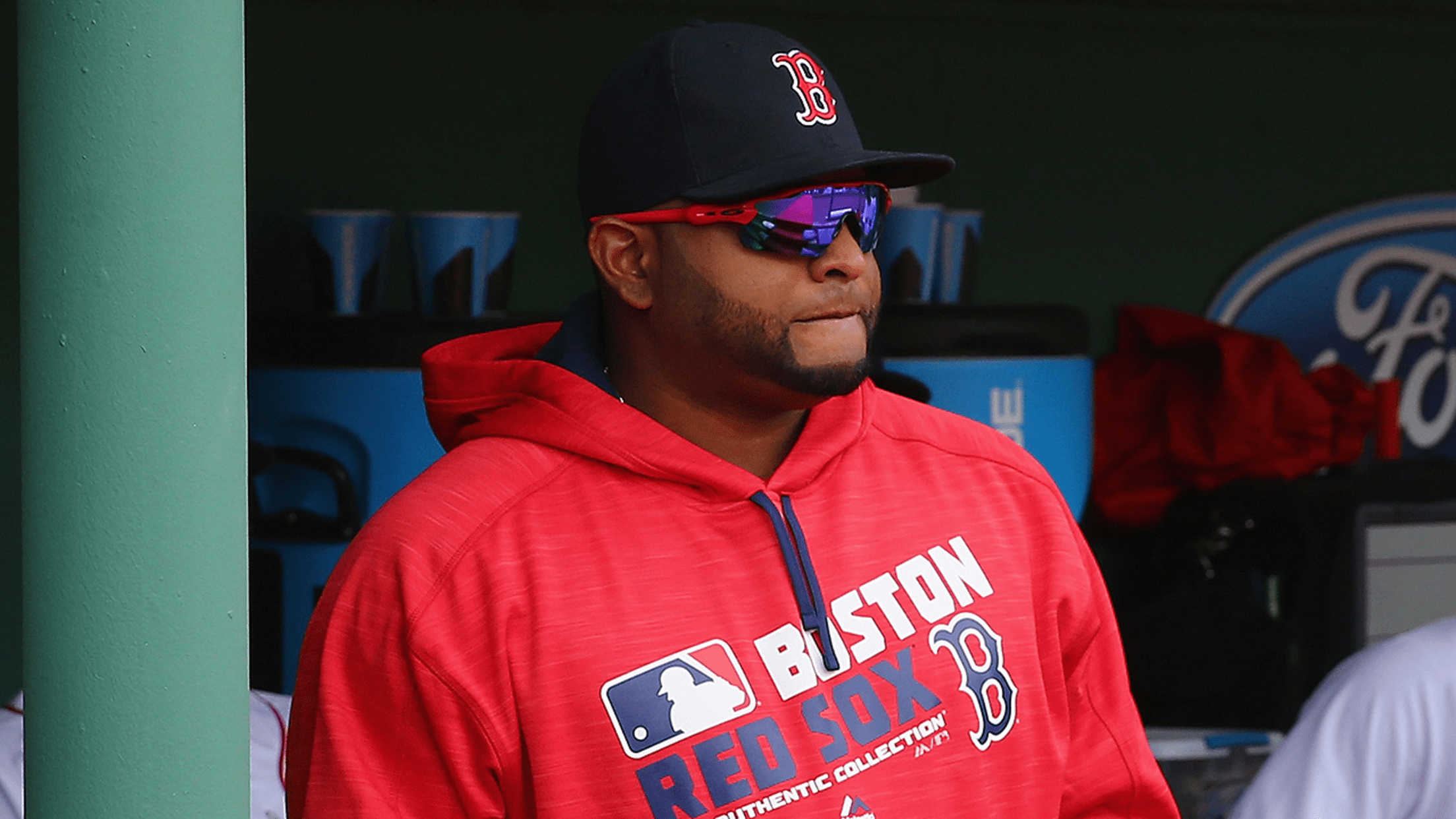 Pablo Sandoval went on the 15-day disabled list prior to Wednesday's game. (Getty)
BOSTON -- Red Sox third baseman Pablo Sandoval will get a second opinion on his ailing left shoulder from Dr. James Andrews on Monday.Until that time, the Red Sox won't comment on any specific findings from an MRI, which took place Thursday."There's a great deal going on in his left
BOSTON -- Red Sox third baseman Pablo Sandoval will get a second opinion on his ailing left shoulder from Dr. James Andrews on Monday.
Until that time, the Red Sox won't comment on any specific findings from an MRI, which took place Thursday.
"There's a great deal going on in his left shoulder from a medical perspective," Red Sox president of baseball operations Dave Dombrowski said. "He is going to get a second opinion on Monday morning from Dr. Andrews. Then we will have a disclosure at that point on what actually is involved with his shoulder."
Sandoval seemed concerned after hearing the results from the initial MRI.
"I got the first opinion," he said. "I don't want to tell you what's going on, but it's pretty bad, so I want to get a second opinion. It's going to take me some time to decide what we're going to do."
Boston put Sandoval on the 15-day disabled list prior to Wednesday's game and said it was unsure how the injury occurred.
"Until we get the second opinion, we're going to wait to make any kind of statements on that because we want to make sure whatever is diagnosed is the proper one," Dombrowski said. "We talked to his agent, Rick Thurman, about that this morning. He felt comfortable with that situation, as does Pablo, and so that's what our plans are."
Sandoval lost his starting job at third base to Travis Shaw late in Spring Training and was in the lineup just once in the first seven games before being shut down with the injury.
A report on Yahoo Sports surfaced earlier this week in which Sandoval, according to anonymous sources, only wants to stay in Boston if he can play every day.
"It's never been termed that way to me," Dombrowski said. "I know he wants to play every day, but he also understands the situation."
Sandoval maintained Friday that he understands why the Red Sox gave the starting job to Shaw and denied telling the club to trade him if he wasn't playing regularly.
At this time, the Red Sox are more focused on Sandoval's health than his eventual playing time.
"Well, right now, we're in a situation where we need to get him healthy," Dombrowski said. "And when people ask what his situation is, really, speculation doesn't serve me any good. It's just really a situation, the first thing with him is to tackle the medical aspect of it. And I would do that with any player."
Could Sandoval's injury require surgery?
"I'm not going to speculate on anything, but I won't rule anything out, either," Dombrowski said.
"I don't know if I'm going to have surgery. I'm just going to see what happened," Sandoval said. "What's the [second] opinion? How can I get back as soon as possible? I just want to know what's going on in there."
The Red Sox look forward to having more clarity on the situation by Monday.
"Well, Dr. Andrews, if he's not the best, he's one of the best," Dombrowski said. "We've sent many people to him. But I think when you're dealing with a situation -- and that's with any player, really -- you want to make sure what exactly is in there, that he's one of the best, and so you send it to him.
"I've had plenty of guys go there and come back with the same exact diagnosis and everything be smooth. And other guys, sometimes they see a little bit different. Dr. Andrews, I have the utmost respect for him, as does our medical team, as does Pablo and his agent."
Ian Browne is a reporter for MLB.com.