Padres' Dickerson encouraged after playing catch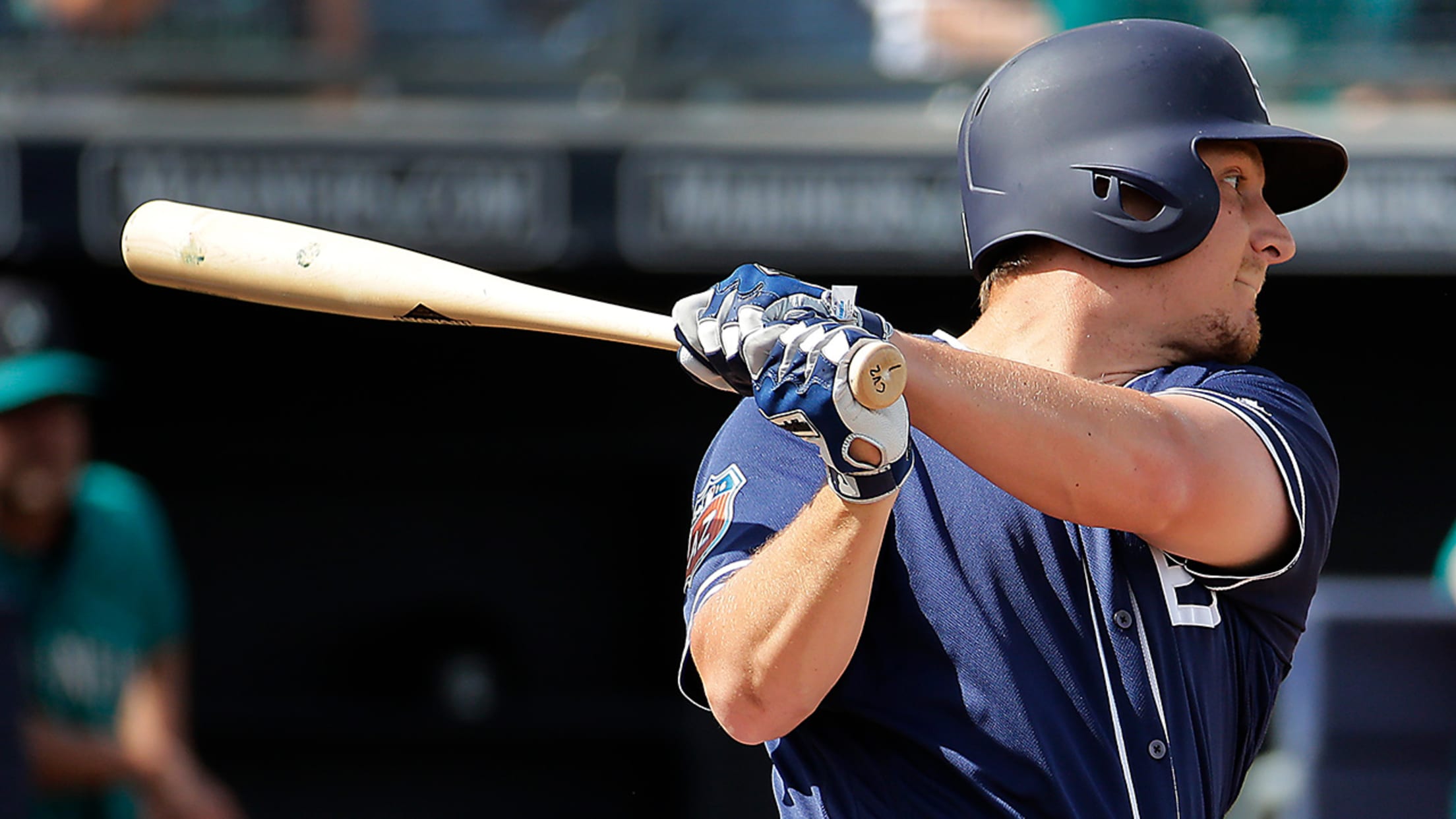 Alex Dickerson played catch Wednesday for the first time since injuring his back. (AP)
PEORIA, Ariz. -- Alex Dickerson is torn between two states of mind.He'd love to be on the field with his teammates instead of nursing a stiff lower back. But it's March 1, and he understands the need to temper his zeal for getting back into game action.In that regard, the
PEORIA, Ariz. -- Alex Dickerson is torn between two states of mind.
He'd love to be on the field with his teammates instead of nursing a stiff lower back. But it's March 1, and he understands the need to temper his zeal for getting back into game action.
In that regard, the Padres left fielder took an important step forward Wednesday, playing catch for the first time since he sustained the injury on the first weekend of camp.
"It feels good to be moving around on a baseball field," Dickerson said. "It was a bit of a frustrating start. But going through the process of going out there and throwing, it felt like I hadn't missed a beat."
The Padres have purposefully taken things slowly with Dickerson, given the timing of his injury. They'll continue to do so.
But for Dickerson, any time spent on a field is a positive sign.
"It's a small step, but it feels like a big one," Dickerson said. "The first time you're on the field, you always wonder if it's going to feel different. But it felt the same."
Ruiz impressing in big league camp
Christian Bethancourt isn't the only catcher-turned-pitcher in camp.
Last season, the Padres moved Minor League backstop Jose Ruiz to the mound. They liked his arm enough to protect him from December's Rule 5 Draft by adding him to the 40-man roster.
Ruiz has made 11 professional pitching appearances -- and only one above short-season ball. But manager Andy Green threw the 22-year-old righty straight into the fire on Tuesday. Ruiz responded by tossing a 1-2-3 fifth inning against the Giants without a ball leaving the infield.
"It's an extremely high-upside arm," Green said. "Every catching convert immediately draws a comp to [Dodgers closer] Kenley Jansen. He's not Kenley Jansen by any stretch. But he has the opportunity to develop into a very, very good relief pitcher. It's going to take some time. You're not going to see him at the top of the Minor Leagues to start the season. But it's an arm with a lot of intrigue."
Ruiz struggled mightily as a hitter, but the results changed once he took the rubber. In 12 1/3 frames, he allowed three hits and no runs while striking out 14.
The Bethancourt comparison is easy -- especially considering their impressive arm strength and fastballs that can reach upper 90s. But their circumstances are drastically different.
"The nice thing with him instead of Christian is he's got three years ... to learn how to pitch," Green said. "Christian Bethancourt has about three weeks now. It's a sizeably different amount of time to refine the pitching aspect. I've already seen adjustments from the first side [session] I saw [Bethancourt] throw."
News and notes
• The Padres won't rush Carter Capps into game action as he continues to recover from Tommy John surgery. Capps will throw in either simulated games or Minor League games before a potential Cactus League debut in mid-March.
• Rule 5 infielder Allen Cordoba was scratched from the lineup Wednesday with left hamstring tightness.