Green says Padres need to 'raise the bar'
After 7th loss to Giants, team holds closed-door meeting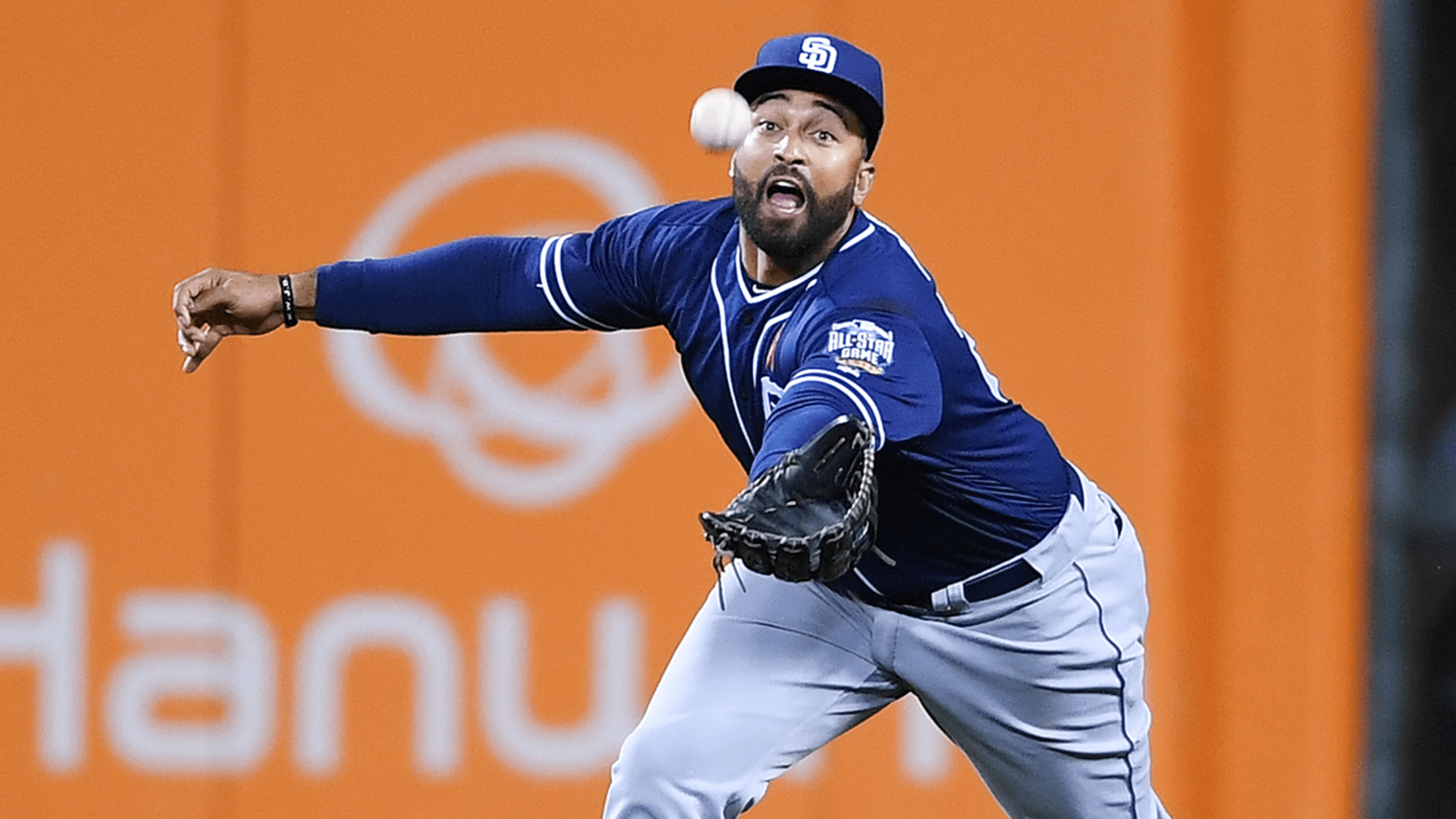 Matt Kemp misses the catch on a ninth-inning popup, leading to a Giants walk-off win. (Getty)
SAN FRANCISCO -- Following Monday's gut-wrenching 1-0 loss to the Giants, Padres manager Andy Green held a 10-minute closed-door meeting to address his team.Neither Green nor his players would discuss the specifics of what was said. But in Green's eyes, a conversation was warranted following a loss like Monday's --
SAN FRANCISCO -- Following Monday's gut-wrenching 1-0 loss to the Giants, Padres manager Andy Green held a 10-minute closed-door meeting to address his team.
Neither Green nor his players would discuss the specifics of what was said. But in Green's eyes, a conversation was warranted following a loss like Monday's -- in which the winning run scored on a ninth-inning popup that dropped in front of right fielder Matt Kemp.
"I just think we're at that point, we need to talk collectively after a game," Green said. "I think you measure the resolve of a team, to try to grind and fight. It's a tough loss."
Green reiterated the fact that the meeting wasn't to discuss a lack of effort. He's been pleased with the effort. He'd like to see better execution -- specifically at the plate -- to go along with it.
"We have, from a pitching perspective, for the most part put ourselves in a position to win baseball games," Green said. "I think there's more than enough in that clubhouse to go out and actually win those games more consistently than we are. So we've got to raise the bar."
The Padres have faced the Giants seven times this season, and they've lost seven times. None of the previous six were as tough to swallow as Monday's. But five of those seven contests have been decided by one run.
More times than not, it's been the offense that has let the Padres down in those games. Giants starter Johnny Cueto has now thrown three complete games against them this season, and the Padres have scored one run or fewer in five of their seven losses.
"Everyone's got their own role in winning games," said Padres starter Drew Pomeranz, who went unrewarded for seven shutout innings on Monday. "And we're doing one side real well and kind of struggling on the other part. But that's baseball. You go through these ups and downs. The pitchers are going to go through ups and downs just like the hitters are. That's just what happens sometimes."
Monday's loss to the Giants puts the Padres 8 1/2 games back in the National League West. That difference can be almost exclusively attributed to their struggles against their orange-clad division rivals.
"Our guys are grinding," Green said. "They're putting everything out there. You run through funks in a season where things aren't working out the way you want it to. You try to generate a greater sense of urgency as a club for every single at-bat, because these games matter very much.
"We've had seven games against these guys, we haven't won one of them. Most of them are one-run, two-run games that are our offense not keeping up their end of the bargain, the pitching doing exactly what it needs to do."