Lauer goes 3-0 vs. Dodgers in rookie season
Notes on Renfroe, Galvis and Reyes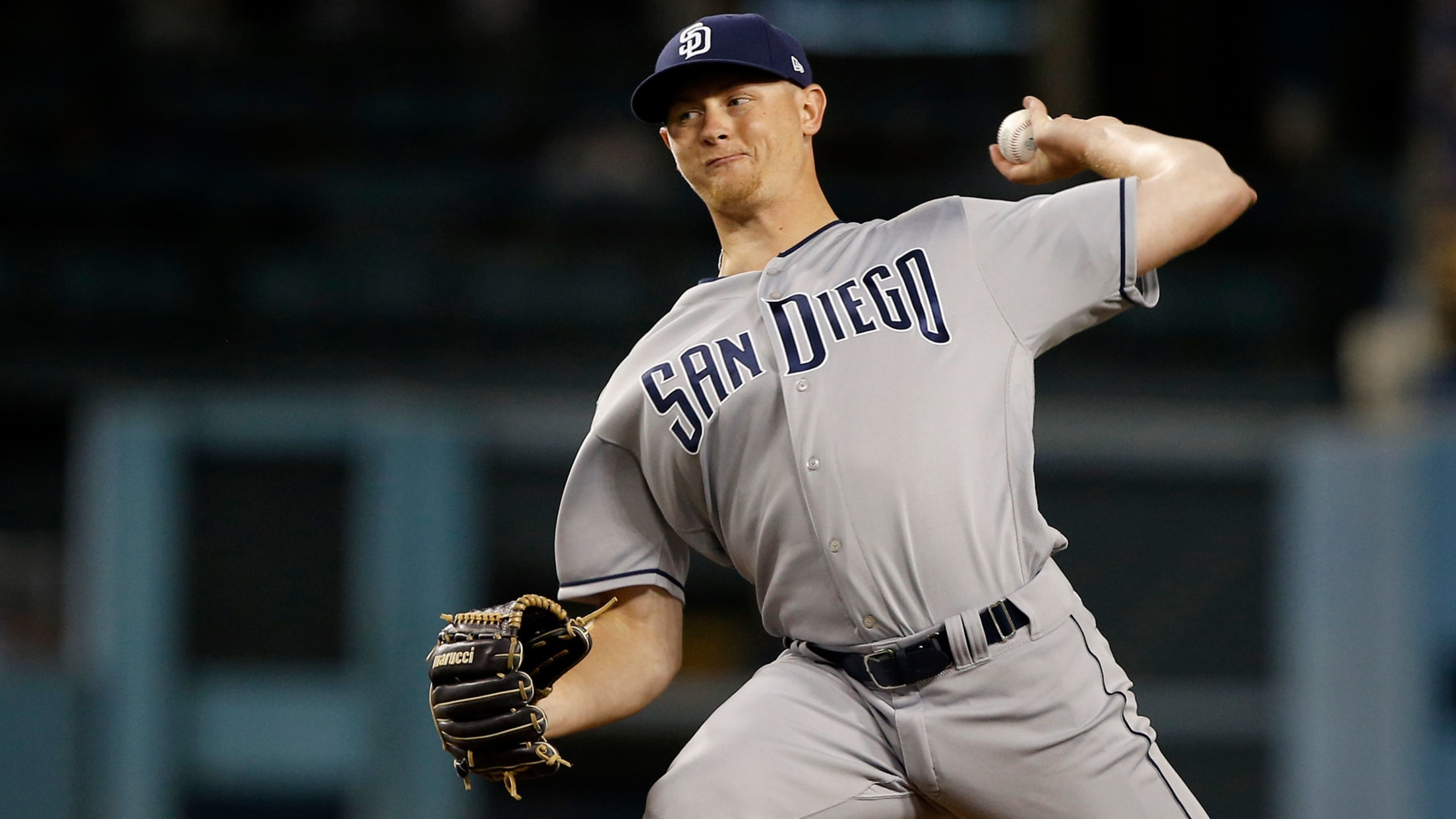 Bill Center, longtime sportswriter for U-T San Diego, is an employee of the Padres.The Padres have five wins against the Dodgers this season.Left-handed rookie Eric Lauer owns three of those victories. In fact, he is 3-0 against the Dodgers in 2018 with a 0.92 ERA -- giving up two earned
Bill Center, longtime sportswriter for U-T San Diego, is an employee of the Padres.
The Padres have five wins against the Dodgers this season.
Left-handed rookie Eric Lauer owns three of those victories. In fact, he is 3-0 against the Dodgers in 2018 with a 0.92 ERA -- giving up two earned runs on 15 hits and five walks, while recording 18 strikeouts, in 19 2/3 innings.
The 23-year-old is the first Padres rookie to win three straight starts against a National League West rival since Jimmie Jones beat the Braves three straight times in 1987 (Atlanta was in the NL West at the time). He is the only rookie to accomplish that feat in 2018, although four rookie pitchers did it last year.
Lauer also picked up his sixth win of the season on Friday night. It was his first victory since July 10, when he also beat the Dodgers -- a game in which he held them scoreless for 8 2/3 innings before giving up a solo homer to Player Page for Max Muncy.
The Dodgers hit .203 against Lauer this season, with the left recording a 1.02 WHIP.
Notebook
• Left fielder Hunter Renfroe has homered in both of the games at Dodger Stadium so far this weekend, giving him 25 on the season and leaving him one shy of the 26 he hit during his rookie campaign last season. Twenty of Renfroe's 2018 homers have come since July 14. He now has 66 RBIs entering play on Sunday, tied with shortstop Freddy Galvis for the team lead (both have one more than Eric Hosmer). Renfroe is hitting .310 with eight homers and 20 RBIs (his most against any one team) in 28 career games against the Dodgers.
• Right fielder Franmil Reyes saw his 12-game hitting streak end with an 0-for-4 effort on Saturday night. The streak was the longest of Reyes' career and the longest by a Padre this season. He was 17-for-42 (.405) during the streak -- with a double, his 16th homer, four RBIs, seven runs scored and six walks (.479 on-base percentage).
• Galvis also saw his six-game hitting streak end when he went 0-for-4 on Saturday. He was 12-for-24 (.500) during the streak with four doubles, two homers (in back-to-back games), six RBIs and eight runs scored. Galvis' 13 homers this season are the most by a Padres shortstop since Khalil Greene hit 27 homers in 2007.
• The Padres need a win in Sunday's rubber match to win their first series at Dodger Stadium since April 29-May 1, 2016. The Padres are 5-12 against the Dodgers this season.