Inbox: Will Lamet make the Padres' staff?
Beat reporter AJ Cassavell answers questions from San Diego fans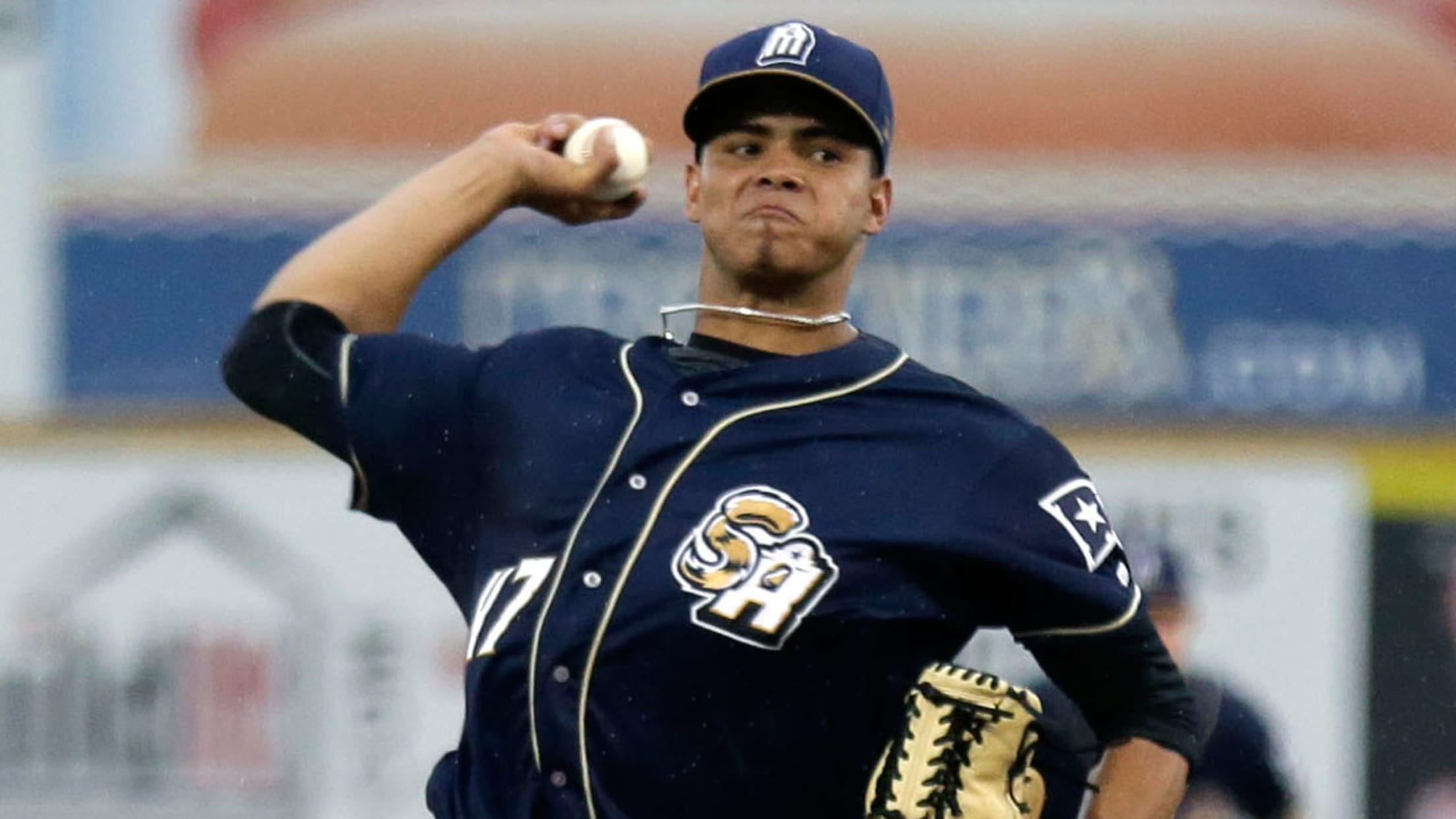 A Major League relief role could offer No. 18 prospect Dinelson Lamet some critical experience. (MiLB.com)
It's a new year, but many of the same questions are facing the Padres in 2017.The Friars shored up their starting five with the additions of Jhoulys Chacin and Clayton Richard last month. But there's still work to be done -- both in the rotation and in the 'pen.Offensively, shortstop
It's a new year, but many of the same questions are facing the Padres in 2017.
The Friars shored up their starting five with the additions of Jhoulys Chacin and Clayton Richard last month. But there's still work to be done -- both in the rotation and in the 'pen.
Offensively, shortstop is the most glaring hole. But the market is thin, and it's unclear how general manager A.J. Preller wants to fill that void.
With that in mind, here are some of your most pressing Padres questions, as the calendar turns.
The Padres are pursuing a shortstop to compete with Luis Sardinas. Are they looking for an MLB-ready young shortstop or an established veteran?
-- Aaron C., San Diego
:: Submit a question to the Padres Inbox ::
If it's the right fit, the Padres would gladly take either option -- and they've already inquired about shortstops on both ends of the spectrum. They've pursued trades for young shortstops with upside. And they've looked into signing -- or trading for -- a veteran.
San Diego seems more inclined to go after a talented but unproven youngster. Sure, the farm system is deep at short. But it's an extremely volatile position. The more talent the club can add, the better. After all, the Padres have been searching for their "shortstop of the future" for the better part of the past decade.
What are the chances Dinelson Lamet makes the 2017 club?
-- Kevin F., Escondido, Calif.
Will Lamet crack the squad out of camp? His chances aren't great. After all, a year ago, he opened the season at Class A Advanced Lake Elsinore. But don't rule it out entirely. The Richard and Chacin signings probably take Lamet out of the rotation battle. But some feel his fastball/slider combo could play well in the bullpen.
As it stands, the Padres fully expect Lamet to begin the season as a starter at Triple-A. But he stands to earn a big league bullpen job if he can impress this spring. The Padres have reiterated that they view Lamet as a starter in the long term. But a Major League relief role could offer the club's No. 18 prospect some critical experience.
What Minor League arms do you expect to make an impact this year?
-- Roy T., Citrus Heights, Calif.
Even if he doesn't make the Opening Day roster, I expect Lamet to make an impact. I'd also guess that by the end of the season, Walker Lockett gets a chance, as well.
But the Padres could see a bigger boost from the youngsters in their bullpen. Jose Torres got his callup in late September, and he showed off a very lively arm. Phil Maton made the jump from Class A to Triple-A last season, and he pitched some important innings in El Paso's run to the Pacific Coast League title. The Padres like the life on Maton's fastball, and the 23-year-old righty could make an impact sooner than you'd think.
With the patchwork rotation, do you see the Padres being more creative with their starters and relievers -- possibly trying a four-man rotation and/or using guys in Andrew Miller-type roles?
-- Terrence D., San Diego
I wouldn't expect anything close to a four-man rotation, especially considering the young arms that the Padres are trying to develop. There's no reason to push Luis Perdomo more frequently than once every five days. In fact, I wouldn't be shocked if the Friars went with something of a six-man hybrid, inserting an extra starter when there isn't an off-day.
As for the second part of the question, manager Andy Green could get very creative with his bullpen use this year. Carter Capps should be healthy by April, and if he returns to his old form, the back end of the 'pen could surprise some people.
It's easy to see Brad Hand being given an Andrew Miller-type role this year -- a Miller lite, if you will. He's certainly capable of pitching multiple innings. And he's a strikeout threat against both lefties and righties -- making him a great option in almost any high-leverage situation. If Hand can thrive in that role, he could be an appealing chip come trade season.
Any idea who the closer might be? Is that person here, or will it be a trade or free-agent signing?
The Padres aren't opposed to adding another late-inning reliever to the mix. But, as I mentioned, they're already bullish on the back end of their bullpen. Hand, Ryan Buchter and Capps are all solid options for the closer role, but Brandon Maurer figures to get the first shot.
Maurer struggled with his slider early in the season, but he was actually quite good during the second half. In 29 appearances after the break, Maurer posted a 3.10 ERA. It should come as no surprise that he began to improve once his slider velocity returned. With his strong finish, Maurer earned himself first crack at the closer role. But the Padres have no shortage of late-relief options.