Padres' bats burst to life against Giants
Notes on pitchers' hitting, Stammen, Ross and more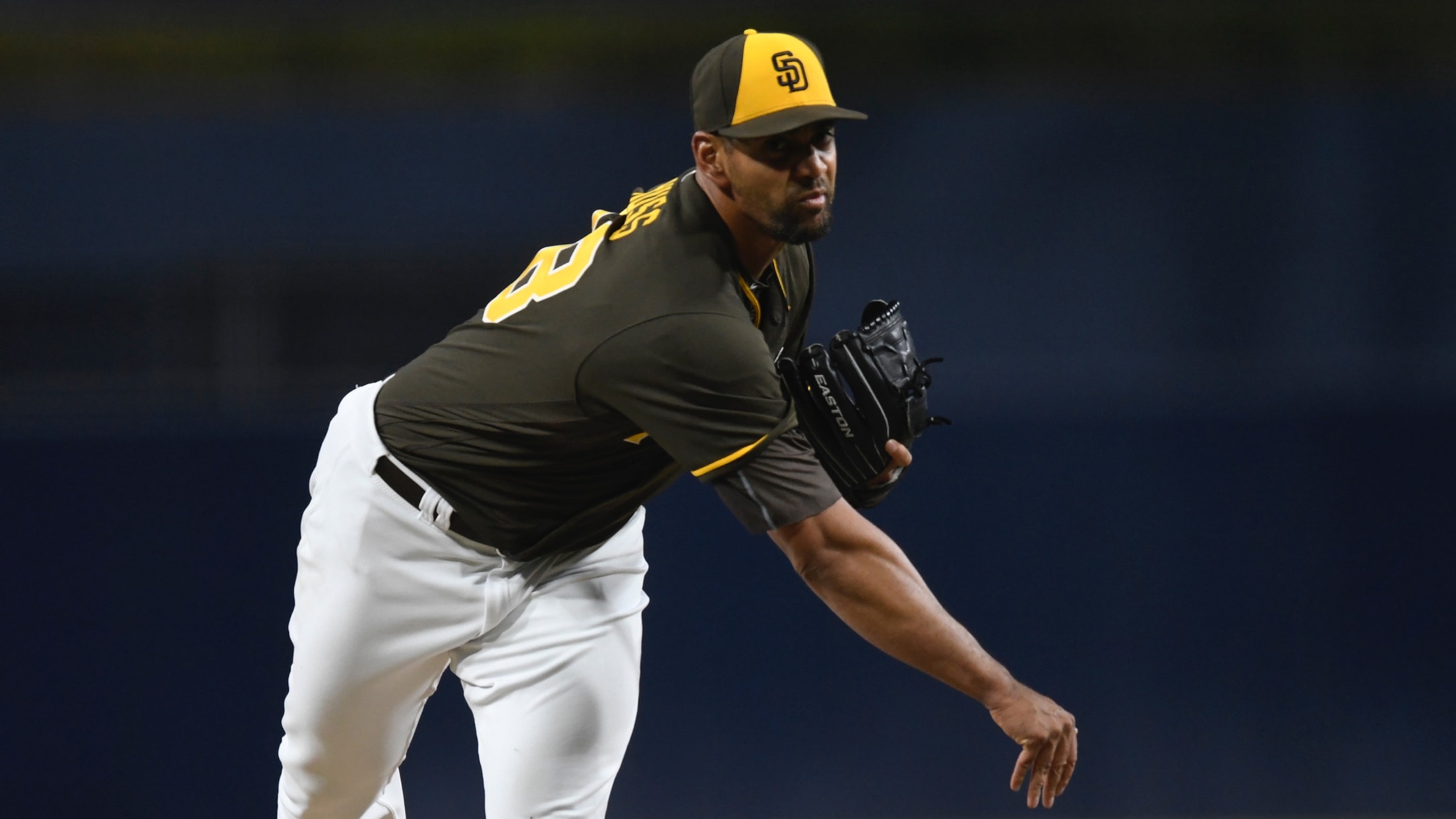 Tyson Ross picked up his second win of the season in the Padres' 5-1 win over the Giants on Friday. (Padres)
Bill Center, longtime sportswriter for U-T San Diego, is an employee of the Padres.Going into the fifth inning on Friday night, the Padres didn't have a hit off Giants starter Ty Blach.In fact, they had gone 10-plus innings without a hit and actually had just one hit over 40 at-bats
Bill Center, longtime sportswriter for U-T San Diego, is an employee of the Padres.
Going into the fifth inning on Friday night, the Padres didn't have a hit off Giants starter Ty Blach.
In fact, they had gone 10-plus innings without a hit and actually had just one hit over 40 at-bats (.025) -- that being Clayton Richard's third-inning, pinch-hit single on Thursday night, which was all that stood between the Giants and a no-hitter.
Then, the Padres got a hit, and another, and another ... seven hits, in fact, in the next 11 at-bats -- which produced four runs.
How do you explain that? It's baseball.
Notebook:
• Padres pitchers are batting .240 this season, and Tyson Ross' bases-loaded single on Friday night to break the scoreless tie was the fourth RBI by a Padres pitcher this season. Of course, the big stick belongs to Richard, who has a three-run homer and a pinch-hit single. But Padres pitchers are 6-for-25. The rest of the team is hitting .222.
• Ross' fifth-inning single was his first hit since Sept. 29, 2015. Ross was also the first Major League pitcher to get a hit with the bases-loaded this season while pitching.
• Right-hander Craig Stammen finally allowed an inherited runner to score on Friday, after stranding the first 17 he inherited this season. But Stammen's numbers still border on the incomprehensible. In 10 1/3 innings over seven relief appearances, Stammen has allowed no runs on two hits and a walk with 10 strikeouts.
• Ross is the only Padres starting pitcher to work six innings in each of his first three starts. Only two other starters have lasted six innings, with Richard the only Padres starter to go seven innings on Opening Day.
• Second baseman Carlos Asuaje is hitless in 15 straight at-bats, while Cory Spangenberg is hitless in 10 straight at-bats. Austin Hedges and Eric Hosmer each have one hit over their last 10 at-bats.