Maton emerging as bullpen option
23-year-old with unique repertoire attempting to earn bullpen spot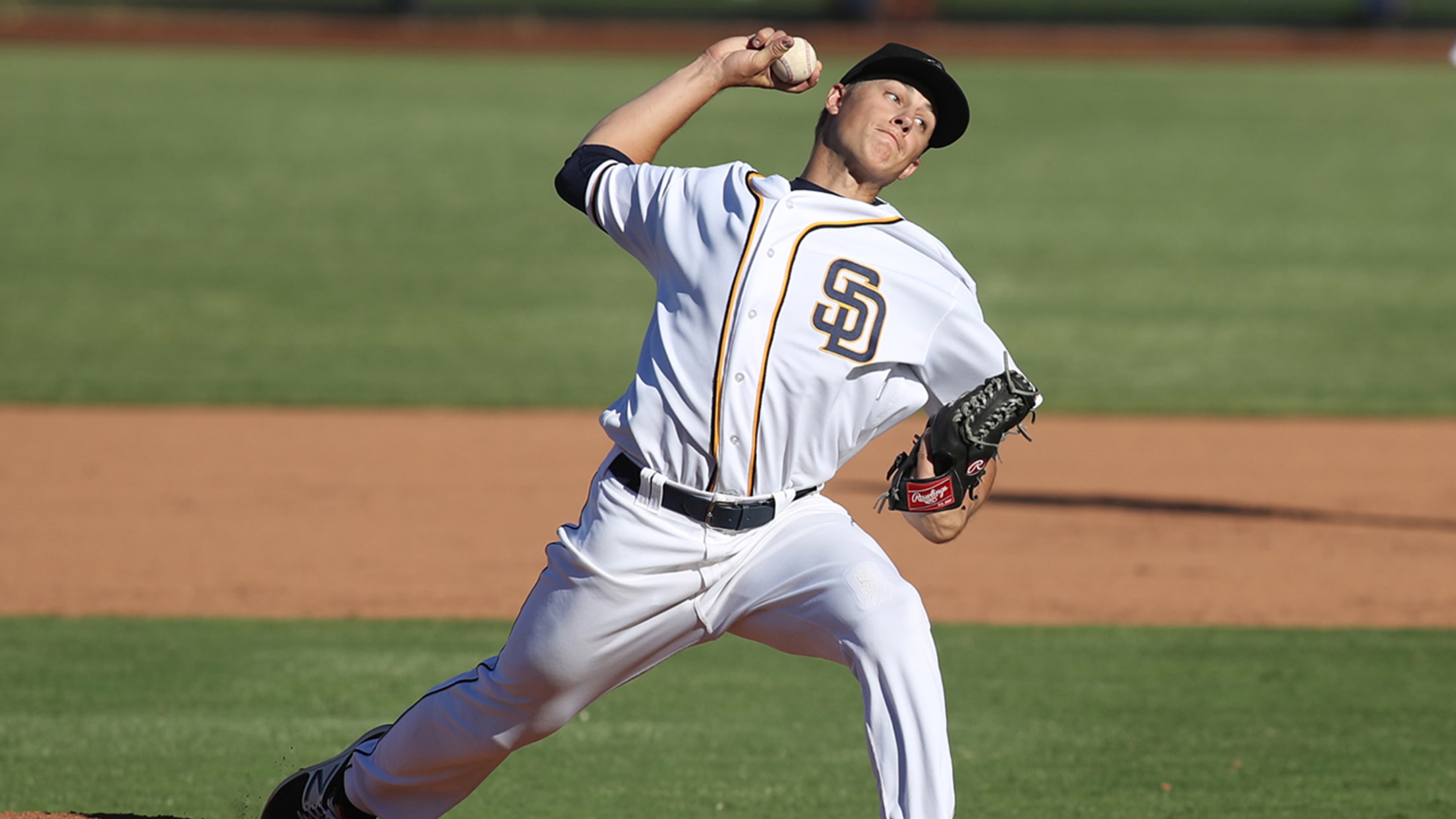 PEORIA, Ariz. -- It was the easiest job Austin Hedges ever had.Phil Maton, promoted for Triple-A El Paso's title push, was handed the closer role in September. And Hedges knew exactly what to ask for: fastballs. High-spin, four-seam fastballs -- in every count."I probably called two offspeed pitches," Hedges said
PEORIA, Ariz. -- It was the easiest job Austin Hedges ever had.
Phil Maton, promoted for Triple-A El Paso's title push, was handed the closer role in September. And Hedges knew exactly what to ask for: fastballs. High-spin, four-seam fastballs -- in every count.
"I probably called two offspeed pitches," Hedges said of Maton's month-long stint at Triple-A.
• Spring Training:Information | Tickets | Schedule | Gear
"It definitely wasn't more than five," Maton concurred. "Two sounds about right."
The plan worked to perfection. Maton's dominance -- and there's no better word to describe his two professional seasons -- continued in Triple-A. Including the playoffs, Maton threw 10 1/3 innings, allowing four hits and one run, while striking out 17 batters.
Now, less than two years after being drafted, Maton is in Major League camp. His elite fastball makes him a breakout candidate in 2017.
"The biggest thing I learned over the course of the year was not really try to change, even as I was going up the levels," Maton said. "What I was doing was working. Don't try to become a different pitcher as I climb up the ladder."
Maton has climbed that ladder quickly, in large part because of his seemingly innocuous lower-90s fastball. He throws the pitch up in the zone and consistently misses bats. According to the Padres, his spin rate hovers around 2,500 rpms; that would put him in the top five percent of big league fastballs, alongside Justin Verlander and Max Scherzer.
"You have a tendency to go over as a coach and tell him to get the ball down," said bullpen coach Doug Bochtler. "No, that's not how it works with this guy. He throws high heaters right by guys. Super-elite spin rate, and it's good stuff. What a find. This kid was a 20th-round Draft pick a year ago, and here you are in big league camp."
All thirty teams passed on Maton coming out of high school. They passed again when he was a junior at Louisiana Tech. During his senior year, the Padres scouted one of his starts and Maton floundered. He allowed a home run to the first batter and didn't crack 88 mph.
But the Padres invited Maton to their Draft workout in Houston anyway. He was noticeably better there and impressed enough to be taken with the 597th overall pick in 2015.
It didn't take long for Maton to outperform that number. In 61 Minor League appearances, he has a 1.60 ERA and an absurd 136 strikeouts to 16 walks.
The success is largely due to a tweak in his pitch selection. At Louisiana Tech, Maton was asked to make half his pitches offspeed. The Padres, meanwhile, encouraged the fastball. And Mark Prior, the organization's pitching coordinator, encouraged Maton to work at the top of the zone from Day One.
"They had confidence in me to pitch up the zone," said Maton, who is also working to incorporate a cutter and a breaking ball. "That's usually looked at as dangerous. It was nice to have that."
Ryan Buchter, who has almost exactly the same arsenal, broke out last season when the Padres told him to ride the fastball. In fact, manager Andy Green went so far as to say Maton is "like the right-handed version of Ryan Buchter."
With only three bullpen spots available, Maton is a bit of a long shot. But he was a long shot to reach this point in the first place.
"The biggest thing coming into pro ball was just that I trusted what I had," Maton said. "I wasn't trying to fit into this mold of what I needed to be. I just trusted my stuff."
So did the Padres, and they could soon be rewarded.