Padres place Vargas on 15-day disabled list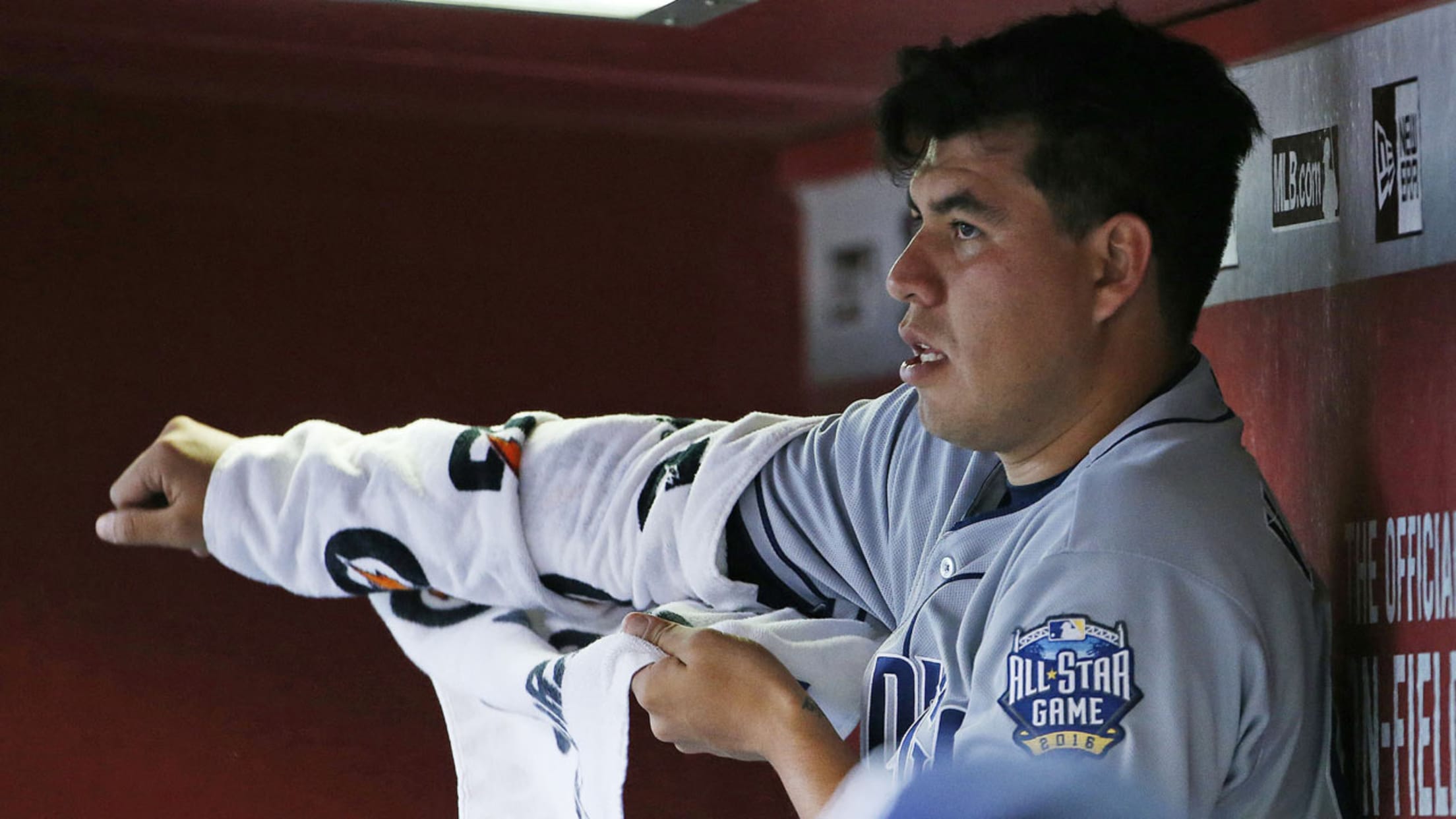 Cesar Vargas, who is dealing with right elbow soreness, was placed on the disabled list on Sunday. (AP)
PHOENIX -- The encouraging start to Cesar Vargas' career hit an abrupt snag Sunday morning, when the Padres placed the 24-year-old right-hander on the disabled list with right elbow soreness.The extent of the injury remains unknown. As of Sunday morning, Vargas was still waiting to be looked at by team
PHOENIX -- The encouraging start to Cesar Vargas' career hit an abrupt snag Sunday morning, when the Padres placed the 24-year-old right-hander on the disabled list with right elbow soreness.
The extent of the injury remains unknown. As of Sunday morning, Vargas was still waiting to be looked at by team doctors. It's a tough break, nonetheless, for the young right-hander who looked very impressive in his first six starts.
"You can't control that," Vargas said through an interpreter. "There's never a very good time, but I'm going to do the work I need to do, give my arm a little break here and try to get back as quickly as possible and help the team win."
In right-hander Colin Rea, the Padres have a ready-made option to replace Vargas. Rea was optioned to Triple-A El Paso last week in an effort to preserve his innings.
He's set to pitch one frame for El Paso Sunday and will most likely return to start Thursday's game against the Mariners. In the meantime, San Diego recalled right-hander Leonel Campos, who has allowed five earned runs in 2 1/3 big league innings this season.
After being called up in mid-April, Vargas got off to a hot start, becoming just the second Padres pitcher in history to allow one run or fewer in each of his first three career starts. He had allowed two earned runs in each of his previous two outings, before being roughed up for seven over 1 2/3 innings on Saturday night.
"It's something I've been feeling, but it was always normal before," Vargas said. "It would come, and I'd throw, and then it would be fine. But yesterday the pain was different."
As they did with Rea, the Padres had originally planned on reducing Vargas' workload by optioning him to Triple-A. The injury, of course, changed their plans.
"I have no idea at this point in time," Green said when asked the extent. "It might just be a 15-day thing. I don't want to read too much into it at this present moment. We just need to take care of him and not push him. We had this all mapped out to an extent -- where you give Colin a rest and you give Vargas a rest."
Vargas spent the past two seasons as a reliever in the Yankees system. He signed a Major League deal with the Padres during the offseason and was converted back to a starter in Spring Training.
As a result of the transition, the Padres have closely monitored Vargas' pitch count this season. He wasn't permitted past the 90-pitch mark in his first three outings, and his 96 tosses in Milwaukee on May 15 were a season high.
Despite the Padres' best efforts to limit his workload, Vargas' elbow began to bother him anyway. Sunday morning, Green said Vargas acknowledged that he had been trying to pitch through elbow soreness.
"To some degree, you can't fault him for that," Green said. "You wish that everybody was completely forthright so you can take care of everybody. In his case, I think he just wanted to pitch. He was pitching in a Major League stadium for a Major League club and wanted to be on the mound, didn't want to come out, wanted to make every start as scheduled.
"I can appreciate that and applaud that. At the same time, it makes it very difficult to take care of guys when you don't know what they're going through."