Pigskin Padres: Pitching trio boasts QB past
Richard, Lee, Jenkins use football skills to stay in baseball shape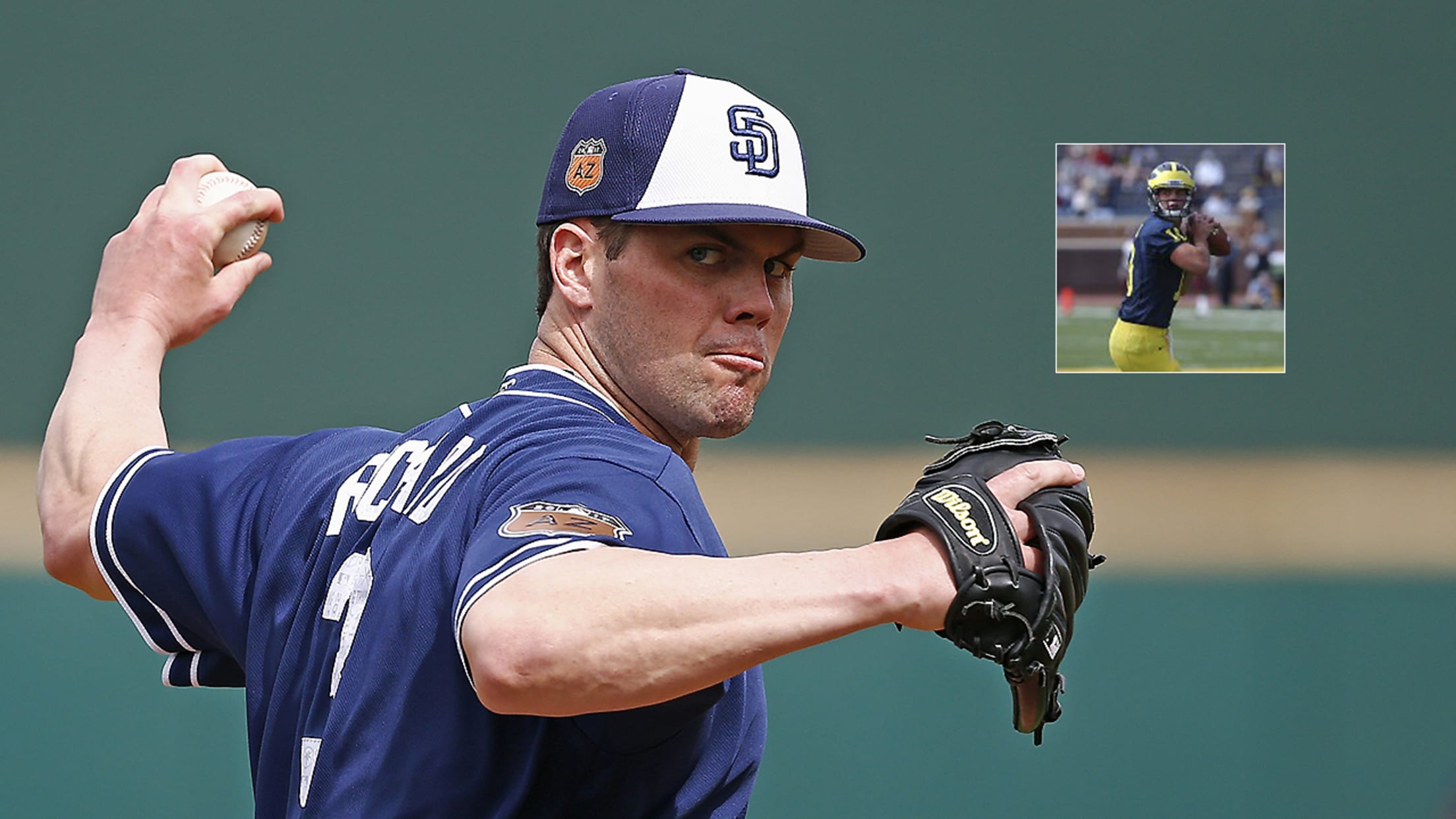 Padres pitcher Clayton Richard played football at the University of Michigan before setting his sights on pro baseball. (AP) (Ross D. Franklin/AP)
PEORIA, Ariz. -- For years, Clayton Richard, Zach Lee and Tyrell Jenkins have been highly regarded for their elite-level arms.They aren't bad at throwing the baseball, either.Before they committed to the diamond, the trio of Padres pitchers was just as adept with a football in their hands. Lee famously turned
PEORIA, Ariz. -- For years, Clayton Richard, Zach Lee and Tyrell Jenkins have been highly regarded for their elite-level arms.
They aren't bad at throwing the baseball, either.
Before they committed to the diamond, the trio of Padres pitchers was just as adept with a football in their hands. Lee famously turned down a scholarship to play quarterback at LSU in 2010, when the Dodgers drafted him. Jenkins went through a similar process with Baylor, signing with the Cardinals instead.
Richard, meanwhile, took that next step and played college football. He backed up Chad Henne at Michigan and completed eight of 15 passes on the Wolverines' Rose Bowl-bound 2004 team.
All three ultimately settled on baseball, and they're currently in San Diego's spring camp competing for a place in the rotation. Richard likely has his spot locked up, while Jenkins and Lee have an outside chance.
• Spring:Info | Tickets | Schedule | Gear
"Athletes turn into really good baseball players," said Padres manager Andy Green. "It takes two seconds to notice Tyrell Jenkins, Clayton Richard, Zach Lee are really good athletes. It's not just that they're quarterbacks. Athletes usually have a way of controlling their body. My guess is most guys that are top-of-the-rotation are great athletes and were multisport athletes at one time."
Their days as multisport athletes are long gone, but Lee, Richard and Jenkins haven't put football entirely in their past. All three have used their quarterbacking backgrounds as a means to stay in baseball shape.
"November to December, I throw a football," said Richard. "For me, it's kind of a good way to get back from the rest stage and start throwing. You have to get on top of it for it to come out right, and that translates. Then, after I'm done throwing a football, I shut it down. I don't pick up another football after I'm start throwing a baseball."
Said Jenkins: "During the season, I don't throw it as much -- maybe the day after I start to get the soreness out. ... It's just a different type of motion where it doesn't hurt as much as throwing a baseball to break up some of the tightness back there and loosen up."
Lee, meanwhile, was initially discouraged from throwing a football with Los Angeles. But San Diego has embraced his quarterbacking since it claimed him off waivers from Seattle in December.
The club noticed Lee didn't use his legs on the mound as much he did when he played quarterback. Lee and pitching coach Darren Balsley watched video of his throwing motion in both sports. They came away with the idea that he should be throwing the football more -- not less.
"The engagement of the lower half when he throws a football is really close to what we want when he throws a baseball," Green said. "Activating the lower half is the big thing for him. Our pitching coach has done a good job coming up with unique ways to get that engaged."
Early in camp, Lee was often the first player onto the field for stretches, along with Minor League pitching coordinator Mark Prior. The two tossed a football for about 10-15 minutes, Lee's spiral as pure as it was when he was one of the nation's top quarterback recruits.
Since he began incorporating a football toss during warmups, Lee says he's begun to notice a difference.
"We were trying to figure out ways to get that drive sensation, straightening out your leg as early as possible," Lee said. "When I threw a football, we looked at the lower body in general, and I was really straightening out the lower leg to get the drive. ... I'm getting there."
Mechanically, there are quite a few similarities. But the two positions might be most comparable on the mental side of things.
"I remember the very first time in high school I had to go into the huddle as a freshman and tell the play, go up to the line," Richard said. "That was as nervous as I've ever been on athletic field. To be able to compose myself and learn how to present myself to teammates, I feel like that really helped with my poise and composure and that carried over into baseball."
Jenkins echoed that sentiment, noting the similarities between getting on the mound and going under center.
"The game's always in your control," Jenkins said. "Every play, you're touching the ball. The biggest thing is knowing that you control your own destiny. You make a pitch, you get the result you want. You make a good throw, you generally get the result you want."