Neshek could soon take next step in rehab
Eickhoff set to throw Thursday; Cozens to begin working out in Clearwater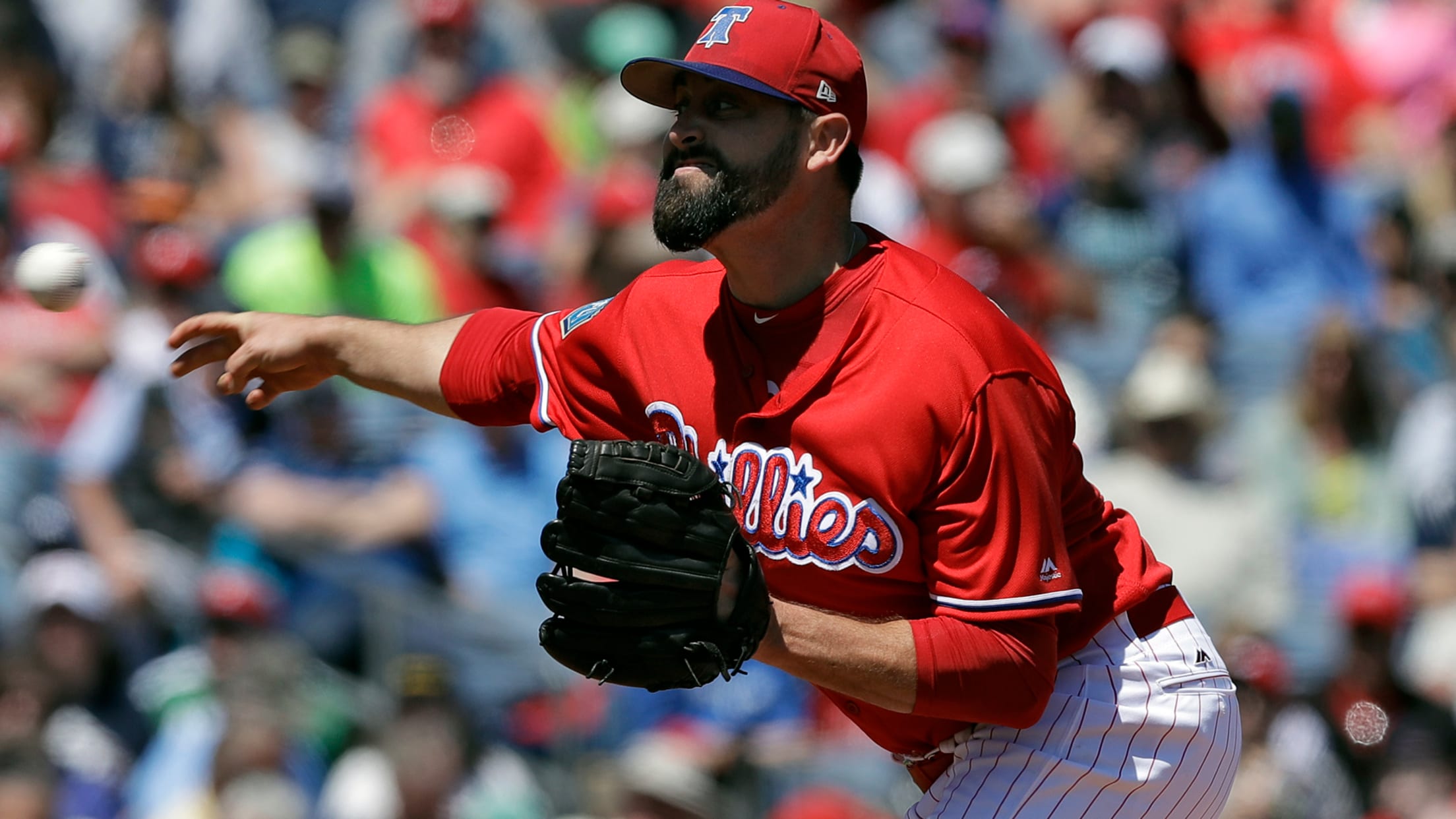 PHILADELPHIA -- Gabe Kapler could use another trusted arm in his bullpen. He's one step closer to getting just that.Veteran right-hander Pat Neshek is scheduled to pitch his second bullpen session this week on Thursday, the Phillies skipper said. Neshek will use his entire arsenal of pitches, and if the session
PHILADELPHIA -- Gabe Kapler could use another trusted arm in his bullpen. He's one step closer to getting just that.
Veteran right-hander Pat Neshek is scheduled to pitch his second bullpen session this week on Thursday, the Phillies skipper said. Neshek will use his entire arsenal of pitches, and if the session goes well, he will fly to Clearwater, Fla., and start throwing live batting practice.
Neshek hasn't pitched this season after straining his shoulder during Spring Training and then straining a flexor tendon in his right elbow while rehabbing the shoulder.
"We also want to be very cognizant of the fact that we're protecting him for the long term and we don't want to rush this at all," Kapler said. "So if it takes an extra outing, an extra BP session, we're totally fine with that to protect his long-term interests."
The Phillies could also benefit from Neshek's presence in the short term because of two go-ahead grand slams and another near collapse within the past week. Kapler has become increasingly reliant on Seranthony Dominguez, the rookie right-hander often called upon in high-leverage situations.
Dominguez has pitched 19 innings since his Major League debut on May 7. No other Phillies reliever has reached 12 during that span.
Tuesday night's near collapse against the Rockies offered the most recent evidence of the current state of Philadelphia's bullpen. Luis Garcia, the first player Kapler showered with praise when he was introduced as manager in the offseason, got the nod to pitch the ninth with a four-run lead, but he allowed four straight singles to start the inning. Kapler removed Garcia and tasked Dominguez with putting out the fire, which he did.
After the game, Kapler said he would have liked to have given Dominguez another day of rest. Eight of Dominguez's 15 appearances have been on one or zero days' rest. That number, ideally, would drop with Neshek available.
"The greatest acquisition we can make is inserting Pat Neshek into our bullpen," Kapler said. "... You go back and look at him last year, it was straight dominant. We recognize that he can go through left and right, which would fit perfectly into our bullpen today, tomorrow, five days, 10 days from now."
Neshek began last season with the Phillies before they traded him to Colorado in late July. In his 40 1/3 innings in Philadelphia last season, he allowed just five earned runs and struck out 45 batters en route to a 1.12 ERA. He was the Phillies' lone 2017 All-Star.
Kapler is anticipating how Neshek's side-arm delivery could benefit his team.
"An unusual physical look throws timing, rhythm of opposing hitters off," Kapler said. "We have a lot of guys who come in and it's like, 'OK, there's 97 [mph]. There's 98.' It's Luis. It's Seranthony. It's [Adam Morgan] at 95, and a lot of guys who are going to run it up there high and bust it by you.
"And then you have this dude who comes herky-jerky from down here and the ball sinking and running up. It's a different, weird look, that I think is really effective."
Injury updates
• Jerad Eickhoff is scheduled to throw on Thursday. If all goes well, he will begin a progression toward pitching. Eickhoff received a cortisone shot in his right wrist on Monday and has not pitched in the Majors this season. He left a rehab start in May after experiencing a numbing sensation in his fingers.
• Dylan Cozens will start a running progression at the Phillies' complex in Clearwater when the team leaves for Milwaukee after Thursday's game.
Joe Bloss is a reporter for MLB.com based in Philadelphia.