Prospect Murphy adjusting to his new delivery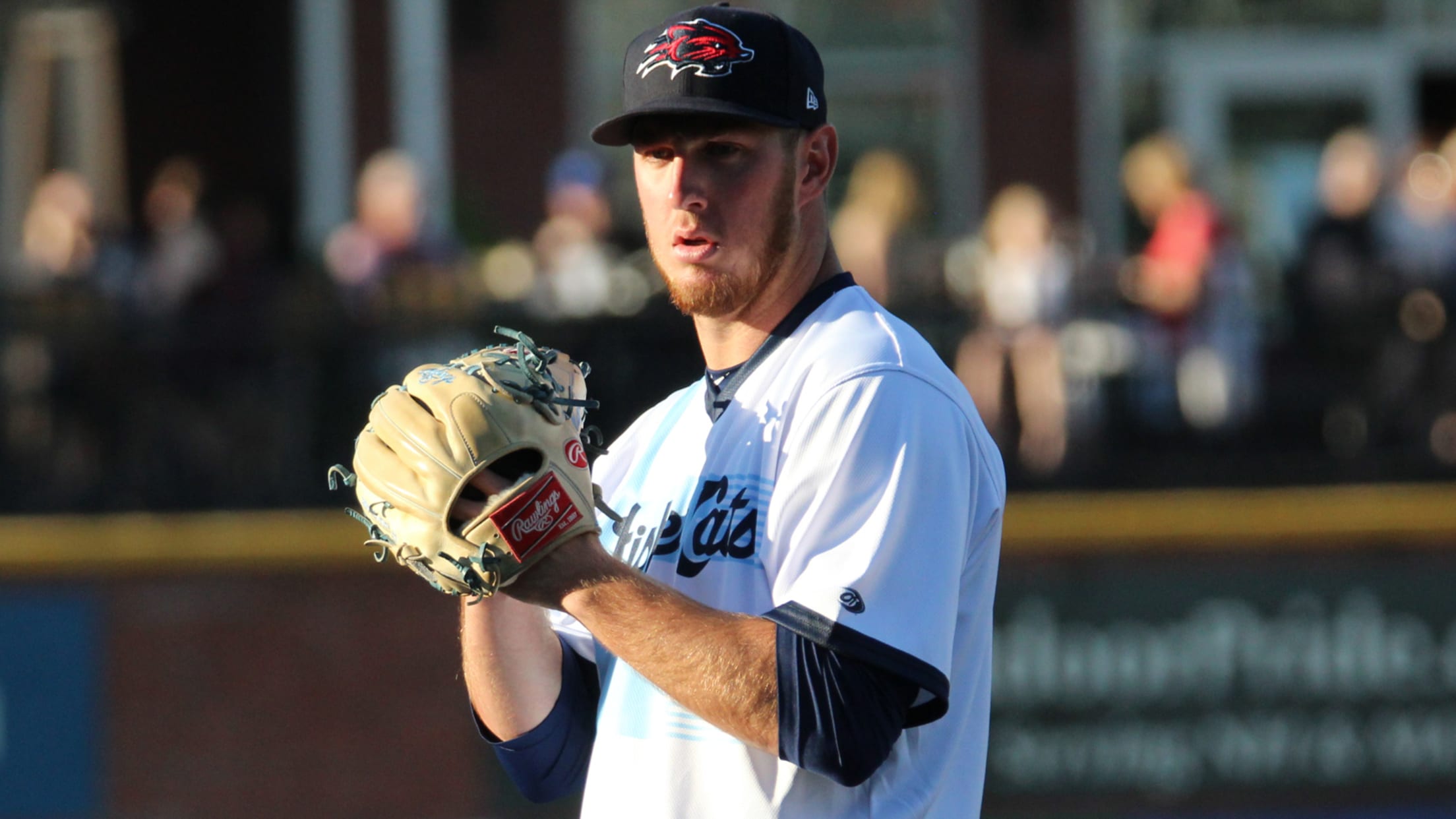 The second half of the season has been one of trial and error for Patrick Murphy. After 11 starts at Double-A New Hampshire, the 24-year-old right-hander learned on June 2 that the delivery he's developed and used throughout his entire baseball career was deemed illegal, as determined by Major League
The second half of the season has been one of trial and error for Patrick Murphy.
After 11 starts at Double-A New Hampshire, the 24-year-old right-hander learned on June 2 that the delivery he's developed and used throughout his entire baseball career was deemed illegal, as determined by Major League Baseball's Umpires Association.
Murphy used to tap the toe of his landing foot on his way to home plate before releasing each pitch. While attempting to alter his delivery, the Blue Jays' No. 18 prospect ran into a number of difficulties -- having to stop and start the alteration process, and eventually landing on the sidelines.
"Shutting down and building back up led to some shoulder inflammation or fatigue," Murphy said. "I never got an MRI because they didn't think it was anything serious or structural. But [there's] some tightness in the back of the shoulder that led to some discomfort -- so I shut it down for a few weeks, took some anti-inflammatories, and have been built back up since."
Murphy considered the complication minor. He returned to the mound on Saturday night for the first time since July 13, throwing a scheduled two innings against the Binghamton Rumble Ponies -- allowing two runs on two hits, while utilizing the latest version of his delivery. Murphy is also slated for two more outings before the season comes to an end.
"Obviously, I was doing the toe-touch thing that MLB decided is illegal," said Murphy. "I was doing it in the windup and the stretch. ... I stopped doing the windup and figured I might as well just find one thing that will work for both [situations], runners on or not, and get comfortable with that.
"I needed to get [in some repetition with the new delivery] and got some game reps to get more comfortable -- and I was still working on that and building up from that when I got hurt. So even during this little shoulder deal, which isn't anything too serious -- [a] minor setback -- I've been trying to get more comfortable, getting reps and getting comfortable [with how everything works now]."
In addition to finding a consistent level of comfort, the biggest issue Murphy has found in developing his new delivery has been his propensity to repeat it, and his ability to command the ball while using it.
"Doing something different with my body, moving differently, I've got to figure out [how to command] the ball with some different movements," the Arizona native said. "That, [along with] repeatability, and also timing to the plate with runners on base [have been issues], because I've got to make sure I'm still quick so guys can't steal. Repeatability is the No. 1 thing -- and once I get that down, that will take care of the command issues."
Once his delivery is off the to-do list, Murphy will revert his focus back to his changeup -- a pitch he needs as he looks to continue climbing the Minor League ladder. He hoping the pitch will complement his mid-90s fastball and a curveball that has shown flashes of being a plus pitch.
"Since I changed [my] delivery, all focus went straight to the delivery -- because I'm at a point with my changeup where I'm comfortable throwing it, but obviously need to keep throwing it to further develop it," Murphy said. "None of the three pitches I throw are ever perfect, so I'm always constantly working on them. But the changeup is definitely the one I put the most focus on, because it's a crucial pitch."
Prior to landing on the injured list this season, Murphy spent almost the entire first three years of his professional career there. The righty underwent Tommy John surgery in his senior year of high school, prior to being selected by Toronto in the third round of the 2013 MLB Draft. Before he could return to the mound comfortably, Murphy also had a procedure to remove a rib because it was suspected he had thoracic outlet syndrome.
Then, Murphy had ulnar transposition surgery to remove a nerve in his elbow, after the rib removal failed to relieve the tingling and numbness he was experiencing in his throwing arm.
"[The injury issues] taught me patience," Murphy said. "Nobody ever wants to be on the [injured list], everybody wants to be out playing. But you've got to take your time, because if you rush back, it's only going to lead to bigger problems and further issues down the road."
The early patience Murphy developed was certainly a factor in helping him through this season, one in which he has posted a 4.93 ERA over 19 starts and 86 innings, with 27 walks and 86 strikeouts for the Fisher Cats.
"Changing your whole delivery in season isn't really something you can do overnight, after doing it [another way] for so long," Murphy said. "It was definitely a struggle for a few weeks, but I got the hang of it pretty quickly. It's still different, but I'm getting more and more comfortable with it each day."