Klein earns bullpen spot as Rangers set roster
Team waiting to make official call on Griffin as fifth starter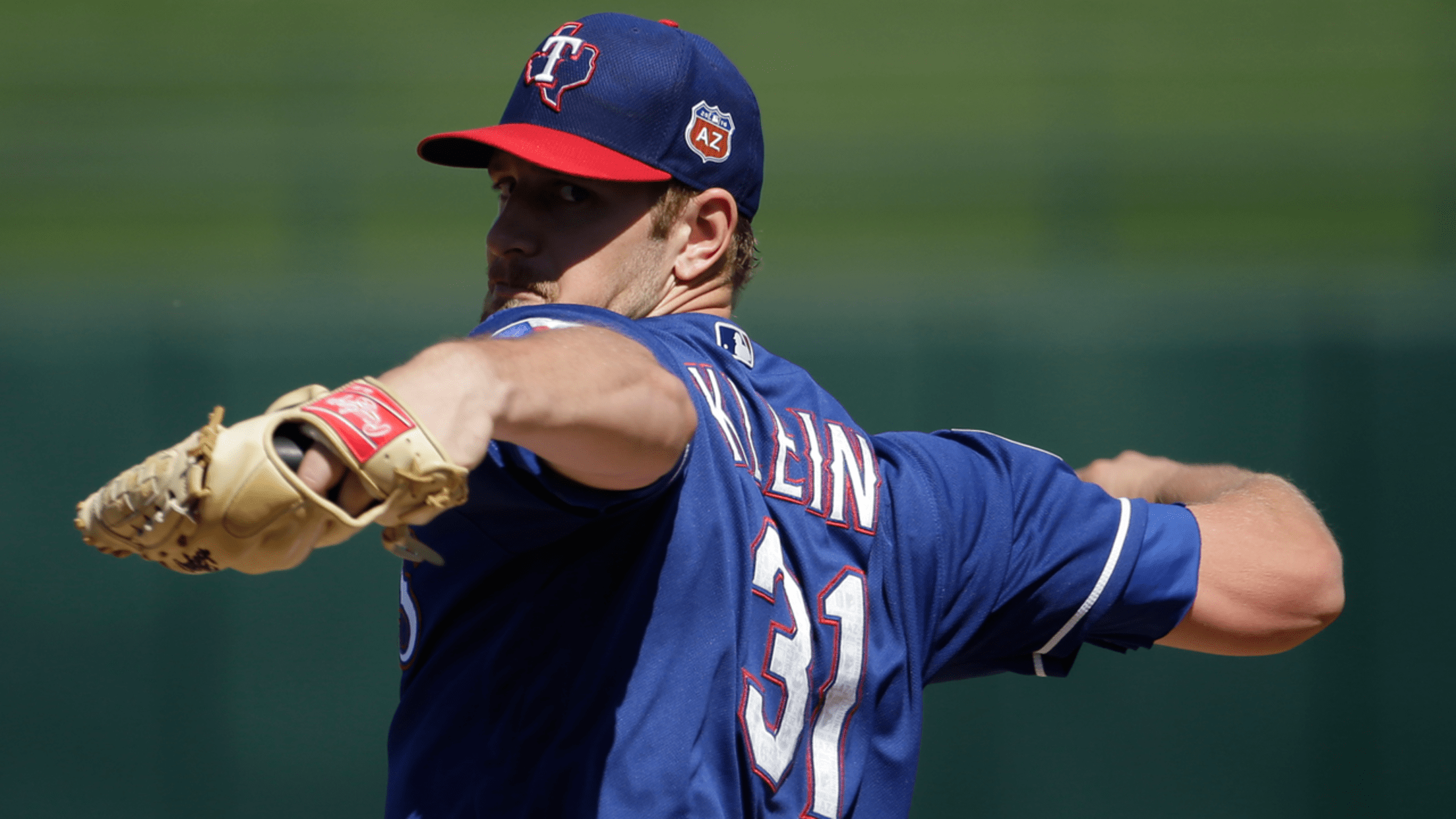 Phil Klein posted a 2.70 ERA in four Cactus League games for the Rangers. (AP) (AP)
ARLINGTON -- Right-hander Phil Klein has made the Rangers' Opening Day roster as the long reliever with right-hander A.J. Griffin still in line to be their fifth starter.Rangers left-hander Cesar Ramos, who was in camp on a Minor League contract, accepted an assignment to Triple-A and will be in Round
ARLINGTON -- Right-hander Phil Klein has made the Rangers' Opening Day roster as the long reliever with right-hander A.J. Griffin still in line to be their fifth starter.
Rangers left-hander Cesar Ramos, who was in camp on a Minor League contract, accepted an assignment to Triple-A and will be in Round Rock's starting rotation.
Klein had a 2.70 ERA in four games in the Cactus League and is 2-2 with a 4.71 ERA in 28 games, including two starts, with the Rangers over the past two years. He will likely be the Rangers' long reliever for the first four games of the season.
2016 season: Tickets | Schedule | Gear
"He is a guy who can throw and complete a game when you are out of the save range or in the multiple-run range," manager Jeff Banister said. "You don't have to use the back end of your bullpen."
Ramos, who has made 241 Major League relief appearances, came to camp trying to win a job as a starter. He had a 3.46 ERA in five Cactus League games.
"We had to make some tough decisions," Banister said. "Guys had to play their way on this club. Guys had to earn their way here."
The Rangers have yet to announce that Griffin will be their fifth starter. But he is in line to pitch on Friday against the Angels in Anaheim.
"We haven't announced it yet, but you can read between the lines," general manager Jon Daniels said. "We're holding off making it official in case something unforeseen happens."
Worth noting
• The Rangers have come to the end of Spring Training with no contract extension in place for third baseman Adrian Beltre. He can become a free agent at the end of the season. Daniels said he may have one more conversation with agent Scott Boras before Opening Day, but both sides appear to prefer tabling any talks once the regular season ends.
"The sentiment is still the same," Daniels said. "We couldn't have a higher appreciation for Adrian. We'd like to have him on the field beyond this season. It won't be a distraction."
• Cole Hamels, who is starting on Opening Day, is dealing with a virus and wasn't feeling well on Saturday.
"I just want to go sleep somewhere," said Hamels, who isn't planning on missing a start. "First plane flight, change of scenery, there are a lot of guys dealing with allergies. It is what it is, that's why we have medicine."
• Daniels said outfielder Josh Hamilton (knee) and Yu Darvish (elbow) will start the season on the disabled list. But they will not be on the 60-day disabled list, an optimistic sign that the Rangers expect them back before June 4. The actual target for both is sometime in mid-to-late May.
"If there are no setbacks ... they both could be back within 60 days if all goes according," Daniels said.
• Chris Gimenez, who is dealing with an infection in his left ankle, was scheduled to be released from an Arizona hospital on Saturday. Gimenez is expected to be with the Rangers on Opening Day and start the season on the disabled list.
• Pitcher Luke Jackson, who was set back by a back injury in Spring Training, will start the season on the Major League disabled list, but he should be ready to pitch for Triple-A Round Rock at some point in April. He pitched in a Minor League game in Arizona on Friday.