Phillies alumni notes for 2016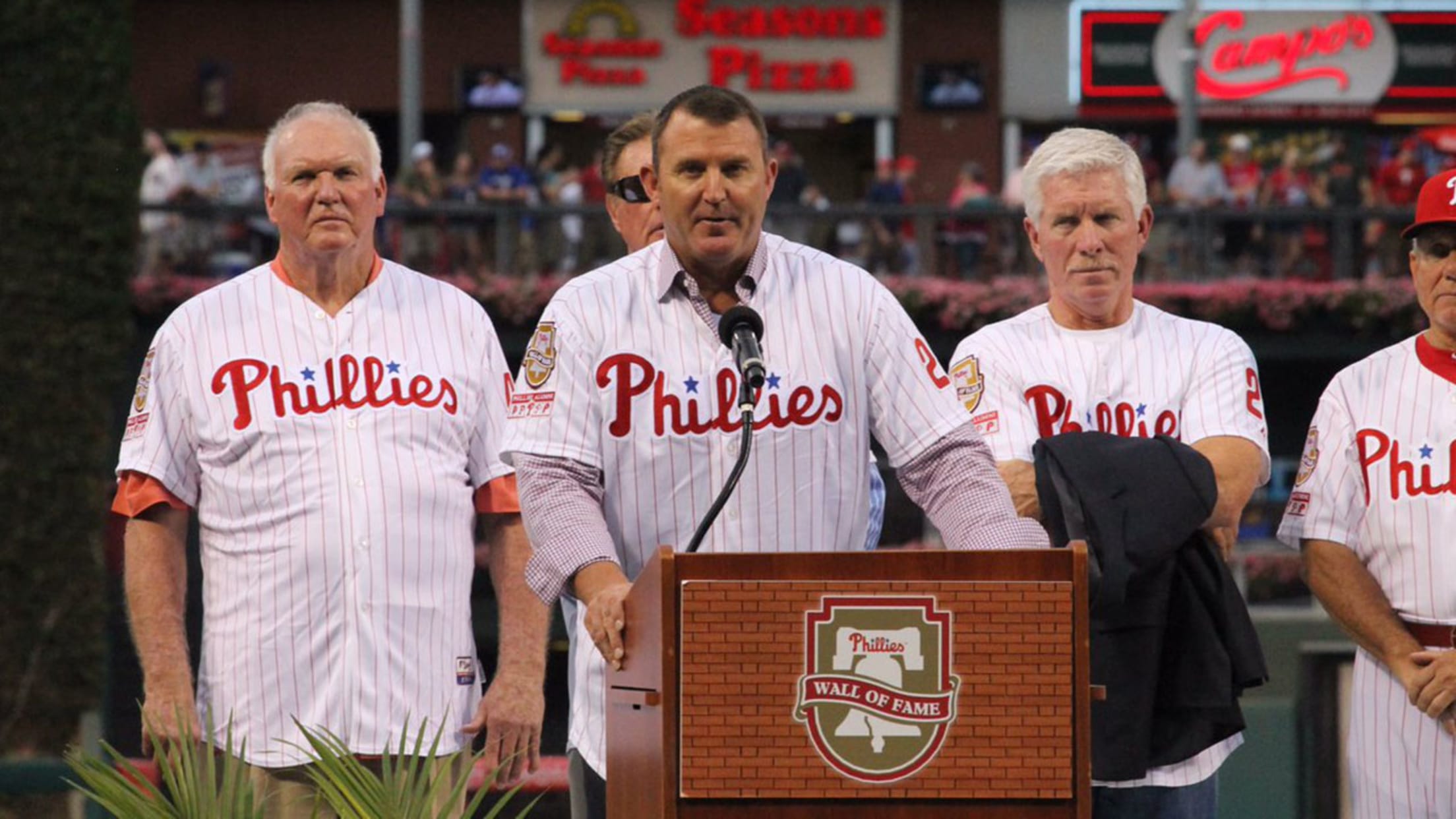 Honors Craig Robinson, inducted into the Bucks County Sports Hall of Fame . . . Larry Bowa, Sacramento Sports HOF and John Vukovich Award . . . Pat Burrell, Jason Michaels and Eric Valent, Reading Fightin' Phils HOF . . . Dick Allen and Pete Rose, added to the New
Honors
Craig Robinson, inducted into the Bucks County Sports Hall of Fame . . . Larry Bowa, Sacramento Sports HOF and John Vukovich Award . . . Pat Burrell, Jason Michaels and Eric Valent, Reading Fightin' Phils HOF . . . Dick Allen and Pete Rose, added to the New York-Penn League HOF . . . Jim Thome, Phillies Toyota Wall of Fame and Cleveland Indians HOF . . . Tim McCarver, Sports Broadcasting HOF . . . Charlie Manual and the late Chris Short, the Philadelphia Sports HOF . . . Ryan Howard, Roy Halladay and Marc Bombard, Florida State League HOF . . . Shane and Melissa Victorino, the Jamie Moyer Legends Award for their philanthropic work . . . Ryan and Krystal Howard, Philadelphia City Council proclamation for their dedication and commitment to the city's youth.
• Phillies alumni
Elsewhere
Thome was the hitting coach for Team USA in MLB's Futures Game . . . Jim Lonborg and Mike Schmidt took part the Phillies 1970s Retro Night . . . Bob Boone and son, Bret, were at Citizens Bank Park on Father's Day . . . Mike Lieberthal and Ed Wade represented the Phillies at the Major League Baseball Summer Draft . . . Fergie Jenkins, Ryne Sandberg, Jamie Moyer, Todd Pratt, Desi Relaford and Aaron Rowand participated in the eighth annual Hall of Fame Classic Weekend in Cooperstown, NY . . . Hall of Famers Jim Bunning, Steve Carlton, Pat Gillick and Schmidt participated in Induction Weekend . . . Randy Wolf and Placido Polanco officially retired as Phillies during Alumni Weekend. Prior to this season three others had done the same, Doug Glanville, Mike Lieberthal and Pat Burrell . . . James Rollins was a postseason, in-studio analyst on TBS TV . . . Charlie Hayes returned to the organization as a hitting coach with the Gulf Coast League Phillies in 2017 . . . Gary Varsho joined the Pirates as a pro scout.
Father-Son
Sons of four Phillies Alumni are in the Phillies Minor League system. They include C Logan Moore (dad, Brad, RHP, 1988; '90); RHP Mark Leiter (dad Mark, RHP, '97-98); RHP Tyler Frohwirth (dad, Todd, RHP, '87-90) and RHP Kale Fultz (dad, Aaron, LHP, 2005-06).
Four other Phillies Minor Leaguers had dads that played in pro ball, INF Drew Stankiewicz (dad, Andy, Major League infielder, 1992-98); C Andrew Knapp (dad, Mike, Minor League catcher, Angles, '86-1996); RHP Luke Leftwich (dad, Phil, was a second-round draft pick of the California Angels in '90 and pitched in the Major Leagues from '93-96. Grandfather Tom Timmermann pitched for six seasons with the Detroit Tigers ('69-73) and Cleveland Indians ('73-74); LHP Brandon Leibrandt (dad, Charlie, pitched 14 years in the Majors with the Cincinnati Reds '79-82, Kansas City Royals, '83-89, Atlanta Braves, '90-92 and Texas Rangers, '93).
Larry Shenk is the vice president of alumni relations for the Phillies.