Updated look at potential Phillies playoff roster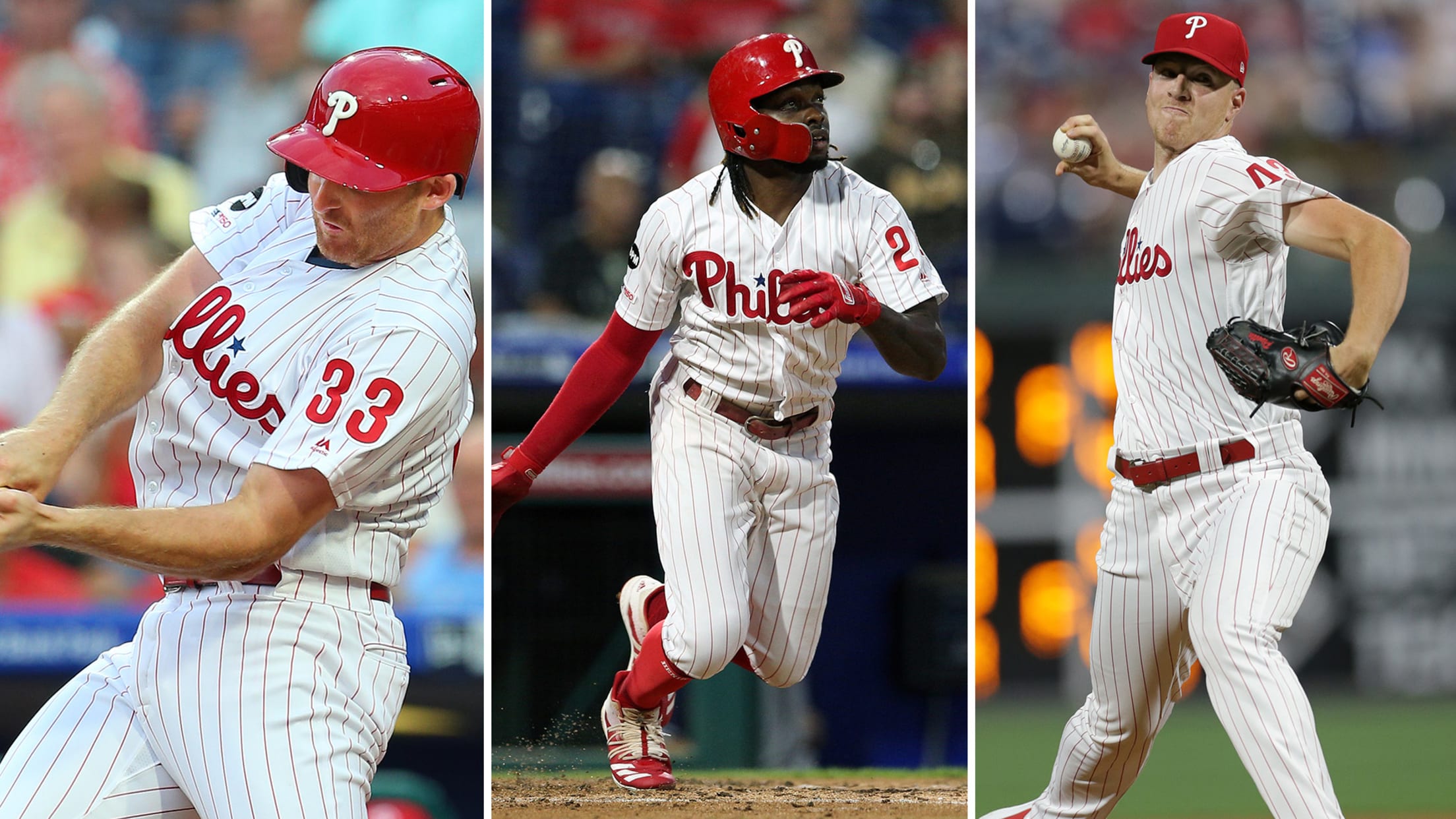 PHILADELPHIA -- The Phillies keep sending mixed messages. They won three in a row early last week against the Mets and Reds, but lost three in a row to the same teams. But after the Phillies won twice over the weekend against New York at Citi Field, they woke up
PHILADELPHIA -- The Phillies keep sending mixed messages. They won three in a row early last week against the Mets and Reds, but lost three in a row to the same teams. But after the Phillies won twice over the weekend against New York at Citi Field, they woke up Monday morning two games behind the Cubs for the second National League Wild Card with 20 games to play.
The Phillies still face long odds to make the postseason. First, they need the Cubs to struggle while the Phillies play well. If the Cubs finish 10-10 (.500), the Phillies need to finish 12-8 (.600) to tie and 13-7 (.650) to pass them. (The Phillies have not had a 13-7 stretch since May.) The Phillies play their next 17 games against the Braves (seven games), Red Sox (two games), Indians (three games) and Nationals (five games). The Phillies finish the season facing the Marlins, who are 9-7 against them.
Second, the Phillies have the D-backs (1 1/2 games behind Chicago) and Brewers (two games behind) to worry about, too.
MLB.com is looking at every contending team -- from locks like the Dodgers, to teams fighting from behind like the Phillies -- and what their postseason rosters might look like in a Division Series.
• Here's how the playoff rosters might look
Here is the best guess at the Phillies:
Catchers (2): J.T. Realmuto, Andrew Knapp
No surprises here. Realmuto entered Sunday with a 5.4 WAR, according to FanGraphs. It ranked fifth in the NL behind only Christian Yelich (7.5), Cody Bellinger (7.3), Ketel Marte (6.8) and Anthony Rendon (5.4). Realmuto is going to play a lot of games and a lot of innings down the stretch.
Infielders (6): Rhys Hoskins, Cesar Hernandez, Jean Segura, Scott Kingery, Brad Miller, Sean Rodríguez
Some fans want Maikel Franco here, but the front office and coaching staff have made their feelings clear. Franco, even after hitting a big home run in Sunday's win over the Mets, is not a part of the future. Perhaps the only thing that could help Franco's chances down the stretch, other than an injury opening a spot, is if he crushes left-handed pitching. He went 3-for-5 with a home run and two RBIs against lefties over the weekend, but he had a .679 OPS vs. lefties in his first 101 plate appearances against them this season.
Outfielders (5): Bryce Harper, Corey Dickerson, Adam Haseley, Jay Bruce, Roman Quinn
Quinn is the wild card in the Phillies' race for a Wild Card. Phillies manager Gabe Kapler said last week that Quinn, who is on the injured list with a groin injury, was scheduled to begin a running program sometime this week. If he does and there are no setbacks, he would change the dynamic of the Phillies' bench. If he cannot play, it opens up a spot for somebody like Logan Morrison, Nick Williams or Phil Gosselin. Kapler has liked Morrison pinch-hitting in big spots.
Rotation (4): Aaron Nola, Jason Vargas, Vince Velasquez, Zach Eflin
Left-hander Drew Smyly pitched well Sunday against the Mets, but he probably needs at least two more solid starts to lock up a spot if the Phillies find themselves in a best-of-five NLDS.
Bullpen (8): Héctor Neris, José Álvarez, Jared Hughes, Mike Morin, Blake Parker, Ranger Suárez, Nick Pivetta, Drew Smyly
If the Phillies win a Wild Card, win the one-game Wild Card playoff and then make the NLDS, it would be the best thing for this bullpen. Because of the built-in days off, Kapler would not have to worry about giving pitchers rests.