Phils prospect Fanti finishes job, fires no-no
Lakewood lefty came one out shy in BlueClaws' May 6 combined no-hitter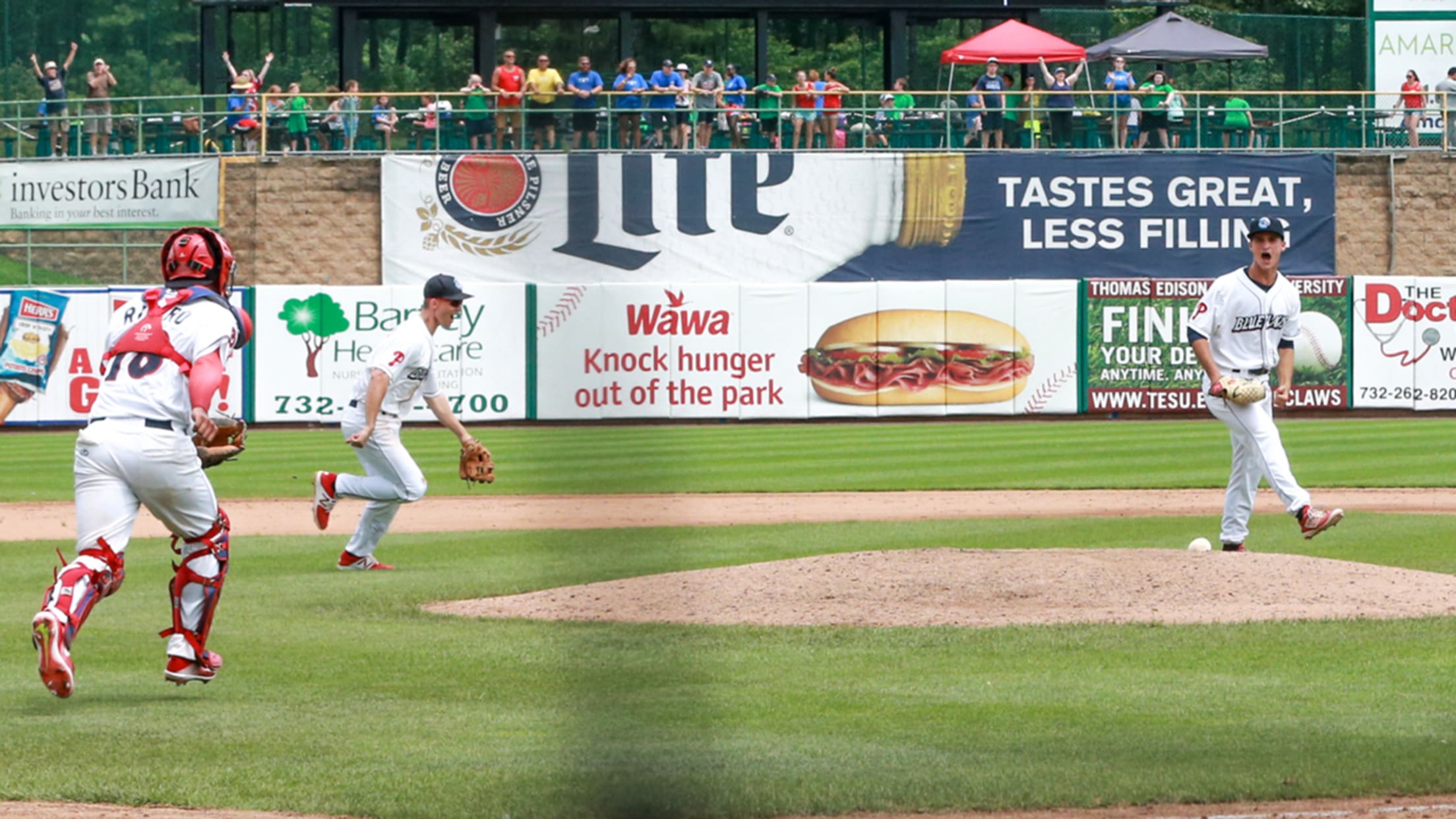 Lakewood pitcher Nick Fanti celebrates after firing a no-hitter vs. Charleston. (Mike Dill/Lakewood BlueClaws)
Nick Fanti is making it look easy at Class A Lakewood.The 2015 31st-round pick continued to exceed expectations for the BlueClaws on Monday by tossing a no-hitter in Lakewood's 1-0 win over Charleston. Fanti struck out 12 and walked only one to earn his seventh win in what was the
Nick Fanti is making it look easy at Class A Lakewood.
The 2015 31st-round pick continued to exceed expectations for the BlueClaws on Monday by tossing a no-hitter in Lakewood's 1-0 win over Charleston. Fanti struck out 12 and walked only one to earn his seventh win in what was the second time he'd taken a no-hitter into the ninth inning this season.
• Box score
Fanti also threw 8 2/3 innings of Lakewood's combined no-hitter May 6 against Columbia. There had been only four no-hitters in Lakewood history before this season. Now, in a span of two months, Fanti has done the heavy lifting in two more.
Final out of Nick Fanti no-hit 1-0 Monday victory over Charleston (Greg Giombarrese) pic.twitter.com/DavR9AO7JM

— Tony Graham (@tonygsports) July 17, 2017
The left-handed starter had everything working in Monday's one-hour, 47-minute affair in Lakewood. He became the second pitcher BlueClaws' history to throw an individual nine-inning no-hitter, joining former big leaguer Gavin Floyd in 2002.
Floyd actually lost that game, 1-0.
Fanti has designated hitter Henri Lartigue, who homered off Charleston starter Alexander Vargas, to thank for helping him avoiding a similar fate.
Fanti's effort lowered his ERA to 2.52 over 15 starts this season, as the former late-round pick out of high school in Long Island, N.Y., continues to turn heads with his performance.
The 20-year-old, who played for Italy in the World Baseball Classic this spring, owns a 14-3 record and a 2.35 ERA over three seasons across two levels. He's now struck out 94 batters in 89 1/3 innings this season while walking just 16.