Pipeline preview: Martes takes the mound for Hooks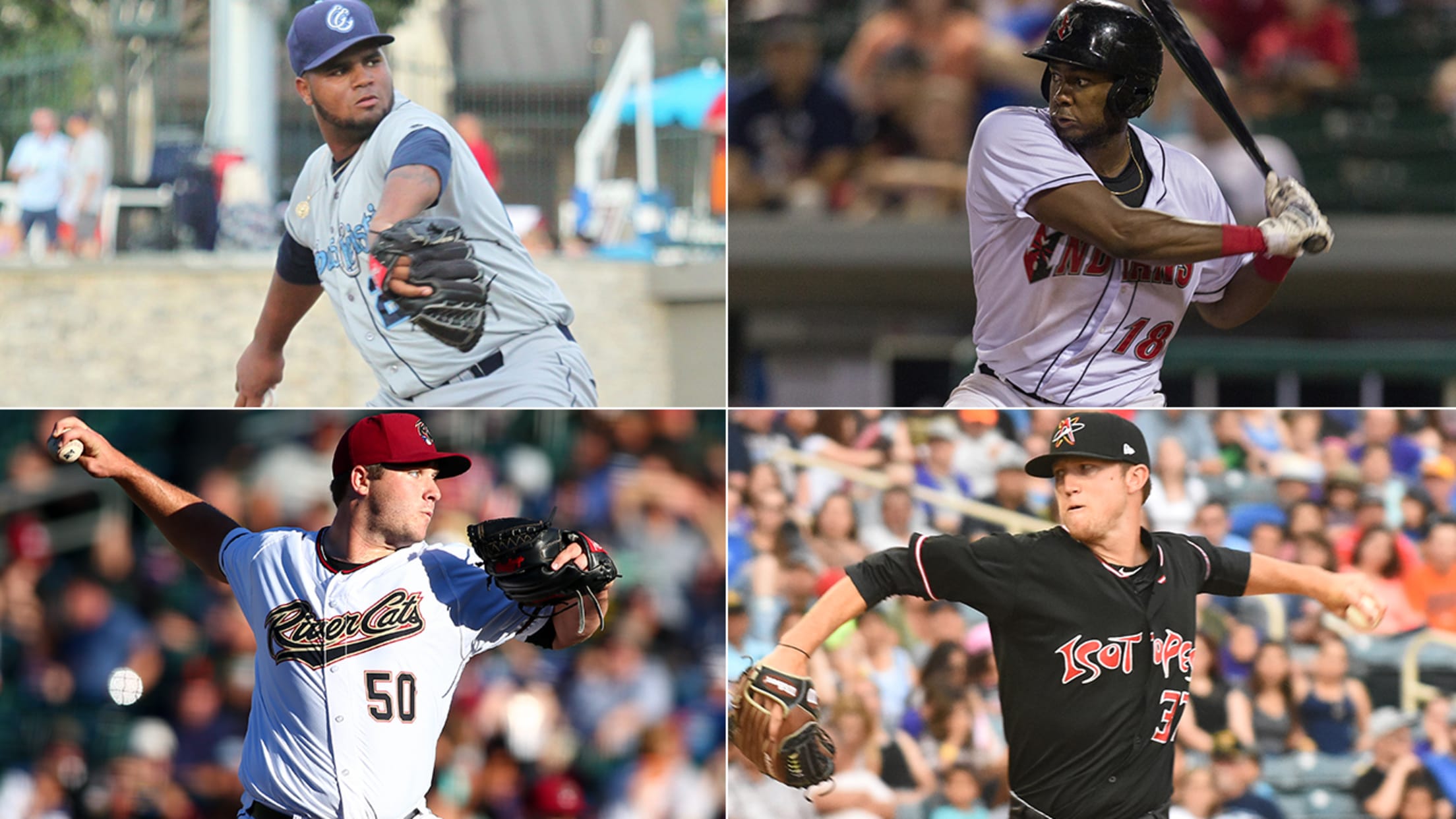 Here's a look at top prospects to watch today in Minor League action:Hitter to watch:Josh Bell (Pirates' No. 3), Indianapolis at Toledo (Opening game of twin bill start at 5:35 p.m. ET on MiLB.TV)Bell, the No. 44 overall prospect, has five hits in his last six at-bats after a 2-for-3
Here's a look at top prospects to watch today in Minor League action:
Hitter to watch:Josh Bell (Pirates' No. 3), Indianapolis at Toledo (Opening game of twin bill start at 5:35 p.m. ET on MiLB.TV)
Bell, the No. 44 overall prospect, has five hits in his last six at-bats after a 2-for-3 day Thursday. The first base prospect, who has been working on his power, collected a pair of extra base hits -- a double and a homer -- for Triple-A Indianapolis. Bell is clearly seeing the ball well right now and will have plenty of opportunities to add to his offensive numbers (.327, 12 homers and 51 RBIs) as Indianapolis is slated to take part in a doubleheader.
Pitcher to watch:Francis Martes (Astros' No. 3), Corpus Christi vs. Springfield (8:05 p.m. ET on MiLB.TV)
Runs are not easy to come by against the No. 36 overall prospect. Martes has held opponents to one earned run or less in seven of his last eight starts. The right-hander threw seven scoreless in his last start and has given up one earned run in his last 11 innings.
Duel of the Day: Kyle Freeland (Rockies' No. 7) vs. Clayton Blackburn (Giants' No. 11), Albuquerque at Sacramento (10:05 p.m. ET on MiLB.TV)
Freeland got off to a terrific start, allowing just three earned runs over his first five starts at Double-A Hartford. However, the season has been a bit rockier for the southpaw since then. He's allowed four or more runs in three of his last four starts and gave up 11 hits in six innings in his Triple-A debut on June 25.
The last time Blackburn took the mound, nothing went right. The 23-year-old gave up 11 runs (nine earned) in two innings. Blackburn was in a decent rhythm before that. Prior to that rough start, the right-hander had thrown at least six innings in six straight starts and given up two earned runs or less in five of six.
Friday's Top 100 probables:
No. 30 Robert Stephenson (Reds' No. 2), Louisville vs. Gwinnett (Triple-A)
No. 31 Dillon Tate (Rangers' No. 3), Hickory vs. Kannapolis (Class A)
No. 33 Carson Fulmer (White Sox No. 1), Birmingham vs. Biloxi (Double-A)
No. 34 Anderson Espinoza (Red Sox No. 4), Greenville vs. Asheville (Class A)
No. 55 Grant Holmes (Dodgers' No. 3), Rancho Cucamonga vs. Stockton (Class A Advanced)
No. 99 Stephen Gonsalves (Twins' No. 6), Chattanooga vs. Pensacola (Double-A)
More top prospect probables:
Tyler Danish (White Sox No. 11), Charlotte at Lehigh Valley (Triple-A)
Jacob Faria (Rays' No. 9), Durham at Norfolk (Triple-A)
A.J. Cole (Nationals' No. 7), Syracuse at Rochester (Triple-A)
Jharel Cotton (Dodgers' No. 8), Oklahoma City at Nashville (Triple-A)
Nate Smith (Angels' No. 3), Salt Lake vs. Fresno (Triple-A)
Anthony Banda (D-backs' No. 14), Reno at El Paso (Triple-A)
Robert Gsellman (Mets' No. 12), Binghamton vs. New Hampshire (Double-A)
Sam Howard (Rockies' No. 23), Hartford at Portland (Double-A)
John Means (Orioles' No. 28), Bowie at Altoona (Double-A)
Sam Coonrod (Giants' No. 6), Richmond vs. Trenton (Double-A)
Josh Turley (Tigers' No. 28) Erie vs. Akron (Double-A)
Daniel Gossett (Athletics' No. 23), Midland at Northwest Arkansas (Double-A)
Rob Whalen (Braves' No. 26), Mississippi at Jackson (Double-A)
Matt Koch (D-backs' No. 17), Mobile vs. Montgomery (Double-A)
Chih-Wei Hu (Rays' No. 12), Montgomery vs. Mobile (Double-A)
Andrew Morales (Cardinals' No. 30), Springfield at Corpus Christi (Double-A)
Connor Sadzeck (Rangers' No. 25), Frisco at Arkansas (Double-A)
Jairo Labourt (Tigers' No. 10), Lakeland vs. Daytona (Class A Advanced)
Stephen Tarpley (Pirates' No. 19), Bradenton vs. Charlotte (Class A Advanced)
Trey Ball (Red Sox No. 18), Salem at Frederick (Class A Advanced)
Austen Williams (Nationals' No. 20), Potomac at Myrtle Beach (Class A Advanced)
Josh Staumont (Royals' No. 17), Wilmington vs. Winston-Salem (Class A Advanced)
Cody Reed (D-backs' No. 13), Visalia vs. San Jose (Class A Advanced)
Justin Anderson (Angels' No. 22), Inland Empire at High Desert (Class A Advanced)
Zack Erwin (Athletics' No. 21), Stockton at Rancho Cucamonga (Class A Advanced)
Jacob Nix (Padres' No. 8), Fort Wayne at Lake County (Class A)
Tanner Rainey (Reds' No. 30), Dayton vs. West Michigan (Class A)
David Hill (Rockies' No. 27), Asheville at Greenville (Class A)
Gage Hinsz (Pirates' No. 23), West Virginia vs. Columbia (Class A)
Ricardo Sanchez (Braves' No. 17), Rome at Lexington (Class A)
Jon Harris (Blue Jays' No. 4), Lansing at South Bend (Class A)
Mac Marshall (Giants' No. 25), Salem-Keizer at Eugene (Class A Short Season)