Pipeline preview: IronPigs' Thompson puts scoreless streak on line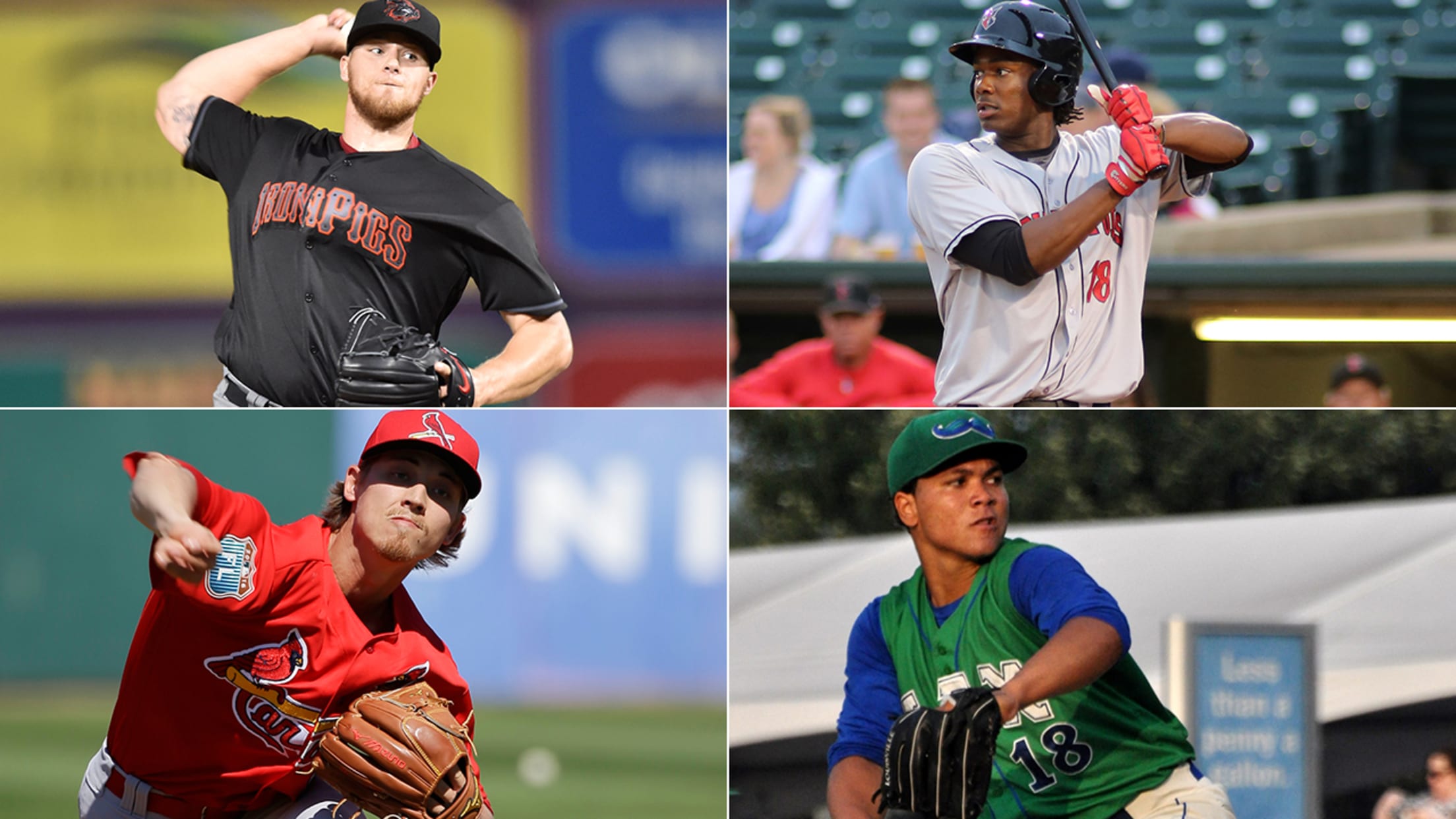 Here's a look at top prospects to watch Thursday in Minor League action:Hitter to watch:Josh Bell (Pirates' No. 3) Indianapolis vs. Pawtucket 7:05 p.m. ET on MiLB.TVThe No. 44 overall prospect has been a tough out lately. Bell has hits in nine of his last 10 games and at least
Here's a look at top prospects to watch Thursday in Minor League action:
Hitter to watch:Josh Bell (Pirates' No. 3) Indianapolis vs. Pawtucket 7:05 p.m. ET on MiLB.TV
The No. 44 overall prospect has been a tough out lately. Bell has hits in nine of his last 10 games and at least two hits in each of his last four contests. The first baseman has also homered in each of the past two games and may well on his way to setting a career-high in homers. Bell's previous career-high is 13, set in 2013, but through 63 games, he's already gone deep nine times.
Pitcher to watch: Jake Thompson (Phillies' No. 2) Lehigh Valley vs. Gwinnett 7:05 p.m. ET on MiLB.TV
Thompson had his worst outing of the year (3 2/3 innings, six earned runs) on May 31, but since then, the right-hander has been brilliant. Thompson has not allowed a run in his past two starts and has struck out eight in 13 innings. The No. 49 overall prospect has adjusted well to the Triple-A level, posting a 3.42 ERA through 12 starts.
Duel of the day: Luke Weaver (Cardinals' No. 3) vs. Pedro Fernandez (Royals' No. 20), Springfield vs. Northwest Arkansas (8:05 p.m. ET on MiLB.TV)
Weaver's season got off to a late start, but he's making up for lost time by racking up a plethora of strikeouts. The 22-year-old fractured his left wrist in Spring Training and has made two starts this year, striking out 19 in 12 1/3 innings. The right-hander has given up just one run this year, via a solo homer, and is looking for another strong outing tonight.
Fernandez hasn't been striking hitters out the way Weaver has, but he's also been effective. The Royals prospect has posted a 2.60 ERA through 10 games this season.
Thursday's Top 100 probables:
No. 1 Lucas Giolito (Nationals' No. 1), Harrisburg at Trenton (7 p.m. ET on MiLB.TV)
No. 34 Anderson Espinoza (Red Sox's No. 4) Greenville at Hagerstown (7:05 p.m. ET)
No. 62 Amir Garrett (Reds' No. 4) vs. Taylor Clake (D-backs' No. 10), Pensacola vs. Mobile (Second game in twin bill. First game starts at 6 p.m. ET on MiLB.TV.)
More top prospect probables:
Ryan Merritt (Indians' No. 26), Columbus at Rochester (AAA)
Kyle McGowin (Angels' No. 15), Salt Lake vs. Tacoma (AAA)
Zach Lee (Dodgers' No. 21), Oklahoma City vs. Omaha (AAA)
Sam Howard (Rockies' No. 23), Hartford vs. Reading (AA)
Yohander Mendez (Rangers' No. 13), Frisco vs. Corpus Christi (AA)
Tyler Beede (Giants' No. 2), Richmond vs. Binghamton (AA)
Jason Garcia (Orioles' No. 9), Bowie vs. Portland (AA)
Adrian Houser (Brewers' No. 17) vs. Jake Esch (Marlins' No. 9), Biloxi at Jacksonville (AA)
Josh Turley (Tigers' No. 28) vs. Shawn Morimando (Indians' No. 15), Erie at Akron (AA)
Chih-Wei Hu (Rays' No. 12), Montgomery vs. Chattanooga (AA)
Jordan Guerrero (White Sox No. 6), Birmingham vs. Mississippi (AA)
Victor Alcantara (Angels' No. 4), Arkansas vs. Tulsa (AA)
Jairo Labourt (Tigers' No. 10), Lakeland vs. Tampa (A Adv)
Yeudy Garcia (Pirates' No. 18), Bradenton vs. Fort Myers (A Adv)
Spencer Adams (White Sox No. 3), Winston-Salem vs. Salem (A Adv)
Enyel De Los Santos (Padres' No. 11), Lake Elsinore at Visalia (A Adv)
Ryan Castellani (Rockies' No. 16), Modesto vs. Inland Empire (A Adv)
Max Fried (Braves' No. 10), Rome vs. Greensboro (A)
Jose Mujica (Rays' No. 25), Bowling Green at Fort Wayne (A)
Dario Agrazel (Pirates' No. 30), West Virginia vs. Charleston (A)
Tanner Rainey (Reds' No. 30), Dayton at Great Lakes (A)
Nick Wells (Mariners' No. 19), Clinton vs. Kane County (A)
Sandy Alcantara (Cardinals' No. 19), Peoria vs. Burlington (A)
Freddy Peralta (Brewers' No. 26), Wisconsin at Beloit (A)