Pipeline preview: Jones looks to stay hot at plate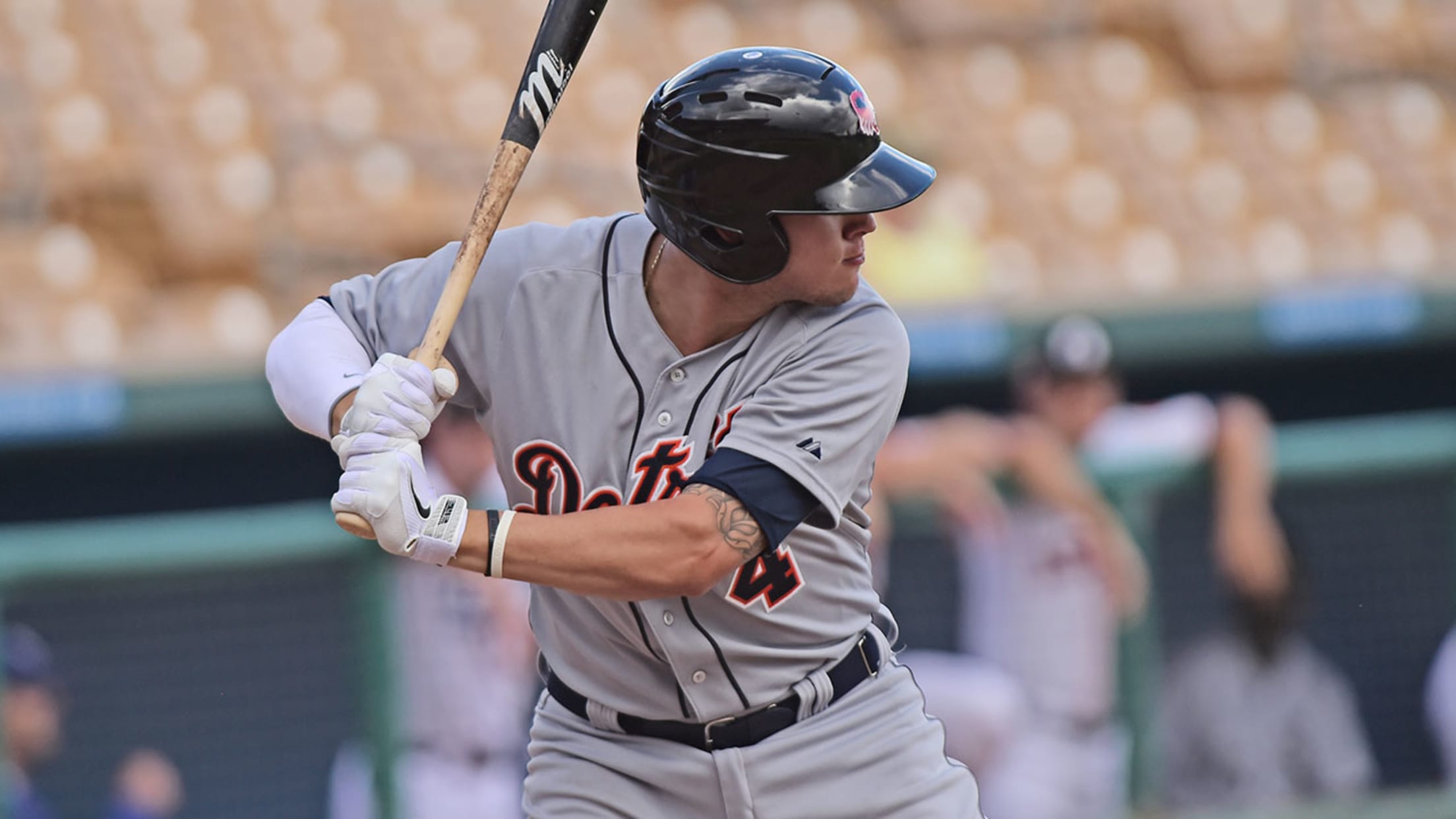 Here's a look at top prospects to watch in today's Minor League action:Hitter to watch: JaCoby Jones (Tigers' No. 8) Erie vs. RichmondJones was forced to sit out for the first 37 games of Double-A Erie's season as he served the remainder of the 50-game suspension levied against him last
Here's a look at top prospects to watch in today's Minor League action:
Hitter to watch: JaCoby Jones (Tigers' No. 8) Erie vs. Richmond
Jones was forced to sit out for the first 37 games of Double-A Erie's season as he served the remainder of the 50-game suspension levied against him last fall. But since his activation on May 17, the 24-year-old third baseman/outfielder has made up for the lost time by hitting .326 with a 1.073 OPS, eight extra-base hits including three home runs and 14 RBIs in his first 10 games back. Jones extended his hitting streak to seven games on Friday night by going 1-for-4 with a triple and two RBIs, and he'll look to keep it alive today when the SeaWolves take on Richmond and Giants' No. 2 prospect Tyler Beede at 6:35 p.m. ET on MiLB.TV.
MILB Video - Title: More information - Url: http://www.milb.com/r/video?content_id=742990983
Pitcher to watch: Jonathan Harris (Blue Jays' No. 4) South Bend vs. Lansing
One of the top pitchers in the Minors Leagues to begin the season, Harris has not allowed an earned run over his last 32 frames (five starts) -- a stretch that dates back to his second start of the year on April 14 -- and enters the day having struck out exactly 11 hitters (a career-high) in seven innings in back-to-back starts for Class A Lansing. The 22-year-old right-hander, whom the Blue Jays drafted 28th overall last June, is 3-0 with a 0.83 ERA and a 34/12 strikeout-to-walk ratio in 32 2/3 innings (seven starts) in 2016, while his shaky Opening Day start (0.2 IP, 3 ER, 2 H, 4 BB) remains the only blemish on his otherwise perfect résumé this season. He'll take the mound against South Bend on MiLB.TV at 7:05 p.m. ET.
MILB Video - Title: More information - Url: http://www.milb.com/r/video?content_id=730451483
Duel of the day: Nate Smith (Angels' No. 3) vs. Dillon Overton (A's No. 10), Salt Lake vs. Nashville
Today's slate of potential duels is highlighted by a pair of Triple-A left-handers in Smith and Overton, who will square off when Salt Lake hosts Nashville beginning at 8:35 p.m. ET on MiLB.TV. Smith scuffled late in 2015 during his introduction to the Minors' highest level, but the 24-year-old southpaw has made strides this season in his return to the Pacific Coast League, posting a 3.47 ERA with 38 strikeouts in 46 2/3 innings (eight starts) for Salt Lake. Overton, meanwhile, is coming off back-to-back one-run outings for Nashville during which he allowed 10 hits while fanning 15 hitters across 12 2/3 combined frames. Overall, the 2013 second-rounder owns a 4.03 ERA and a stellar 49/9 strikeout-to-walk ratio in 51 1/3 innings this season.
MILB Video - Title: More information - Url: http://www.milb.com/r/video?content_id=616281283
Saturday's Top 100 prospect probables

No. 56 Josh Hader (Brewers' No. 4), Biloxi vs. Mobile (8:10 p.m. ET on MiLB.TV)
No. 73 Erick Fedde (Nationals' No. 4), Potomac vs. Winston-Salem (6:35 p.m. ET)
No. 62 Braden Shipley (D-backs' No. 1), Reno at Round Rock (8:05 p.m. ET on MiLB.TV)
More top prospect probables

Beau Burrows (Tigers' No. 2), West Michigan vs. Dayton (A)
Tyler Beede (Giants' No. 2), Richmond at Erie (AA)
Jarlin Garcia (Marlins' No. 3) vs. Rob Whalen (Braves' No. 26), Jackson at Mississippi (AA)
Taylor Guerrieri (Rays' No. 6), Montgomery vs. Jackson (AA)
Kyle Freeland (Rockies' No. 7), Hartford at Portland (AA)
Logan Allen (Padres' No. 7) vs. Chase Shane (Indians' No. 29), Fort Wayne at Lake County (A)
Casey Meisner (A's No. 9), Stockton at Lake Elsinore (A-Advanced)
Foster Griffin (Royals' No. 9), Wilmington at Myrtle Beach (A-Advanced)
Manny Banuelos (Braves' No. 9), Gwinnett vs. Syracuse (AAA)
Nick Traveso (Reds' No. 9), Pensacola vs. Birmingham (AA)
Matt Strahm (Royals' No. 10), Northwest Arkansas at Corpus Christi (AA)
Ian Clarkin (Yankees' No. 10), Tampa at Brevard County (A-Advanced)
Jairo Labourt (Tigers' No. 11) vs. Tom Eshelman (Phillies' No. 15), Clearwater vs. Lakeland (A-Advanced)
Gabriel Ynoa (Mets' No. 13), Las Vegas vs. Memphis (AAA)
Cody Reed (D-backs' No. 14), Kane County vs. Beloit (A)
Jordan Holloway (Marlins' No. 14), Greensboro at Hickory (A)
Roniel Raudes (Red Sox's No. 14) vs. Patrick Weigel (Braves' No. 30), Greenville at Rome (A)
Adam Plutko (Indians' No. 15), Akron vs. Harrisburg (AA)
Clay Holmes (Pirates' No. 15) vs. John Means (Orioles' No. 28), Altoona at Bowie (AA)
Joe Gunkel (Orioles' No. 18), Norfolk vs. Scranton/Wilkes-Barre (AAA)
Nick Pivetta (Phillies' No. 18), Reading at New Hampshire (AA)
Jordan Montgomery (Yankees' No. 19), Trenton at Binghamton (AA)
Thad Lowry (White Sox No. 21), Winston-Salem at Potomac (A-Advanced)
Tyler Anderson (Rockies' No. 21), Albuquerque at Iowa (AAA)
Michael Santos (Giants' No. 22), Augusta vs. Charleston (A)
Trey Nielsen (Cardinals' No. 22), Springfield vs. Frisco (AA)
Trevor Williams (Pirates' No. 24), Indianapolis at Pawtucket (AAA)
Sam Howard (Rockies' No. 24), Modesto vs. San Jose (A-Advanced)
Michael Mader (Marlins' No. 25), Jupiter vs. Palm Beach (A-Advanced)
Chris Stratton (Giants' No. 27), Sacramento vs. Oklahoma City (AAA)
Kyle Wilcox (Mariners' No. 28), Clinton at Burlington (A)