Pipeline preview: Fedde set for home debut for Double-A Harrisburg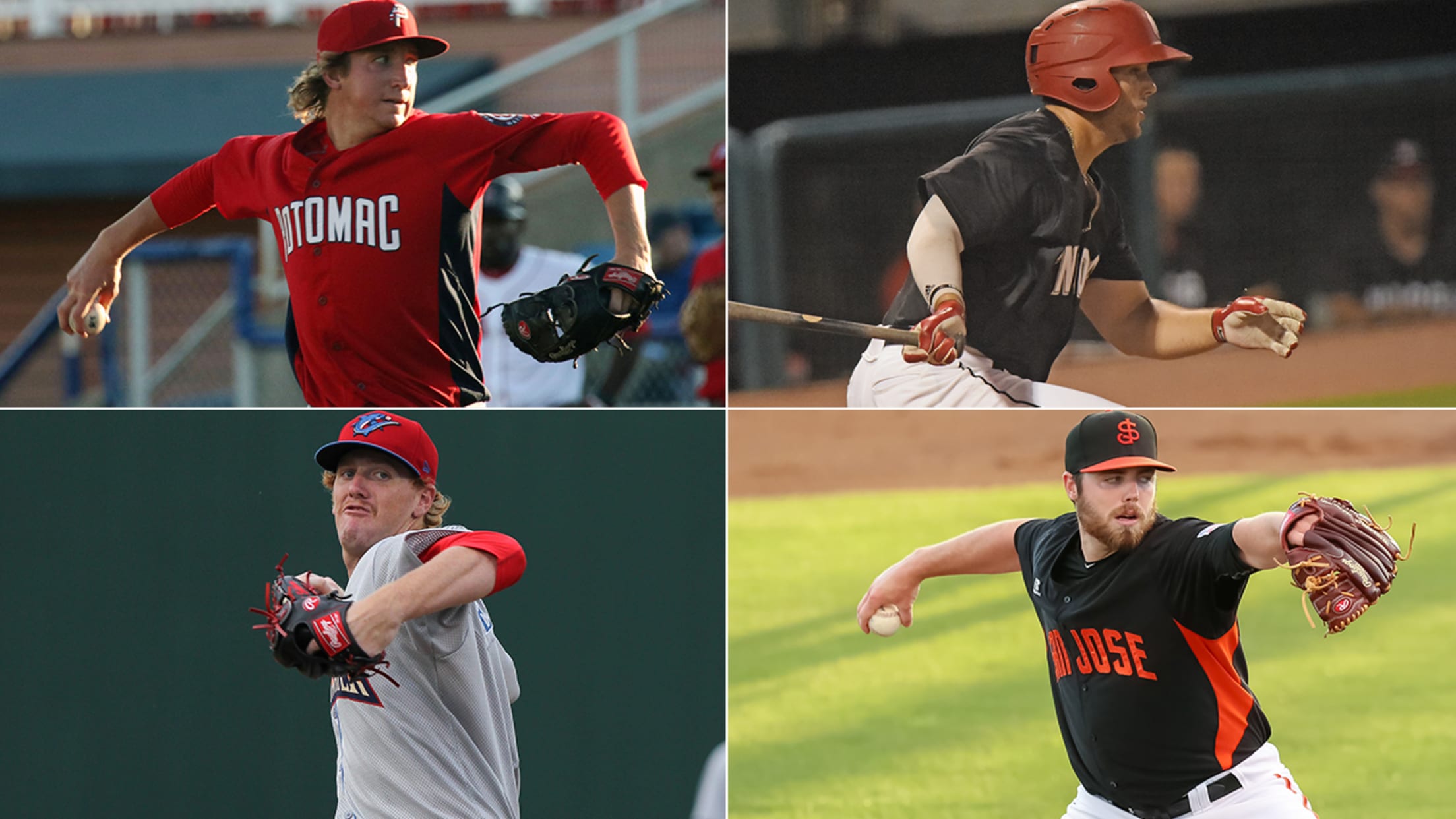 Here's a look at top prospects to watch Tuesday in Minor League action:Pitcher to watch: Erick Fedde (Nationals' No. 4) Harrisburg vs. Erie (7 p.m. ET on MiLB.TV)Fedde, baseball's No. 86 overall prospect, is making his second Eastern League start following a recent promotion from Class A Advanced Potomac to
Here's a look at top prospects to watch Tuesday in Minor League action:
Pitcher to watch: Erick Fedde (Nationals' No. 4) Harrisburg vs. Erie (7 p.m. ET on MiLB.TV)
Fedde, baseball's No. 86 overall prospect, is making his second Eastern League start following a recent promotion from Class A Advanced Potomac to Double-A Harrisburg. The 23-year-old right-hander impressed in his Senators debut last Wednesday at Altoona, allowing one run on five hits over seven innings, with two walks and three strikeouts. Fedde was coming off Tommy John surgery when the Nationals drafted him 18th overall in 2014, and the UNLV product has made that decision look good thus far. After a slow start this year with Potomac, Fedde allowed just four earned runs over his final 11 games (10 starts), while posting a 60-to-10 strikeout-to-walk ratio.
Hitter to watch:Daniel Palka (Twins' No. 21), Rochester at Buffalo, 7:05 p.m. ET on MiLB.TV)
Palka has been on a roll with the bat of late. Over his past seven games, the left-handed slugger has gone 9-for-26 (.346) with three doubles and four homers, including a 2-for-4 night with a double and a long ball in Rochester's 10-4 win over Buffalo on Monday. Palka now has gone deep 30 times in 2016, passing his career-best total from last year, and his RBI count (83) is only seven shy of his 2015 total. The 24-year-old right fielder has hit nine of those homers in 34 games since moving from Double-A Chattanooga to Rochester and is slugging .567 at the Triple-A level.
Duel of the day: Sam Coonrod (Giants' No. 5) vs. Tom Eshelman (Phillies' No. 19), Richmond at Reading, (7:05 p.m. ET on MiLB.TV)
Both of these right-handers are entering their 10th starts at Double-A, and both have been impressive in recent outings. Coonrod, who has a 2.95 ERA with Richmond, has allowed exactly one earned run in each of his past three starts. The former fifth-round pick has a 1.47 ERA in that span.
Eshelman, an Astros second-rounder in 2015 who was dealt to Philadelphia in the Ken Giles deal, has endured a couple of rough starts for Reading. But he tossed six scoreless innings against Bowie on Aug. 3, then came back last Tuesday and held Binghamton to one run over six frames while striking out a career-high 11.
Tuesday's Top 100 Probable pitchers:
No. 18 Anderson Espinoza (Padres' No. 1), Fort Wayne at Dayton (7 p.m. ET on MiLB.TV)
No. 86 Erick Fedde (Nationals' No. 4) vs. Artie Lewicki (Tigers' No. 24), Harrisburg vs. Erie (7 p.m. on MiLB.TV)
No. 88 Ian Anderson (Braves' No. 5), Danville vs. Burlington (7 p.m. ET)
More top prospect probables
Brian Johnson (Red Sox's No. 7), Pawtucket at Lehigh Valley (Triple-A)
Kyle Freeland (Rockies' No. 8), Albuquerque at Oklahoma City (Triple-A)
Kendry Flores (Marlins' No. 13), New Orleans at Salt Lake (Triple-A)
Ty Blach (Giants' No. 23), Sacramento vs. Iowa (Triple-A)
Victor Payano (Rangers' No. 28), Round Rock at Las Vegas (Triple-A)
Tyler Eppler (Pirates No. 6), Altoona at Portland (Double-A)
Sam Coonrod (Giants' No. 5) vs. Tom Eshelman (Phillies' No. 19), Richmond at Reading (Double-A)
P.J. Conlon (Mets' No. 27), St. Lucie vs. Fort Myers (Class A Advanced)
Cody Ponce (Brewers' No. 11), Brevard County vs. Lakeland (Class A Advanced)
Foster Griffin (Royals' No. 16), Wilmington vs. Potomac (Class A Advanced)
Trevor Clifton (Cubs' No. 8), Myrtle Beach vs. Winston-Salem (Class A Advanced)
Enyel De Los Santos (Padres' No. 16), Lake Elsinore vs. Inland Empire (Class A Advanced)
Jesus Castillo (Angels' No. 28), Burlington vs. Beloit (Class A)
Yadier Alvarez (Dodgers No. 6) vs. Ryan Borucki (Blue Jays' No. 17), Great Lakes at Lansing (Class A)
Franklyn Kilome (Phillies' No. 8), Lakewood vs. Hickory (Class A)
Jake Woodford (Cardinals' No. 13), Peoria vs. Cedar Rapids (Class A)
Ronnie Williams (Cardinals' No. 22), Peoria vs. Cedar Rapids (Class A)
Triston McKenzie (Indians' No. 7), Lake County vs. West Michigan (Class A)
Peter Lambert (Rockies' No. 12), Asheville vs. Columbia (Class A)
Cody Poteet (Marlins' No. 15), Greensboro vs. Delmarva (Class A)
T.J. Zeuch (Blue Jays' No. 8), Vancouver at Hillsboro (Class A Short-Season)
Bailey Clark (Cubs' No. 30), Eugene at Spokane (Class A Short-Season)
Alec Hansen (White Sox No. 8), Great Falls at Ogden (Rookie-level)
Ian Kahaloa (Reds' No. 23), Billings at Idaho Falls (Rookie-level)