Pipeline preview: Bickford seeking next great outing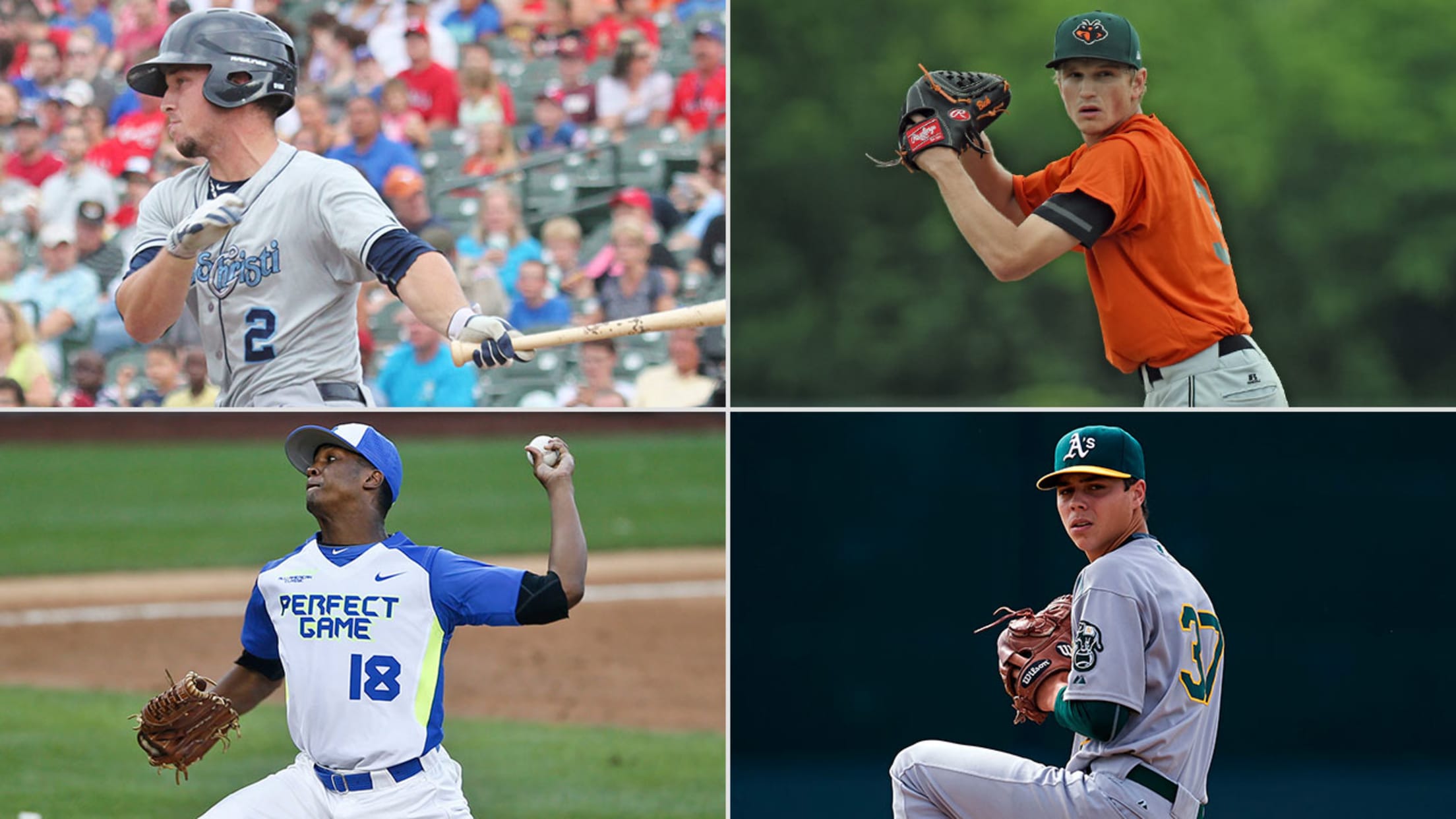 Here's a look at top prospects to watch in today's Minor League action:Hitter to watch: Alex Bregman (Astros' No. 1), Fresno vs. Sacramento (9:05 p.m. ET on MiLB.TV)Bregman has gone 8-for-17 at the plate over four games since being promoted to Triple-A Fresno. Two of those hits have left the
Here's a look at top prospects to watch in today's Minor League action:
Hitter to watch: Alex Bregman (Astros' No. 1), Fresno vs. Sacramento (9:05 p.m. ET on MiLB.TV)
Bregman has gone 8-for-17 at the plate over four games since being promoted to Triple-A Fresno. Two of those hits have left the yard, including his three-run home run on Sunday, and the No. 18 overall prospect has scored seven times and tallied eight RBIs in that span. Overall, Bregman has hit .309 with 16 home runs, 54 RBIs and 61 runs scored in 66 games between the two levels.
Pitcher to watch: Phil Bickford (Giants' No. 3), San Jose vs. Modesto (9:30 p.m. ET on MiLB.TV)
Bickford, 20, has been outstanding since being promoted to Class A Advanced San Jose, posting a 1.64 ERA with 20 strikeouts over 11 innings in his first two starts. Including his time at Class A Augusta, the 2015 first-rounder has piled up 89 strikeouts against 18 walks in 71 innings (13 starts) in his first full pro campaign, while also holding opposing hitters to a paltry .202 average.
Duel of the day: Juan Hillman (Indians' No. 10) vs. Dakota Chalmers (A's No. 10), Mahoning Valley vs. Vermont (7:05 p.m. ET)
Hillman enters the day having not allowed an earned run in his last 10 1/3 innings for Class A Short Season Mahoning Valley. The 19-year-old left-hander, whom the Indians selected in the second round of the 2015 Draft, has logged 15 innings across three starts for the Scrappers this season, registering a 1.80 ERA with 12 strikeouts in that span.
Chalmers struggled with his control last summer after the A's made him their third-round pick, issuing 17 walks in 20 1/3 innings in the Rookie Arizona League. He's fared better in that department this season for Vermont, walking five in 13 1/3 innings while posting a 3.38 ERA with 17 strikeouts. In his most recent start, the 19-year-old righty set new career highs with seven strikeouts and 5 1/3 innings pitched, with 50 of his 85 pitches going for strikes.
Monday's Top 100 prospect probables

No. 11 Alex Reyes (Cardinals' No. 1), Memphis vs. Nashville (7:35 p.m. ET on MiLB.TV)
No. 51 Jorge Lopez (Brewers' No. 3), Colorado Springs at Oklahoma City (8:05 p.m. ET on MiLB.TV)
No. 61 Braden Shipley (D-backs' No. 1) vs. Zach Lee (Mariners' No. 18), Reno vs. Tacoma (9:35 p.m. ET on MiLB.TV)
No. 62 Amir Garrett (Reds' No. 4), Louisville at Indianapolis (6:05 p.m. ET on MiLB.TV)
More top prospect probables

Beau Burrows (Tigers' No. 1), West Michigan vs. Great Lakes (Class A)
Luiz Gohara (Mariners' No. 5), Clinton vs. Burlington (Class A)
Taylor Guerrieri (Rays' No. 6), Montgomery at Mississippi (Double-A)
Jordan Guerrero (White Sox No. 6), Birmingham at Chattanooga (Double-A)
Mike Clevinger (Indians' No. 7), Columbus vs. Toledo (Triple-A)
Max Fried (Braves' No. 9), Rome vs. Greenville (Class A)
Rob Kaminksy (Indians' No. 9), Akron vs. Altoona (Double-A)
Adalberto Mejia (Giants' No. 10), Sacramento at Fresno (Triple-A)
Tyler Mahle (Reds' No. 11), Pensacola at Mobile (Double-A)
Travis Lakins (Red Sox's No. 11), Salem at Carolina (Class A Advanced)
Jordan Stephens (White Sox No. 13), Winston-Salem vs. Myrtle Beach (Class A Advanced)
Kyle McGowin (Angels' No. 14), Salt Lake at Las Vegas (Triple-A)
Fernando Romero (Twins' No. 15), Fort Myers at St. Lucie (Class A Advanced)
Austin Gomber (Cardinals' No. 17), Palm Beach at Jupiter (Class A Advanced)
Chase De Jong (Dodgers' No. 17), Tulsa at Corpus Christi (Double-A)
Thomas Szapucki (Mets' No. 17), Kingsport at Greenville (Rookie)
Joan Baez (Nationals' No. 18) vs. Luis Martinez (White Sox No. 29), Hagerstown at Kannapolis (Class A)
Jaime Schultz (Rays' No. 18), Durham vs. Syracuse (Triple-A)
Sandy Baez (Tigers' No. 19) vs. Imani Abdullah (Dodgers' No. 22), West Michigan vs. Great Lakes (Class A)
Chance Adams (Yankees' No. 19), Trenton at Bowie (Double-A)
Alberto Tirado (Phillies' No. 20), Lakewood at Delmarva (Class A)
Pedro Fernandez (Royals' No. 20), Northwest Arkansas vs. Frisco (Double-A)
Carson Sands (Cubs' No. 23), South Bend at Fort Wayne (Class A)
Jen-Ho Tseng (Cubs' No. 24), Tennessee vs. Jackson (Double-A)
Casey Shane (Indians' No. 28), Lake County at Bowling Green (Class A)