Pipeline preview: Eflin seeks third straight strong start for IronPigs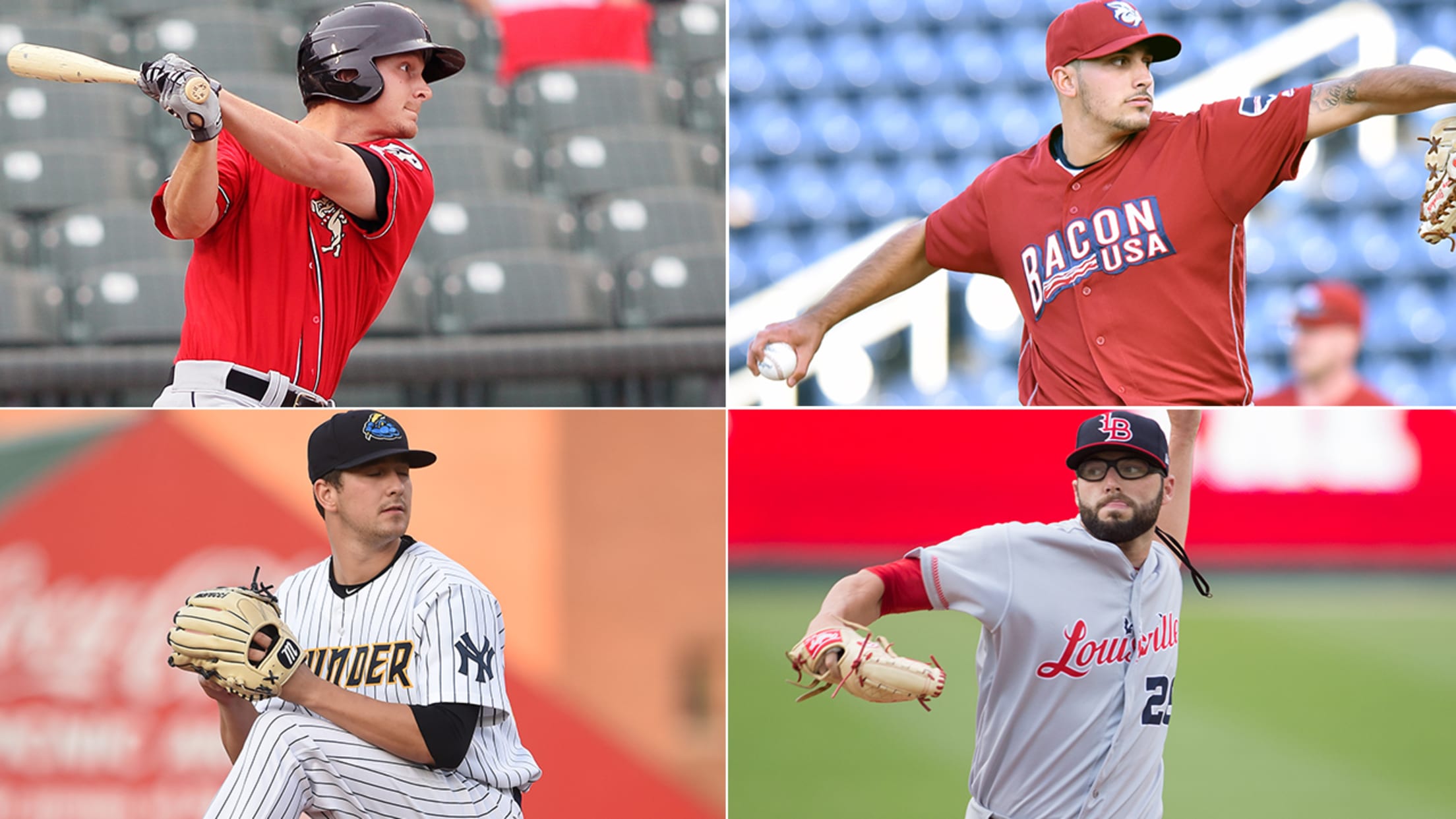 Here's a look at top prospects to watch on Tuesday in Minor League action:Hitter to watch: Alex Dickerson (Padres No. 22) Since he was optioned back to Triple-A El Paso, Dickerson has been red-hot at the plate. The outfielder hit a pinch-hit home run Monday vs. Iowa and is batting
Here's a look at top prospects to watch on Tuesday in Minor League action:
Hitter to watch: Alex Dickerson (Padres No. 22)
Since he was optioned back to Triple-A El Paso, Dickerson has been red-hot at the plate. The outfielder hit a pinch-hit home run Monday vs. Iowa and is batting .571 (16-for-28) with four homers and 14 RBIs since his brief stint in the Majors. He'll look to keep rolling as his team takes on the River Cats at 7:38 p.m. ET on MiLB.TV.
MILB Video - Title: Watch: Dickerson extends streak - Url: http://www.milb.com/r/video?content_id=732591383
Pitcher to watch: Zach Eflin (Phillies No. 13)
Eflin gets a chance at redemption against the Pawtucket Paw Sox. Eflin faced the Paw Sox on April 22 and was tagged for five earned runs in six innings, vaulting his ERA from 0.64 to 2.70. The right-hander has pitched well for Triple-A Lehigh Valley of late, allowing just one earned run over his last two starts, tossing a season-high seven innings in both. He's struck out 11 batters against two walks in that span. The IronPigs take on the Paw Sox at 7:05 p.m. ET on MiLB.TV.
Duel of the day: Cody Reed (Reds No. 4) vs. Brady Lail (Yankees No. 19), Louisville at Scranton/Wilkes-Barre
For Triple-A Louisville, Reed, baseball's No. 61 overall prospect, gets the start. He's been a steady presence for the Bats all year. The southpaw currently owns a 2.08 ERA and has 33 strikeouts in 34 2/3 innings. Reed has not allowed more than two earned runs in any start this season.
After a rough debut for Triple-A Scranton/Wilkes-Barre, Lail has rebounded with strong performances in his last two starts. Since surrendering four runs in 3 2/3 frames on May 7, Lail has limited his opponents to just one unearned run in 12 innings. He enters the showdown with Reed with a 3-2 record and a 3.74 ERA across eight starts with Scranton/Wilkes-Barre and Double-A Trenton. The Bats and RailRiders will take the field at 6:35 p.m. ET on MiLB.TV.
Tuesday's Top 100 Probables:
No. 55 Tyler Jay (Twins' No. 3), Fort Myers vs. Palm Beach (7:05 p.m. ET)
No. 57 Grant Holmes (Dodgers' No. 3), Rancho Cucamonga at Bakersfield (10:30 p.m. ET)
More top prospect probables
Jon Gant (Braves' No. 22), Gwinnett at Norfolk (AAA)
Tyrell Jenkins (Braves' No. 8), Gwinnett at Norfolk (AAA)
Miguel Almonte (Royals' No. 4), Omaha vs. Albuquerque (AAA)
Joe Musgrove (Astros' No. 8), Fresno vs. Oklahoma City (AAA)
Jason Garcia (Orioles' No. 9), Bowie at Hartford (AA)
Ricardo Pinto (Phillies' No. 10), Reading vs. Erie (AA)
Adalberto Mejia (Giants' No. 10), Richmond at Binghamton (AA)
Reynaldo Lopez (Nationals' No. 5), Harrisburg vs. Portland (AA)
Andrew Morales (Cardinals' No. 30), Springfield vs. Midland (AA)
Yeudy Garcia (Pirates' No. 18), Bradenton at Jupiter (A Adv)
Jordan Stephens (White Sox No. 13), Winston-Salem vs. Frederick (A Adv)
Trevor Clifton (Cubs' No. 21), Myrtle Beach at Carolina (A Adv)
Travis Lakins (Red Sox's No. 11), Salem at Potomac (A Adv)
Chance Adams (Yankees' No. 21), Tampa at Daytona (A Adv)
Sam Coonrod (Giants' No. 6), San Jose at Visalia (A Adv)
Jake Jewell (Angels' No. 8), Inland Empire vs. Lake Elsinore (A Adv)
Max Fried (Braves' No. 10) vs. Jonathan Hernandez (Rangers' No. 28), Rome at Hickory (A)
Brett Lilek (Marlins' No. 11), Greensboro vs. Delmarva (A)
Angel Perdomo (Blue Jays' No. 23), Lansing vs. Fort Wayne (A)
Imani Abduallah (Dodgers' No. 24), Great Lakes at South Bend (A)
Jaime Barria (Angels' No. 14), Burlington vs. Cedar Rapids (A)
Franklin Perez (Astros' No. 17), Quad Cities at Beloit (A)
Miguel Diaz (Brewers' No. 27), Wisconsin at Clinton (A)
Jake Woodford (Cardinals' No. 12), Peoria vs. Kane County (A)