Sanchez makes long-awaited return from surgery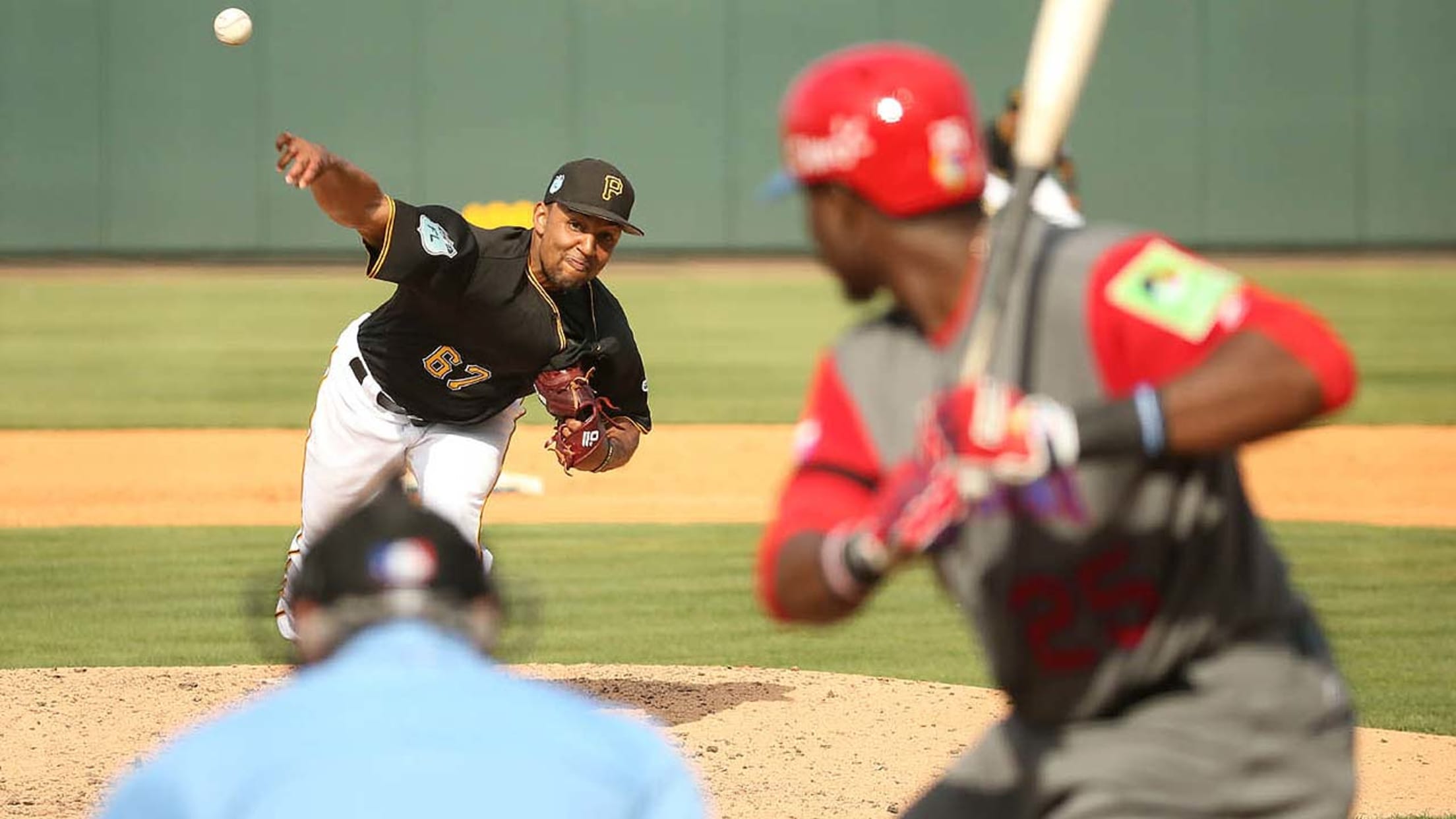 Angel Sanchez, who missed all of last year, faces Gregory Polanco on Wednesday. (Dave Arrigo/Pirates)
BRADENTON, Fla. -- Right-hander Angel Sanchez made his Spring Training debut on Wednesday, recording two outs in the seventh inning of the Pirates' 10-6 exhibition loss to the Dominican Republic.It was the end of a long road back for Sanchez, who had Tommy John surgery after the 2015 season and
BRADENTON, Fla. -- Right-hander Angel Sanchez made his Spring Training debut on Wednesday, recording two outs in the seventh inning of the Pirates' 10-6 exhibition loss to the Dominican Republic.
It was the end of a long road back for Sanchez, who had Tommy John surgery after the 2015 season and did not pitch in an affiliated game last year. Sanchez gave up a hit and walked two batters, getting both outs on a double-play grounder by Jean Segura.
"That's very exciting for him, for us," head athletic trainer Todd Tomczyk said. "The amount of work that this young man has put in to this point is unexplainable."
Casey Sadler and Brandon Cumpton, two other right-handers who had Tommy John surgery in the fall of 2015, may not be far behind Sanchez. Sadler is scheduled to pitch in a game later this week, and Cumpton -- further slowed by a shoulder surgery after the reconstructive elbow procedure -- has progressed to throwing off the slope of the mound.
"All those three guys are making really good strides," Tomczyk said.
All three right-handers, in camp as non-roster invitees, could have made an impact last year had they been healthy, as the Pirates reached well into their pitching depth amid injuries and ineffective performances.
Cumpton posted a 5-5 record and 4.02 ERA in 22 Major League appearances, including 15 starts, from 2013-14. After six relief appearances in 2014, Sadler made his first big league start and earned his first win on April 12, 2015.
Sanchez has not yet reached the Majors, but pitched well in 2015, going 13-2 with a 2.69 ERA in 23 starts between Double-A Altoona and Triple-A Indianapolis.
Trainer's room
• Right-hander Ivan Nova, who was hit in the chest and palm by a comebacker in his last start, is fine and threw his scheduled bullpen session Wednesday.
• Non-roster infielder Jason Rogers (right ankle discomfort) has resumed "limited baseball activity," Tomczyk said, throwing on flat ground and hitting off a tee. It will be at least another week before Rogers can begin agility drills, according to Tomczyk.
• Non-roster right-hander Jason Stoffel (shoulder discomfort) has "plateaued" and stopped throwing, Tomczyk said.
• Tomczyk said catcher Francisco Cervelli, currently with Team Italy, is "right where he needs to be." Cervelli dealt with a sore foot earlier this spring, but played five innings for Italy on Tuesday and "came out of it without any hesitation or any restriction," Tomczyk said.
Around the horn
• Pirates prospect Eric Wood went 3-for-4 with two homers in Team Canada's 10-4 loss in an exhibition against the Yankees on Wednesday.
• Josh Bell made his second Spring Training start on Wednesday, playing five innings at first base and finishing 2-for-3 with a double.
• Right-hander Chad Kuhl will start for the Pirates as they return to Grapefruit League play Thursday against the Rays in Port Charlotte, Fla. Relievers Felipe Rivero, A.J. Schugel and Wade LeBlanc are also scheduled to pitch.