Inbox: Can Bucs add without major sacrifice?
Beat reporter Adam Berry answers questions from fans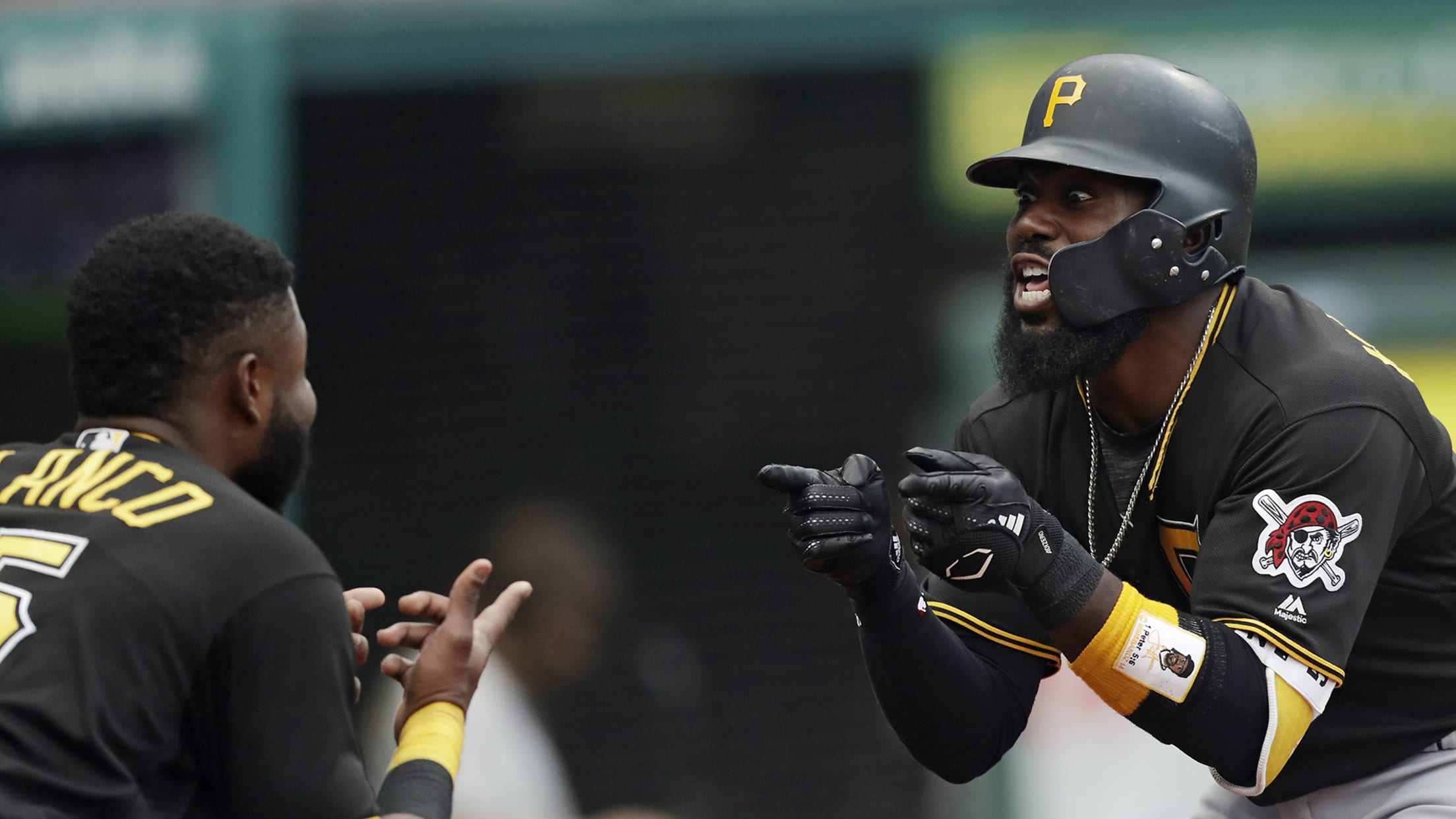 Pittsburgh Pirates' Josh Harrison, right, celebrates with Gregory Polanco after hitting a three-run home run in the second inning of a baseball game against the Cleveland Indians, Monday, July 23, 2018, in Cleveland. Josh Bell and David Freese scored on the play. (AP Photo/Tony Dejak) (Tony Dejak/AP)
Is there any chance the Pirates will trade away players like Josh Harrison, Jordy Mercer or Ivan Nova even if they strike a deal for help? This team is hot right now, and I want them to add without subtracting. -- Aaron H., Erie, Pa.This is a good place to
Is there any chance the Pirates will trade away players like Josh Harrison, Jordy Mercer or Ivan Nova even if they strike a deal for help? This team is hot right now, and I want them to add without subtracting.
-- Aaron H., Erie, Pa.
This is a good place to start, because the Pirates' non-waiver Trade Deadline action the past two years has consisted of adding and subtracting. It's harder to see that happening this season.
:: Submit a question to the Pirates Inbox ::
For one, general manager Neal Huntington was pretty clear on Sunday when he said it was not the Pirates' intent to sell. It's a fair question, given the way Pittsburgh cut payroll this offseason, if Huntington will be able to take on salary without shedding it elsewhere. But he said they could add to their payroll if the right opportunity presents itself. The Bucs' payroll ranks 26th in the Majors, according to USA Today, at $84,585,833.
Also, the Pirates don't necessarily have veterans who could bring back the same type of return that Mark Melancon and Tony Watson did the past two years. The Nationals gave up Felipe Vazquez and hard-throwing pitching prospect Taylor Hearn for two months of Melancon. The Dodgers parted with Oneil Cruz, now Pittsburgh's No. 5 prospect, for two months of Watson.
The Pirates are not going to trade parts of their young, contractually controlled core -- they'd like to do just the opposite and add to that group. It doesn't look like they have any interest in parting with Corey Dickerson, David Freese, Francisco Cervelli, Nova, Harrison or Mercer, either.
Dickerson would yield a good return, but he's been the Bucs' best player this season. Trading away someone like Freese, Cervelli, Nova, Harrison or Mercer probably wouldn't bring back enough to justify the potential negative impact it would have on the field and in the clubhouse. Huntington acknowledged that on Sunday.
"We recognize there's a positive influence in a clubhouse when deals are made," Huntington said. "There can be a negative influence when deals aren't made, and we recognize that when we trade away veteran players that there is a negative repercussion of that."
A sell-off seemed likely three weeks ago. It looks like the Pirates played their way out of that possibility.
Why don't they just go all-in? I'm tired of hearing about prospects, and this team deserves a chance.
-- Jack L., Pittsburgh
Part of this goes back to the organizational philosophy. The Pirates believe the best way to win a World Series is to consistently reach the postseason because the "best" teams aren't always rewarded in October. They don't want to strip their farm system bare one year, fall short of the ultimate goal then struggle through another long rebuilding process.
Big picture, I hear you. At some point, you have to strike when the window's open. People don't want to hear about a future that may never come when there's an opportunity to win in the present.
That said, Huntington was asked on Sunday if the Pirates will trade prospects to help the big league club, and he acknowledged the Bucs have "a willingness to do that depending upon what we're getting back and what the impact is." So if they can get a true difference-maker, they'll consider moving upper-level prospects.
Huntington pointed to the 2014 Deadline as an example. The Pirates pursued lefty David Price and felt they made a competitive offer, but the Rays wound up completing a deal that netted them a combination of MLB-ready talent (Drew Smyly and Nick Franklin) and a high-upside prospect (Willy Adames) who just reached the Majors this year.
But here's the tricky part: The Bucs started Monday with a 12 percent chance to make the postseason, according to FanGraphs, and only a 1.1 percent chance to win the division. Does it really make sense to mortgage the future for a slightly better chance, but no guarantee, of making the National League Wild Card Game? That game can be cruel, as Pittsburgh learned in 2014 and '15.
So I do think there's an opportunity for the Pirates to improve this year's team without going "all-in" on this season. That's why it made sense when I heard the Bucs were pursuing controllable pitching. They'd be more likely to give up better prospects (or more of them) for players who can help their team make a postseason push the next few years, not just the next two months.
Could Kyle Crick go to the Minors and stretch his arm out and become a starter? His ERA is nuts and he's pitching well.
-- Josiah S., Pittsburgh
A non-Trade Deadline question! We'll allow it, because Crick deserves the recognition. His 2.03 ERA is pretty nuts, as you said, and his emergence -- along with the growth of Edgar Santana and the addition of Richard Rodriguez -- has given the Pirates a pretty strong group of setup relievers.
But no, they're not going to make Crick a starter. After he stalled out in Double-A for three years, the Giants moved him to the bullpen full-time last year and watched him take off. The Bucs just need Crick to keep doing what he's doing now, and they'll have a strong 1-2 punch at the back of their bullpen for years to come.