Hurdle urges Pirates to 'sharpen each other'
Manager calls first full-squad workout a 'very good first day'; Bucs sign Rookie Davis to Minor League deal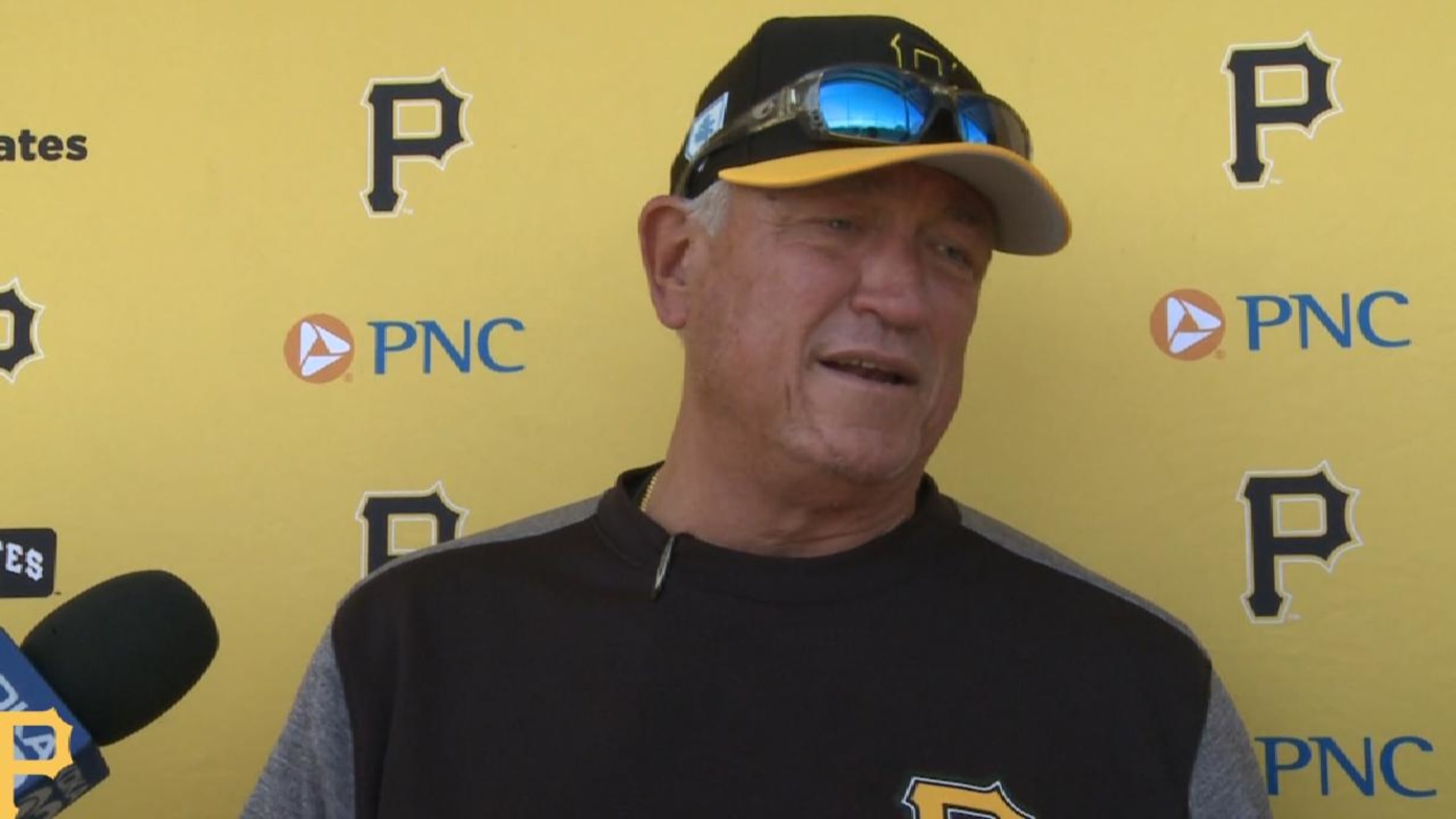 BRADENTON, Fla. -- Before the Pirates took to the back fields of Pirate City for their first full-squad workout on Monday morning, manager Clint Hurdle addressed the team. He finished his speech with a call to action."I said I've said enough," Hurdle told reporters after Monday's workout. "You have to
BRADENTON, Fla. -- Before the Pirates took to the back fields of Pirate City for their first full-squad workout on Monday morning, manager Clint Hurdle addressed the team. He finished his speech with a call to action.
"I said I've said enough," Hurdle told reporters after Monday's workout. "You have to put plans in place. You have to have narrative throughout the winter. You have to have discussions with players, staff -- we did a lot of that. I want to make sure at the end of the day, when everything's said and done, that more is done than said.:: Spring Training coverage presented by Camping World ::
"Now, we need to be intentional with work. I don't need to be talking anymore. I need to be watching. You need to be working. Ask questions of the coaching staff."
So the Pirates got to work on what Hurdle called his "favorite day of the spring by far." The entire squad split into two groups for defensive work. Pitchers threw in the bullpen then got on the mound for live batting practice. Position players ran the bases, played catch, tracked pitches against their teammates and took another round of batting practice.
"Very good first day," Hurdle said. "Lot of fun."
These workouts will continue until Friday, then the Bucs will begin their exhibition schedule. At that point, they can start evaluating their players and go about the business of trimming down their roster from 63 to 25.
Hurdle said the Pirates will start plotting out Grapefruit League lineups and playing time on Tuesday, noting that the staff has already talked to several veterans about when they will get involved in games. He mentioned that not everyone on the team will start playing as soon as Saturday, when the Pirates begin their Spring Training schedule against the Phillies in Clearwater, Fla.
During his address on Monday, Hurdle said, he emphasized the necessity of a team-first mentality and stressed the importance of each day's work.
"We want to be the best team we can be. If each individual player or pitcher takes it upon himself to tee this day up and improve somewhere along the line, it's going to make us better collectively," Hurdle said. "We all have the same goal. We need to have conversation. There needs to be connection. There needs to be communication. We talked about as a team staying hungry, being hungry. Then just the discipline it takes each day for us to show up and sharpen each other."
New arrival
The Pirates on Monday signed right-hander Rookie Davis to a Minor League contract and invited him to Major League Spring Training. Davis, 25, last pitched in the Majors for the Reds in 2017.
The Reds acquired Davis from the Yankees in a December 2015 trade for Aroldis Chapman. He made seven big league appearances for Cincinnati, including six starts, in which he posted an 8.63 ERA over 24 innings. He had surgery in October 2017 to repair the labrum and remove a bone spur in his right hip, and he only pitched in nine Minor League games last year.
I promise I'm more ready than you... Time will tell and it will show. 💯 pic.twitter.com/jOuirCfK9K

— Rookie Davis (@rookdavis24) February 9, 2019
Around the horn
• Club chairman Bob Nutting did not address the team after arriving at Pirate City on Monday, but he did make the rounds during the club's first full workout, talking to several players and staff.
• There was an unexpected yet familiar face in Pirates camp on Monday: Rinku Singh, the former Minor League pitcher who is now a professional wrestler. Singh and Dinesh Patel joined the Pirates in 2008, becoming the first Indian players to sign professional baseball contracts in the United States. Singh was greeted warmly during batting practice by Gregory Polanco, Starling Marte and Josh Bell.
Rinku Singh, noted former pitcher and current professional wrestler, stopped by Pirates camp. He said hello to Polanco, Bell and Marte during BP. pic.twitter.com/WRv7OMvSqj

— Adam Berry (@adamdberry) February 18, 2019
• The Pirates on Monday hosted a Miracle League Fantasy Camp for children with special needs at the Miracle League of Manasota Field. Pirates Charities presented a $27,500 check to the Miracle League of Manasota with funds raised during the 2018 Pirates Charities Night on AT&T SportsNet Pittsburgh.
Pirates players and coaches led activity stations with a focus on hitting, throwing and fielding. The Bucs also provided lunch and presented each child with a personalized Pirates jersey. Nutting, Hurdle, team president Frank Coonelly, general manager Neal Huntington, coaches and players represented the Pirates at the event.