Joyce rebounding after tough season with Angels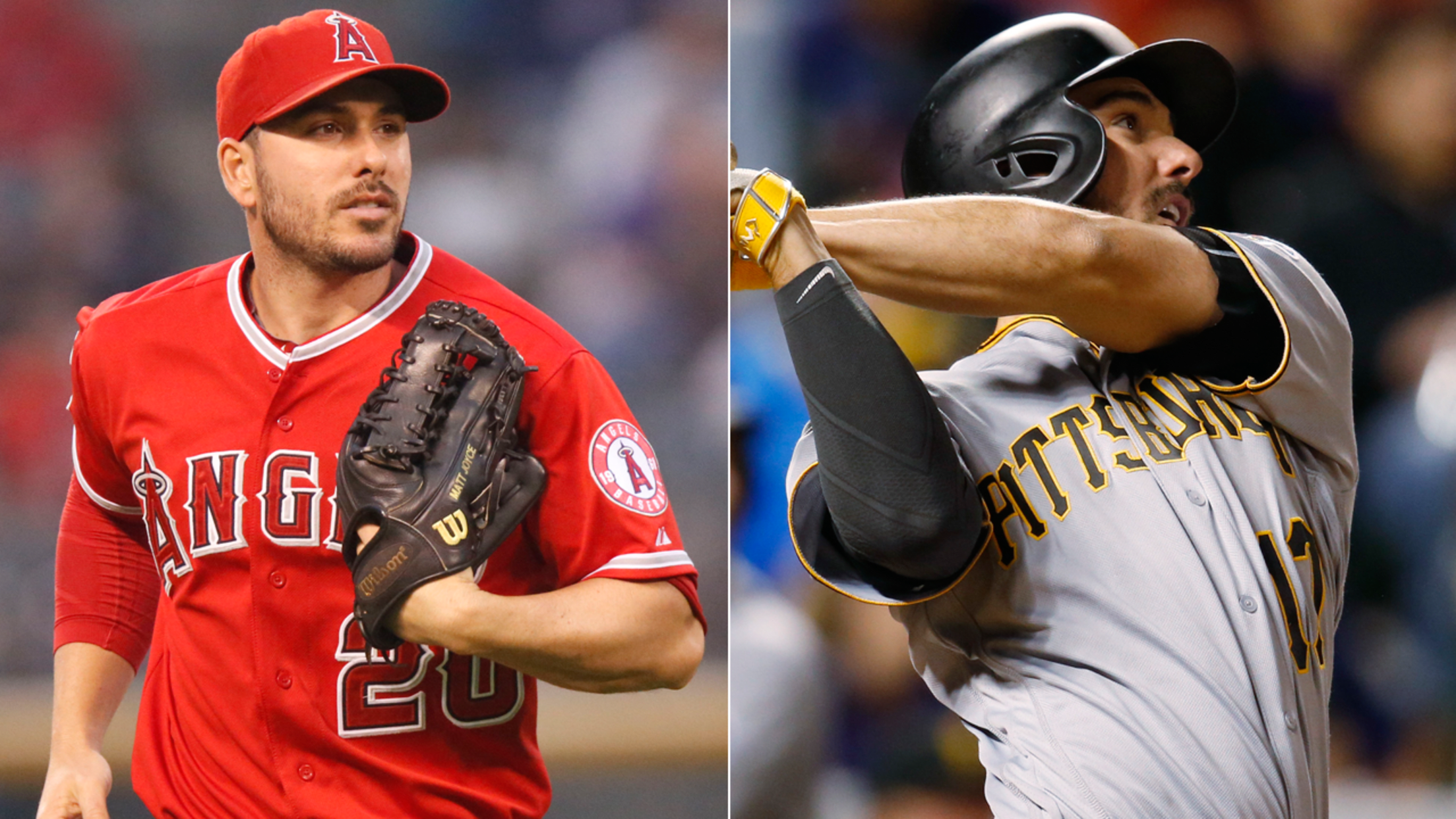 Matt Joyce hit .174 in 93 games with the Angels in 2015. (AP) (AP)
PITTSBURGH -- Pirates outfielder Matt Joyce entered Friday with the second-highest OPS among players with at least 75 plate appearances. He had accumulated 10 extra-base hits, three more than all of the Angels' left fielders in less than half the playing time. And his 194 adjusted OPS was higher than
PITTSBURGH -- Pirates outfielder Matt Joyce entered Friday with the second-highest OPS among players with at least 75 plate appearances. He had accumulated 10 extra-base hits, three more than all of the Angels' left fielders in less than half the playing time. And his 194 adjusted OPS was higher than even that of Mike Trout.
Yes, that Matt Joyce, who struggled so badly with the Angels last season that he wasn't even sure he would remain employed.
"You have to be really resilient in this game, and you have to keep showing up, keep putting in the time, keep putting in the work, and keep learning," Joyce said prior to Friday's series opener between the Angels and Pirates at PNC Park. "It's a really tough game sometimes, and it's unforgiving. It's weird. It's a weird, strange game."
When the Angels acquired Joyce -- in a December 2014 trade that sent reliever Kevin Jepsen to the Rays -- he was still only 30 years old, with a reliable track record for getting on base and mashing opposing right-handed pitchers.
But he never got right.
Joyce reached base only 14 times in 72 plate appearances in his first month with the Angels. He finished July with a .178/.274/.298 slash line and appeared in only seven games over the final two months, lost in an outfield that suddenly included midseason acquisitions David Murphy, Shane Victorino and David DeJesus.
Joyce called it "a frustrating process, but something that I learned a lot from and I will continue to learn from."
Toward the end of the 2015 regular season, Joyce began taking lessons with private hitting instructor Craig Wallenbrock, who is based in Southern California and helped fix Tigers outfielder J.D. Martinez. When he returned to Florida in the winter, he worked with Bobby Tewksbary, who was instrumental with Blue Jays third baseman Josh Donaldson.
Joyce came to the conclusion that he was putting himself in bad hitting positions. Either his swing would come in late, or his hips would slide, or he would roll over on pitches, prompting slow rollers to the right side on outside-corner pitches that needed to be driven to the opposite field.
"If I would do one thing right," Joyce said, "I would struggle with the other."
Angels manager Mike Scioscia admitted that Joyce's swing was "really out of whack" and has seen a different player on video. Joyce's hands are out in front of his chest, as opposed to above his head, allowing his swing path to be direct to the baseball and more consistent. He's always had a good eye, but Joyce is driving mistake pitches again.
His .324/.459/.632 slash line for the Pirates, as a backup to one of the best outfield trios in the game, is one the Angels wish they had last season.
"It was a frustrating year," Joyce said of 2015. "It was nice to get a fresh start this year."
Worth noting
• Angels leadoff hitter Yunel Escobar returned to the lineup on Friday, after missing the last three games with a tender left wrist. Escobar took a short-hop to the wrist while playing third base on Sunday, but was available to pinch-hit on Wednesday and Scioscia said he felt "much better" coming out of Thursday's off day.
• Andrelton Simmons, three weeks removed from surgery to his left thumb, is "close," Scioscia said. Simmons is currently working out with Class A Advanced Inland Empire and could play in games for them as soon as Monday. Simmons' initial timeline -- six to eight weeks -- had him back by late June or early July.
• Tim Lincecum will make his next scheduled start for Triple-A Salt Lake on Tuesday, but Scioscia was non-committal as to whether it would be his last one before joining the Angels' rotation. In his first rehab start on Thursday, Lincecum gave up three runs on three hits and three walks in five innings, striking out five and seemingly getting better late.
• Tyler Skaggs pitched a four-inning, 44-pitch extended spring game in Arizona on Friday, giving up one run on two hits and striking out five. Skaggs said he felt "great" and threw his fastball 90-94 mph. His next step could be a five-inning, 65-pitch outing in Arizona on Wednesday, which could be followed by a rehab assignment.
• Relief pitcher Deolis Guerra cleared waivers and accepted an assignment to Triple-A Salt Lake on Thursday. Guerra, a 27-year-old right-hander, is the fifth Angels reliever to clear waivers and be outrighted to the Minor Leagues over a 13-day stretch, joining Lucas Luetge, A.J. Achter, Al Alburquerque and Dan Reynolds.