Defensive range Kang's next rehab challenge
Pirates' third baseman not yet ready to run bases; Meadows to have eye surgery this week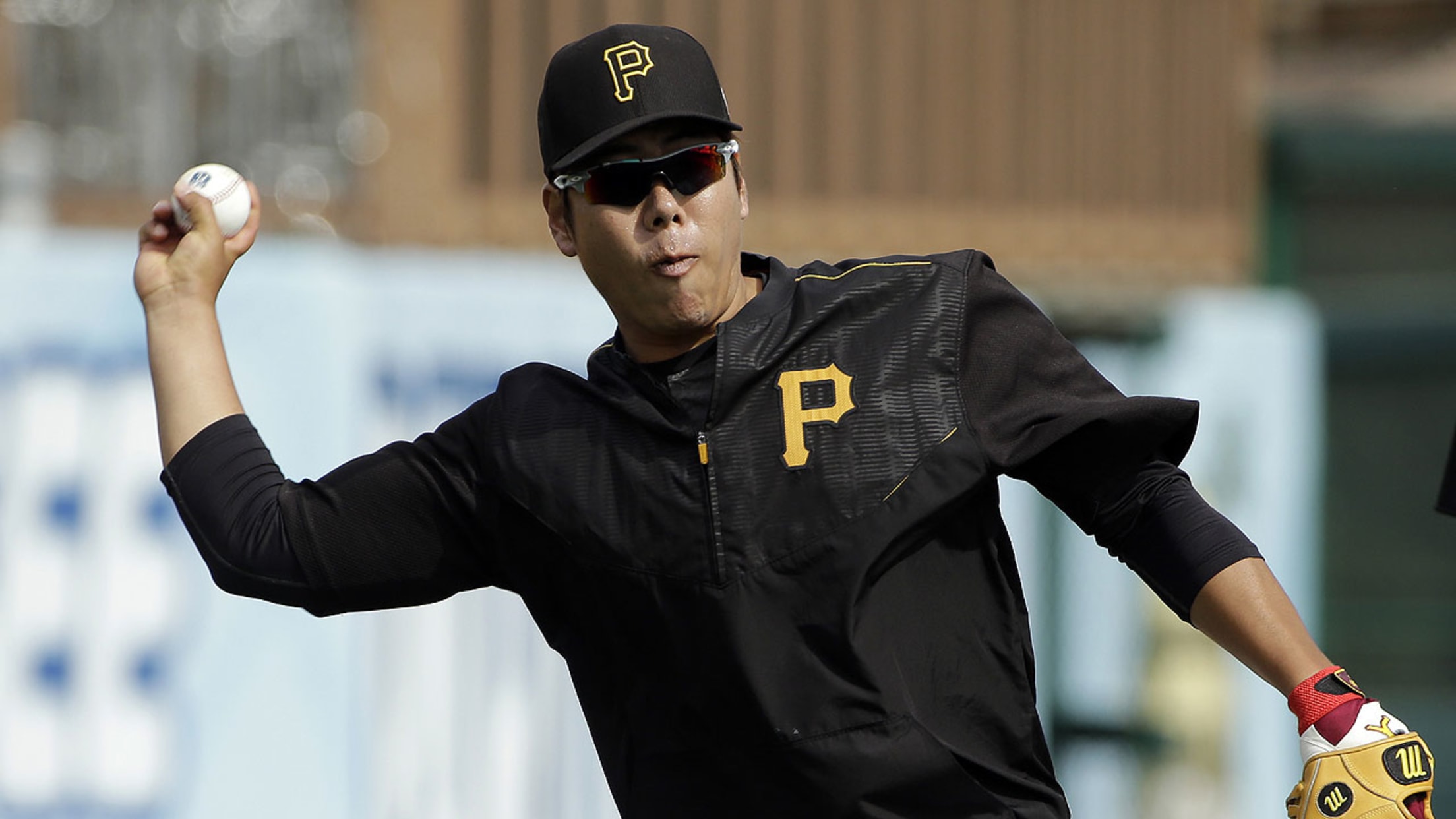 Jung Ho Kang is expected to work on changing directions in the infield this week. (AP)
BRADENTON, Fla. -- The Pirates hope to see Jung Ho Kang take another step toward his return this week, but he's not yet ready to run the bases.Kang is expected to work on changing directions in the infield, head athletic trainer Todd Tomczyk said. The third baseman has been fielding
BRADENTON, Fla. -- The Pirates hope to see Jung Ho Kang take another step toward his return this week, but he's not yet ready to run the bases.
Kang is expected to work on changing directions in the infield, head athletic trainer Todd Tomczyk said. The third baseman has been fielding ground balls since Spring Training began, but this step in the recovery process will further challenge Kang's range as he works his way back from the devastating left knee injury he sustained in September.
• Spring Training information
"The challenge in every rehab is, how do you simulate games into rehab? That's the art of the rehab," Tomczyk said. "He continues to work his butt off to do the things he needs to do to start playing this game again. Day to day, we see how his body responds. We push him to the limit, he pushes us to the limit, and we go from there."
There are no limitations on Kang at the plate, Tomczyk said. Last week, Kang began straight-line running on the infield dirt. But he has not yet progressed to the point where he can run the bases without restrictions, perhaps the most significant test of his surgically repaired knee.
"The million dollar question is, 'When's he going to base-run?' And I get that. We're still not there yet," Tomczyk said. "Today is March 16, and we're going to see where we're at tomorrow."
Tomczyk noted that Kang has approached a difficult rehab with an impressive degree of patience and a remarkable work ethic.
"I've been fortunate to be around a lot of professional baseball players. By far Jung Ho is probably the most diligent, the hardest-working player that we've had the pleasure of working through his rehab," Tomczyk said. "He continues to make strides every single week and every single day."
Trainer's room
• Outfielder Austin Meadows, the Pirates' No. 2 prospect, will undergo surgery later this week or early next week to repair an orbital fracture.
While playing catch during a workout last week, Meadows was struck in the right eye by a ball. The Pirates said on March 9 that their initial battery of tests showed Meadows sustained an orbital fracture, and Dr. Randall Beatty in Pittsburgh confirmed the diagnosis.
Tomczyk said the Pirates will have a "better idea" of Meadows' timeline after the surgery.
• Non-roster left-hander Cory Luebke (strained right hamstring) is expected to make his first appearance later this week.
• Right-hander Nick Kingham, the Pirates' No. 12 prospect, is throwing fastballs off the mound twice a week at the club's Pirate City training complex as he continues to work his way back from Tommy John surgery.
• Non-roster outfielder Antoan Richardson, who entered camp with a fractured right foot, was expected to play in a Triple-A game Wednesday at Pirate City, his first game action of the spring.
• Left-hander Robert Zarate, a reliever in camp on a Minor League deal, is still in the flat-ground portion of his throwing program. Zarate has been sidelined since reporting left lateral elbow discomfort while playing catch on Feb. 27.