Locke's rotation spot not a lock after rocky start
Pirates lefty allows 5 runs on 7 hits, 5 walks vs. Milwaukee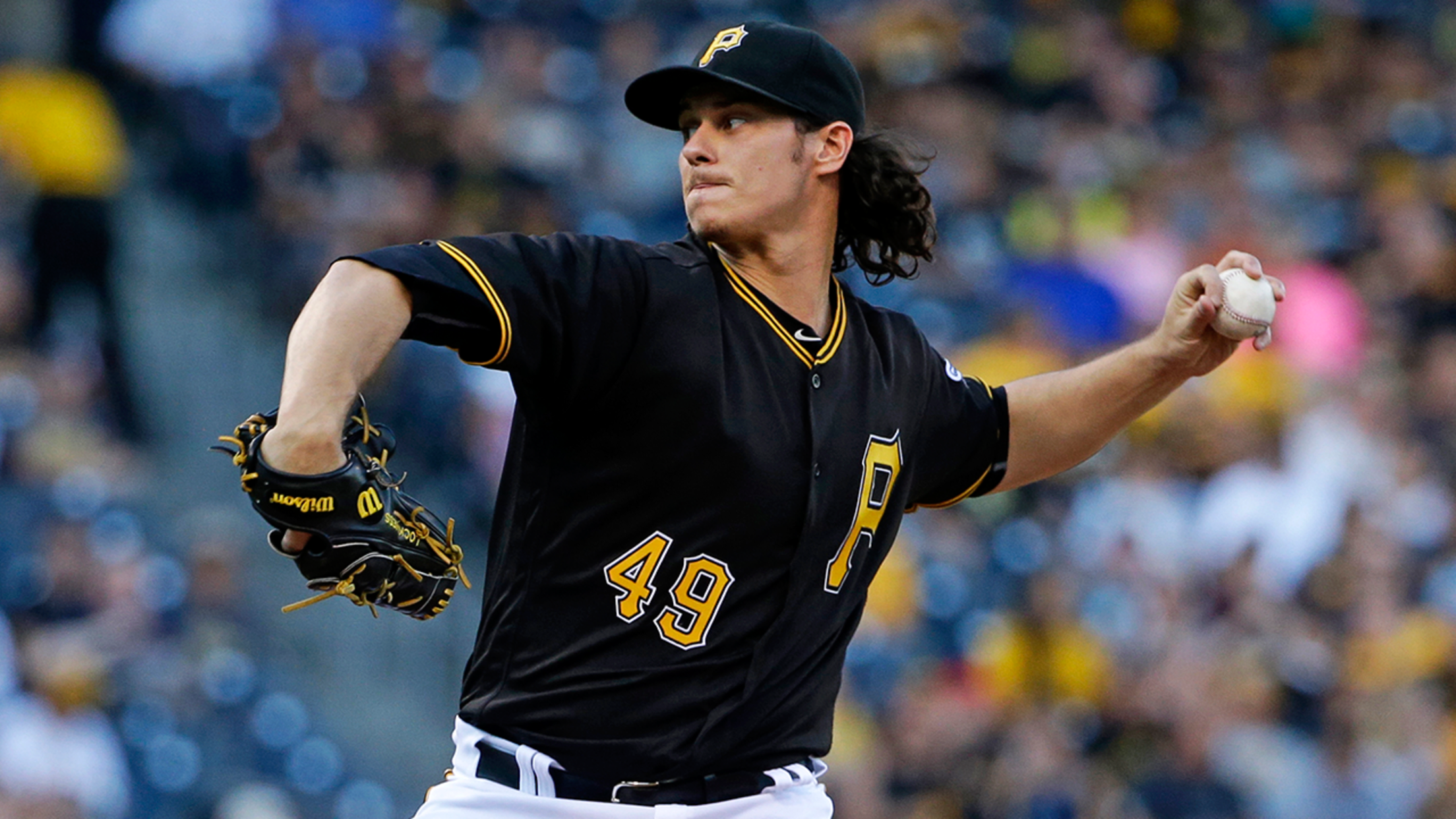 Jeff Locke struggled with his command in Wednesday's 9-5 loss, issuing five walks in just three-plus innings. (AP)
PITTSBURGH -- This was a game Jeff Locke wished he could have back.In a 9-5 loss to the Brewers on Wednesday night, Locke allowed walks to two leadoff batters and a double and a single in his three-plus innings pitched. He couldn't register an out in the fourth inning, loading
PITTSBURGH -- This was a game Jeff Locke wished he could have back.
In a 9-5 loss to the Brewers on Wednesday night, Locke allowed walks to two leadoff batters and a double and a single in his three-plus innings pitched. He couldn't register an out in the fourth inning, loading the bases by walking Chase Anderson, giving up a bunt single to Jonathan Villar and walking Hernán Pérez.
Jared Hughes replaced Locke, minimizing the damage by walking a lone run in.
"We just didn't execute the simple things we needed to do," Locke said. "Getting ahead of somebody, putting pitches where we needed to put them. And you know, getting guys back in the counts, and the walks don't help you either, so it's frustrating."
With the Pirates looking to stay in the playoff hunt, Locke's inconsistency could put his rotation spot at risk. He has struggled to find a rhythm this season, with a 6.55 ERA in his past nine starts. During that stretch, a quality start against the Angels was followed by an 11-run performance in Colorado, and he has yet to pitch deeper than five innings in July.
Locke enjoyed a four-game win streak from May 19-June 4, one of those wins his first career complete game and a shutout in Miami. But with two-fifths of the Pirates' Opening Day rotation, Jonathon Niese and Juan Nicasio, already relegated to the bullpen, his slim margin for error grows more apparent.
"We've gone through these sequences from time to time," manager Clint Hurdle said. "There's reasons for everything. There's reasons why you get to pitch more. There's reasons why you get a slot at the top of the rotation or the bottom, or you get moved to the bullpen, in the case of [Jonathon Niese]."
Gerrit Cole has returned from his stint on the disabled list with a right triceps strain. Tyler Glasnow and Chad Kuhl have flashed potential in their Major League starts, though Glasnow was optioned to Indianapolis in exchange for Josh Bell and Kuhl was optioned to make room for Jameson Taillon.
Due to off-days on July 25, 28 and Aug. 1, the Pirates could use four starters in Taillon, Francisco Liriano, Cole and Glasnow, should they recall Glasnow and should Taillon continue to show no sign of injury or concussion after a line drive to the head in his last start.
Locke may want this start back, but for now, his focus will stay on getting back on track.
"You try to get back out there as soon as you can and try to make things right," Locke said. "There's that saying when things are good you want to keep them good, and when things are bad you want to turn that page as quickly as you can, and that's what we'll do."
Sarah K. Spencer is a reporter for MLB.com based in Pittsburgh.