Bartee, Cora making immediate impact
New Pirates coaches are 'really good fits for the club'; Cervelli improving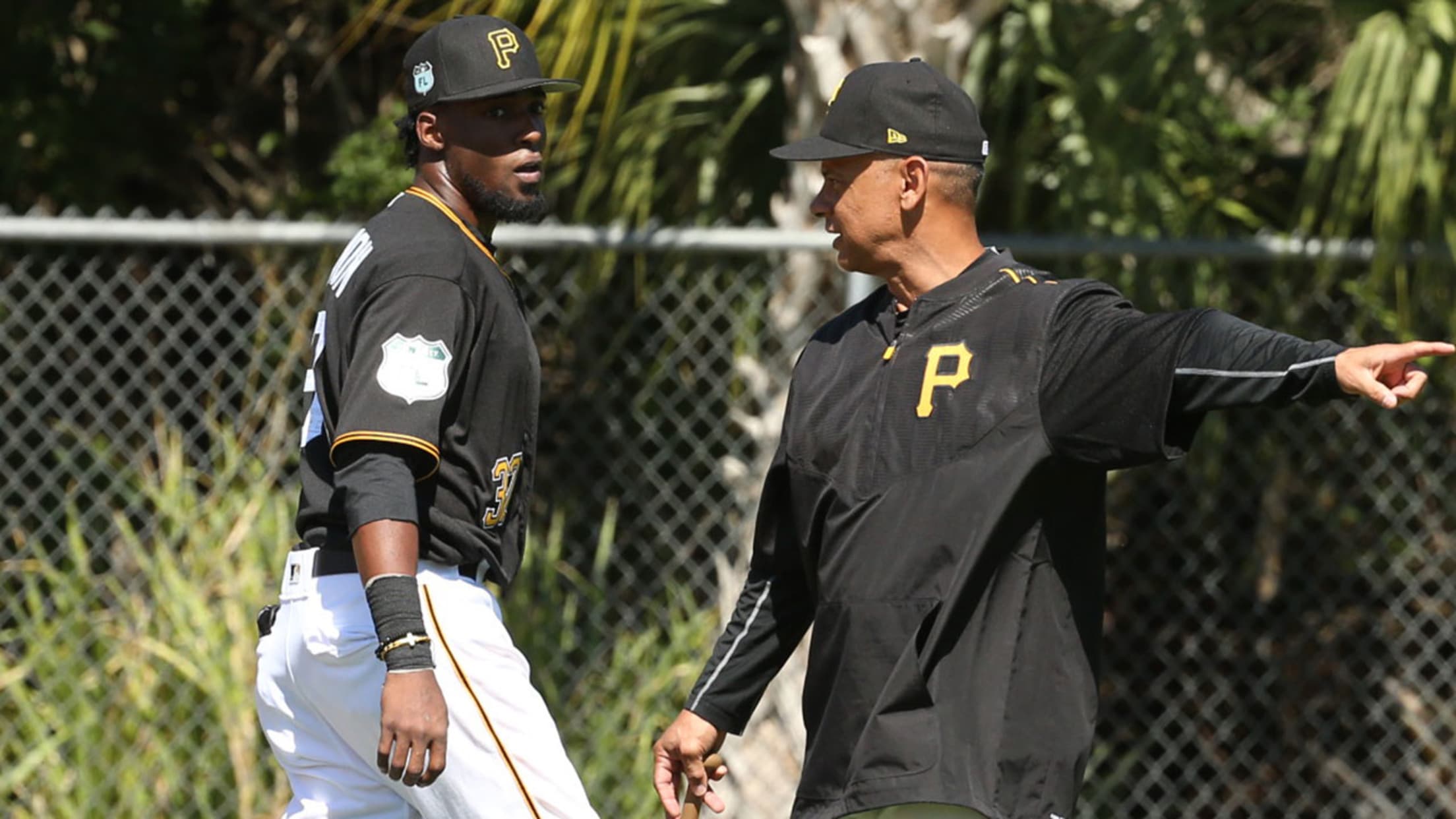 Last year, Joey Cora managed the Pirates' Double-A club. This year he's been promoted to infield and third-base coach for the big club. (Pirates)
BRADENTON, Fla. -- As the Pirates wrapped up their final workout at Pirate City on Thursday morning, Joey Cora was instructing John Jaso as he put in extra work at third base. Kimera Bartee was standing in front of two sliding mats in the outfield grass, overseeing the final drill
BRADENTON, Fla. -- As the Pirates wrapped up their final workout at Pirate City on Thursday morning, Joey Cora was instructing John Jaso as he put in extra work at third base. Kimera Bartee was standing in front of two sliding mats in the outfield grass, overseeing the final drill before the Bucs packed up the clubhouse and moved across town to LECOM Park.
Bartee is in his first spring as the Bucs' new outfield, baserunning and first-base coach, while Cora went from managing in Double-A last year to serving as Pittsburgh's infield and third-base coach. In the first week of Spring Training workouts, Cora and Bartee -- both promoted from within -- made a quick and noticeable impact.
• Spring:Tickets | Ballpark | 40-man roster | NRIs
"I'm confident in both of their abilities," manager Clint Hurdle said. "They're really good fits for the club we have right now, the best fits moving forward. We're happy to have them in play."
Cora reviewed signs with the players during Wednesday's indoor workout, and he's been a constant presence during team infield drills and in specialized sessions with specific players, like Jaso at third base.
Promoted to improve the club's baserunning, Bartee also has long-standing relationships with each of the Pirates' starting outfielders. Hurdle believes that trust and experience will be beneficial as Andrew McCutchen, Starling Marte and Gregory Polanco adjust to new positions.

Both introduced new drills to the Pirates' workouts this spring, Hurdle said.
"We've got a handful of drills, between the two of them, that we've added after we watched them work through them in the instructional league … that we think are going to help," Hurdle added.
Around the horn
• Catcher Francisco Cervelli (right foot discomfort) took batting practice Thursday morning. Hurdle said Cervelli is "showing signs of improvement." The Pirates would like to see Cervelli go through a full workout, and ideally play in a Grapefruit League game, before he leaves on March 5 to play for Team Italy in the World Baseball Classic.
• The Bucs already have a playing-time plan in place for McCutchen, Marte and Polanco for the week of games before they leave camp March 5 to join their respective World Baseball Classic teams.
• The Pirates typically hold an intrasquad scrimmage, the annual Black and Gold Game, the day before beginning their Grapefruit League schedule. They won't do so Friday, however, instead going through a regular workout.
"It can be a nice event for the team with some participation, but the level of competition doesn't stretch us," Hurdle said. "We felt really confident the guys have gotten the work they needed to get without a seven-inning game."
• Players and coaches hit the links after Thursday's workout to take part in the 10th annual Pirates Charities Spring Training Golf Classic in Parrish, Fla.
• After Friday's workout, the Pirates will hold a cook-off, a friendly competition that will split up the players into 15 groups. Coaches, trainers and front-office staff will serve as judges.