Look back at the Bucs' top players of the '10s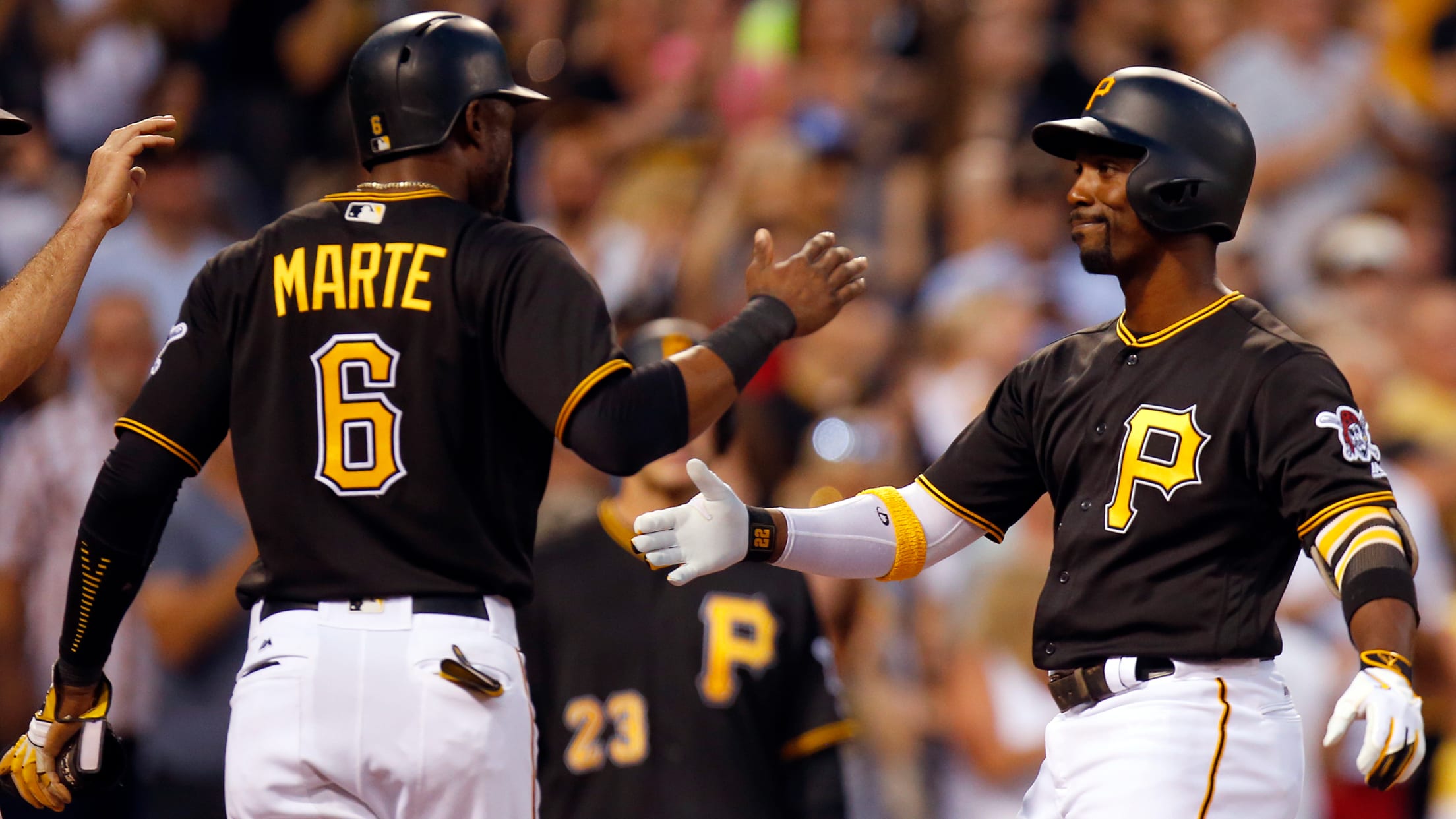 PITTSBURGH -- Over the past 10 years, Pirates players collected six National League Silver Slugger Awards, four NL Gold Glove Awards, a Trevor Hoffman Reliever of the Year Award, an NL Comeback Player of the Year Award, the Roberto Clemente Award and one NL Most Valuable Player Award. A number
PITTSBURGH -- Over the past 10 years, Pirates players collected six National League Silver Slugger Awards, four NL Gold Glove Awards, a Trevor Hoffman Reliever of the Year Award, an NL Comeback Player of the Year Award, the Roberto Clemente Award and one NL Most Valuable Player Award.
A number of stars put on the black and gold during the 2010s, leading the Pirates to four winning seasons and three postseason appearances. Here are MLB.com's top Bucs players of the past decade.
1. Andrew McCutchen
Seasons: 2009-17
This is not up for debate, and nobody else is particularly close. McCutchen was the face of the franchise from the beginning of the decade until the day he was traded, and he was the Pirates' greatest player since Barry Bonds. McCutchen made five straight NL All-Star teams, took home four consecutive NL Silver Slugger Awards, received the prestigious Roberto Clemente Award in 2015, won the NL MVP Award in '13 and finished in the top five in the NL MVP Award voting every year from '12-15. He led the Bucs this decade in WAR (according to Baseball Reference and FanGraphs), games, runs, hits, homers, RBIs, you name it. "Cutch" was the heart and soul of the past decade in Pirates baseball.
2. Starling Marte
Seasons: 2012-present
Marte is too often judged by what he isn't, but what he's been is quite impressive. According to Wins Above Replacement, the outfielder is the clear-cut No. 2 Pirate of the past decade. He was a two-time NL Gold Glove Award winner, a 2016 All-Star and a .287/.341/.452 hitter with 108 homers in 953 games. Marte easily led the Bucs in triples (42), stolen bases (239) and, of course, times hit by a pitch (111) in the 2010s. He was an elite left fielder and a strong center fielder. Bonus points for having a memorable home run call: the "Marte part-ay."
3. Neil Walker
Seasons: 2009-15
By just about any metric, the Pittsburgh kid was the Pirates' third-most valuable player despite only playing here for six years in the 2010s. The switch-hitting Walker slashed .273/.338/.433 with 93 homers and 418 RBIs in 819 games this past decade for the Bucs, and he was a key part of their three consecutive postseason teams. No hometown advantage here, just a consistently solid second baseman and a tremendous representative of the Pirates.
4. Gerrit Cole
Seasons: 2013-17
There's no doubt Cole was the Pirates' most valuable pitcher of the decade. The No. 1 overall pick in the 2011 Draft zoomed through the Minors, debuted in '13 and went 59-42 with a 3.50 ERA in 127 starts for Pittsburgh before being traded to Houston in January 2018. Cole led all Bucs pitchers in starts, innings (782 1/3), batters faced (3,227), wins and strikeouts (734) during the 2010s. He also enjoyed arguably the best individual season of any Pirates starter this decade, going 19-8 with a 2.60 ERA and 202 strikeouts over 208 innings in '15; his accomplishments were rewarded with a fourth-place finish in the NL Cy Young Award voting and an All-Star nod.
5. Francisco Liriano
Seasons: 2013-16, '19
Liriano's time with the Pirates can be divided up into three acts: his excellent work in the rotation from 2013-15 (starting with his '13 NL Comeback Player of the Year campaign), his stunning downturn before a controversial trade in '16 and his return as a mostly reliable reliever in '19. Overall, Liriano went 46-39 with a 3.65 ERA and 722 strikeouts in 693 2/3 innings for the Bucs. He ranked fourth among Pittsburgh pitchers in bWAR and fWAR, worked near the front of the rotation every year the Pirates made the postseason and, you might recall, scaled the mound for the Bucs' most memorable night of the decade: the '13 NL Wild Card Game at PNC Park.
6. A.J. Burnett
Seasons: 2012-13, '15
Burnett's case is bolstered by what he meant to the Pirates, not just how he pitched. The veteran right-hander brought a sense of swagger that permeated the clubhouse and set the tone for the starting rotation as the Bucs ended their 20-year losing streak and returned to the postseason in 2013. Burnett has a strong statistical case, too, as he enjoyed three of the best seasons of his 17-year career with the Pirates. In Pittsburgh, Burnett went 35-28 with a 3.34 ERA in 87 starts, good for sixth in bWAR (7.3) and second in fWAR (10.0) among Bucs pitchers. He made his first All-Star team in his final season and inspired the city to put up the Bat Signal during one of his final starts in '15.
7. Josh Harrison
Seasons: 2011-18
Harrison had longevity, spending parts of eight seasons with the Pirates. He had national recognition, making two NL All-Star teams. He ranked fourth in bWAR among all Bucs position players, and his 2014 season was the best individual campaign of the decade for any Pirate not named McCutchen. Harrison also brought relentless energy and versatile defense, transforming from an undersized utility infielder into part of the club's core, and he was a good citizen to boot. From an entertainment perspective, who could forget J-Hay's wild escapes on the basepaths?
8. Mark Melancon
Seasons: 2013-16
You might not properly appreciate a reliever like this until he's gone. When he was in Pittsburgh, Melancon was automatic. He led the Pirates with 130 saves in the 2010s, and his tenure here ended with a 1.80 ERA and a 0.93 WHIP. Put differently: Melancon's adjusted ERA as a Pirate was 110 percent better than league average, and he averaged slightly less than one baserunner per inning while taking the ball 267 times in 3 1/2 years. His time with the Bucs included three NL All-Star team appearances and a 51-save season in '15 that netted him the Trevor Hoffman NL Reliever of the Year Award and an eighth-place finish in NL Cy Young Award voting. Melancon didn't always light up the radar gun, but he almost always got the job done.
9. Russell Martin
Seasons: 2013-14
Like Burnett, Martin's outsized impact overrides the length of his brief stint with the Pirates. Despite only playing 238 regular-season games for the Pirates, he ranks fourth among position players in fWAR and fifth in bWAR. The veteran catcher, a free agent brought in to help turn the tide in 2013, hit .256/.362/.401 with 26 homers and 122 RBIs for the Bucs. He provided even more value behind the plate with his excellent pitch-framing and overall defense, and he was a difference-making leader who brought what former manager Clint Hurdle called "street cred" to the clubhouse. He also hit a pretty famous home run that you might remember after somebody dropped the ball in the '13 NL Wild Card Game.
10. Tony Watson
Seasons: 2011-17
Putting a reliever with only 30 saves over an entire decade on this list isn't indicative of a lack of worthy candidates for the final spot. No, it's a testament to Watson's durability and dependability. He was consistent in the volatile profession of relief pitching, a 2014 All-Star and a key part of Pittsburgh's shut-down bullpen from '13-15. He also grew into a quiet leader, a highly respected teammate and an example in terms of work ethic. Statistically, consider this: Watson took the ball 450 times for the Bucs this decade, 137 more times than any other Pirates pitcher, and he did it with a 2.68 ERA, an adjusted ERA that was 43 percent better than league average, a 1.09 WHIP, and if you're into reliever decisions, 31 wins (fifth-most among all Pirates pitchers). As a reliever, he ranked eighth among all Pittsburgh pitchers in innings during the 2010s; that helped him rank second, behind only Cole, with 9.5 bWAR.
Honorable mentions
Pedro Alvarez
Seasons: 2010-15
Only McCutchen hit more home runs than "El Toro" for the Pirates in the 2010s. His defensive shortcomings were well-documented and ultimately cost him his job, and he never quite lived up to the hype as the No. 2 overall Draft pick in 2008. But the corner infielder was a solid slugger who peaked in his NL All-Star '13 campaign with 36 homers and 100 RBIs, and he was consistently in the lineup for the NL Wild Card Game years.
Jameson Taillon
Seasons: 2016-present
Taillon ranked third among all Pirates pitchers in bWAR (8.6) and fWAR (9.5) this decade, thanks to a strong half-season as a rookie and, mostly, his excellent campaign in 2018. According to bWAR, Taillon's performance in 2018 (4.7) slightly outpaced Cole's '15 (4.6) as the best individual season by a Pittsburgh pitcher in the 2010s. You can't help but think about how high the Bucs' first Draft pick of the decade might rank if not for the pair of Tommy John surgeries and his bout with testicular cancer in '17.
Josh Bell
Seasons: 2016-present
It may not seem like he's been around long enough for this, but the 2019 NL All-Star ends the decade tied with Gregory Polanco for sixth on the Pirates' home runs leaderboard with 78 -- one less than Garrett Jones, despite playing 100 fewer games than Jones and 171 fewer games than Polanco for Pittsburgh. Among Pirates with more than 700 plate appearances this decade, Bell's 118 wRC+ ranks third behind only McCutchen (138) and Martin (120).
Charlie Morton
Seasons: 2009-15
Morton's best days have come since he left Pittsburgh, but he still managed to record the Pirates' third-highest win total while ranking second behind Cole in starts and innings during the 2010s. He was inconsistent and often injured, but Morton also represented the Bucs' pursuit of sinker-throwing starters during their successful run from '13-15.