Pirates pay respects at Walter Reed
Stewart on visit: 'It's definitely eye-opening for us'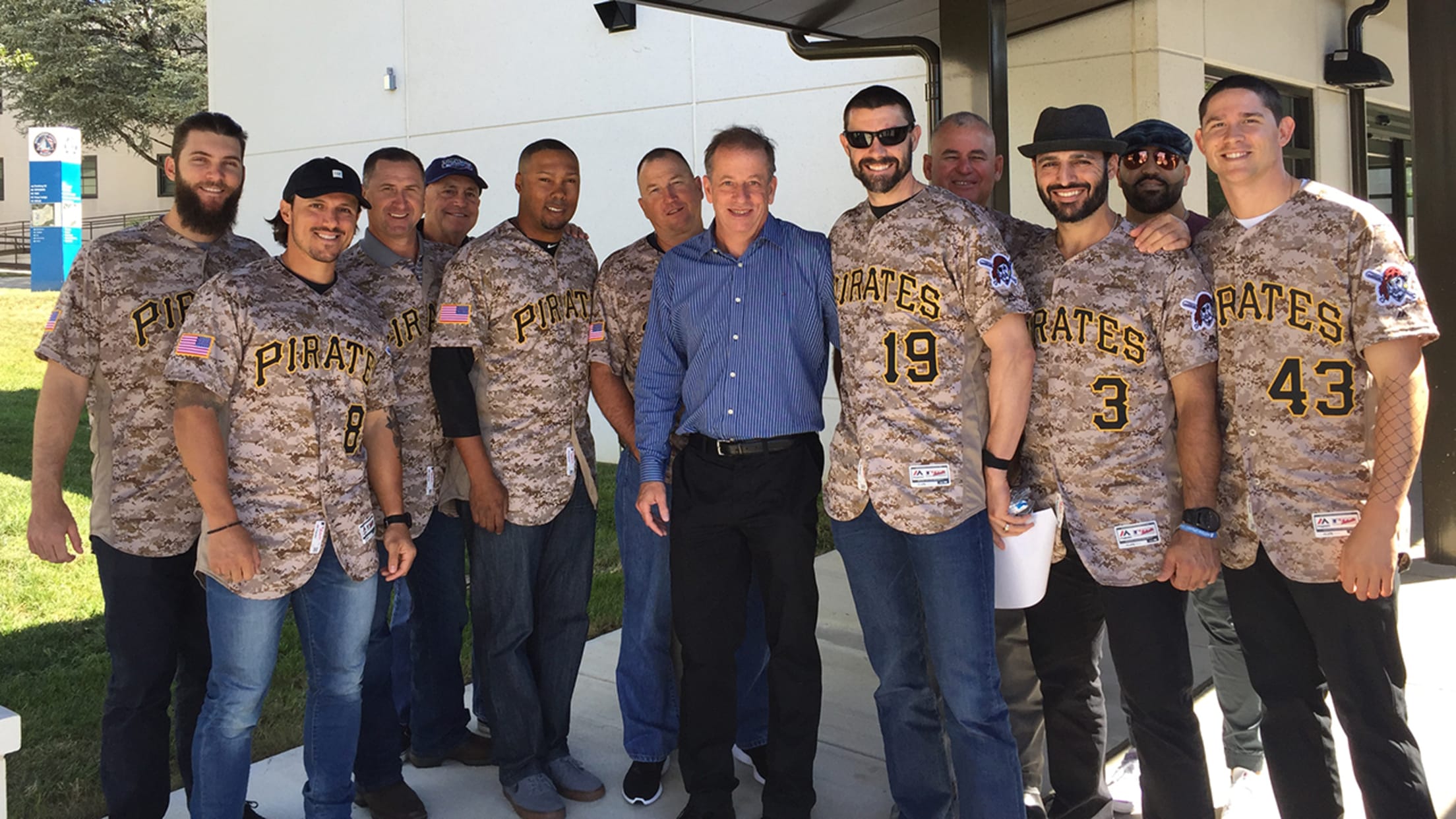 A group of Pirates coaches and players visited Walter Reed Medical Center in Bethesda, Md., on Friday. (Billie Jauss)
WASHINGTON -- The Pirates spent some valuable time away from the ballpark on Friday, when a group of players and coaches visited the Walter Reed National Military Medical Center in Bethesda, Md.Pirates coach Dave Jauss organized the trip through a connection from his time with the Red Sox. About a
WASHINGTON -- The Pirates spent some valuable time away from the ballpark on Friday, when a group of players and coaches visited the Walter Reed National Military Medical Center in Bethesda, Md.
Pirates coach Dave Jauss organized the trip through a connection from his time with the Red Sox. About a dozen Pirates players and coaches attended and met with veterans at one of the country's largest and most well-known military medical centers.
The group included Jauss, bench coach Tom Prince, first-base coach Kimera Bartee, hitting coach Jeff Branson, bullpen coach Euclides Rojas, special assistant Mike Gonzalez, bullpen catcher Jordan Comadena, Trevor Williams, Steven Brault, Chris Stewart and Sean Rodriguez.
They split into two groups, one meeting with those in inpatient care and another setting up shop in the cafeteria to speak with veterans along with doctors and medical staff.
"They were happy to see us. We were happy to be there," Stewart said. "Good visit."
The second group spent time shaking hands, signing autographs, taking pictures and swapping stories -- and they met a handful of patients who had stories about their time playing baseball or softball. They even met the staff's emotional support dogs, who "signed" a picture with paw prints for the Pirates.
"It's nice to get out and do something like that. It definitely puts our lives in perspective," Stewart said. "You have people coming back, a lot of them missing limbs when they come back. It makes you so much more thankful that we're here, being able to do what we're doing because of what they're doing over there.
"It's definitely eye-opening for us, and it keeps us grounded. You know, 0-for-4 with four strikeouts really isn't that bad, at the end of the day."
Williams' father, Richard, organizes an annual trip in which he escorts wounded Marines to Spring Training sites around Arizona. Williams appreciated the opportunity to visit Walter Reed, and he expressed a sentiment similar to Stewart's.
"I have no idea what the emotional toll like that is like. I have no idea, and I'll never have an idea," Williams said. "It's always good going and putting things in perspective. Maybe I gave up eight runs, but at least I didn't run away from bullets today, or at least I didn't see all they've seen. It was good perspective."
Manager Clint Hurdle made a separate trip before Friday's game between the Pirates and Nationals. Hurdle, his son, Christian, and his nephew received a tour of the White House that included a stop in the briefing room.
Clint Hurdle in the White House press briefing room with @PeterAlexander pic.twitter.com/lCq5LGRQ9v

— Pirates (@Pirates) September 29, 2017
"It's been a long time since I had been there, and it was like I'd never been there," Hurdle said, smiling. "It was really good."