At AT&T Park, PLAY hosts local youth teams
Event promotes healthy choices, active lifestyle to kids age 6-14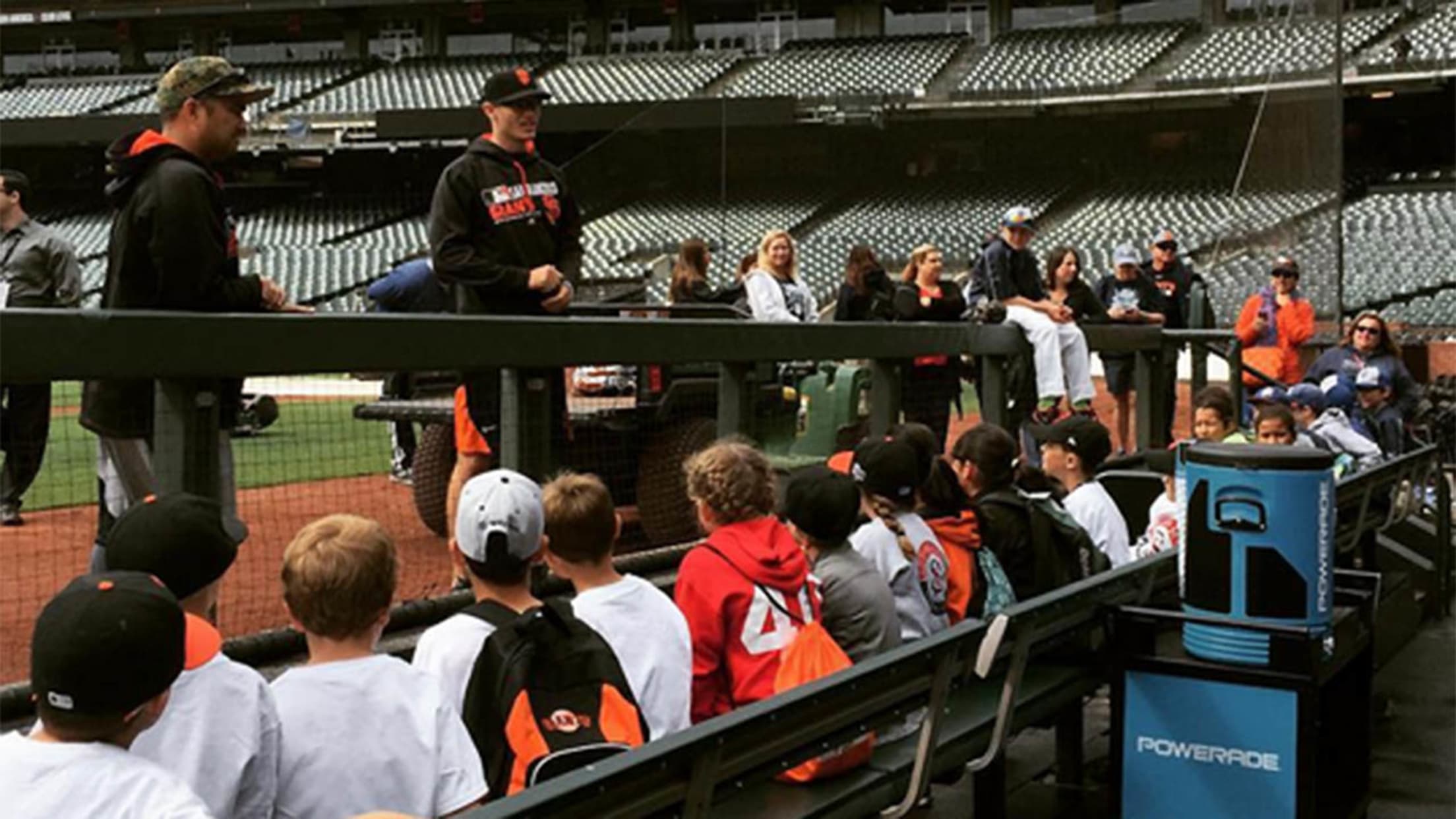 Kelby Tomlinson talks with kids at the PLAY Campaign event at AT&T Park. (PBATS on Instagram) (PBATS on Instagram)
SAN FRANCISCO -- Members of the Starting Lineup Baseball Academy passed through the tunnels of AT&T Park and stepped onto the field with their eyes wide and jaws hanging."Whoa, look at that TV," said one kid, his voice rising out among the din of excitable youngsters shuffling onto the field."Imagine
SAN FRANCISCO -- Members of the Starting Lineup Baseball Academy passed through the tunnels of AT&T Park and stepped onto the field with their eyes wide and jaws hanging.
"Whoa, look at that TV," said one kid, his voice rising out among the din of excitable youngsters shuffling onto the field.
"Imagine if we got to sit in the dugout?" his friend asked, as another young girl boasted, "I've been on the field once, I even got to run the bases."
While school may be out, Monday was a day of baseball education for the young ballplayers. The group joined three other local teams taking part in the National PLAY campaign's annual event in San Francisco, which aims to promote a more active and healthy lifestyle among kids. More than 50 boys and girls age 6-14 took part Monday in a variety of exercise and baseball drills led by the Giants Athletic Training staff and infielder Kelby Tomlinson.
"It's cool to come out here and see all the energy these kids have and to interact with them," Tomlinson said. "[It's important] to keep them from becoming lazy, for lack of a better word, and to keep their body in shape and be active."
Kelby Tomlinson talking to kids at the PLAY Campaign today with the @sfgiants, @thethf and… https://t.co/19HcfmZ9Im

— PBATS (@PBATS) June 13, 2016
The event educates kids on general health practices, but also takes a baseball-specific approach. Damian Martinez spent more than 10 minutes speaking to players on the dangers and side-effects of steroid use on behalf of the Taylor Hooton Foundation.
"The reaction is phenomenal," Martinez said.
The foundation was formed in memory of 17-year-old Taylor Hooton, who committed suicide in his Plano, Texas, home in 2003. Taylor's father, Don, later discovered his soon had been using steroids for several months to become strong enough to start for his varsity baseball team, per a coaches advice. Hooton battled depression at the time of his death and his family believes steroid abuse contributed to it.
Don Hooton quickly discovered "there was absolutely zero education being provided at the high school level, so he started the foundation," said Martinez, who added it's the only national foundation combating steroid abuse among youth sports.
The players also received nutritional dietary advice from Justin Matlage, a member of the Henry Schein Foundation, which contributes $40,000 to the campaign every year, as well as gift bags that include workout resistance bands. Both foundations work with the Professional Baseball Athletic Trainers Society (PBATS) to stage the campaign each year.
Following Martinez's session, the kids staged a light-hearted question-and-answer session with Tomlinson before running out to the outfield to take part in calisthenics and proper stretching techniques.
"I learned it's important to stretch," said 14-year-old Mario DeMera. "I usually don't stretch before I throw and then my arm hurts."
For Martinez, it's not uncommon for a teenager to approach him following a session and ask questions -- especially about the dangers of steroid and supplement abuse. He added that while education on the issue has improved in the past decade, "there could be a lot more done on it," especially as more youth athletes turn to supplements at ages as young as 11 and 12 years old.
As Martinez finished his thought, a parent stepped over to shake his hand and thank him.
"I didn't even know that guy in the audience," Martinez said. "When I can see kids' eyeballs widen when I'm taking, I know which ones needed it. I'll see them shaking their heads at themselves or hit their buddy, that's when I know. It's rewarding.
"At the end of the day, you never know what kid is going to pick up what. If they can stop and at least think about it, I think I've made a difference."
Mark Chiarelli is a reporter for MLB.com based in the Bay Area.