'Best' superlatives of this busy Trade Deadline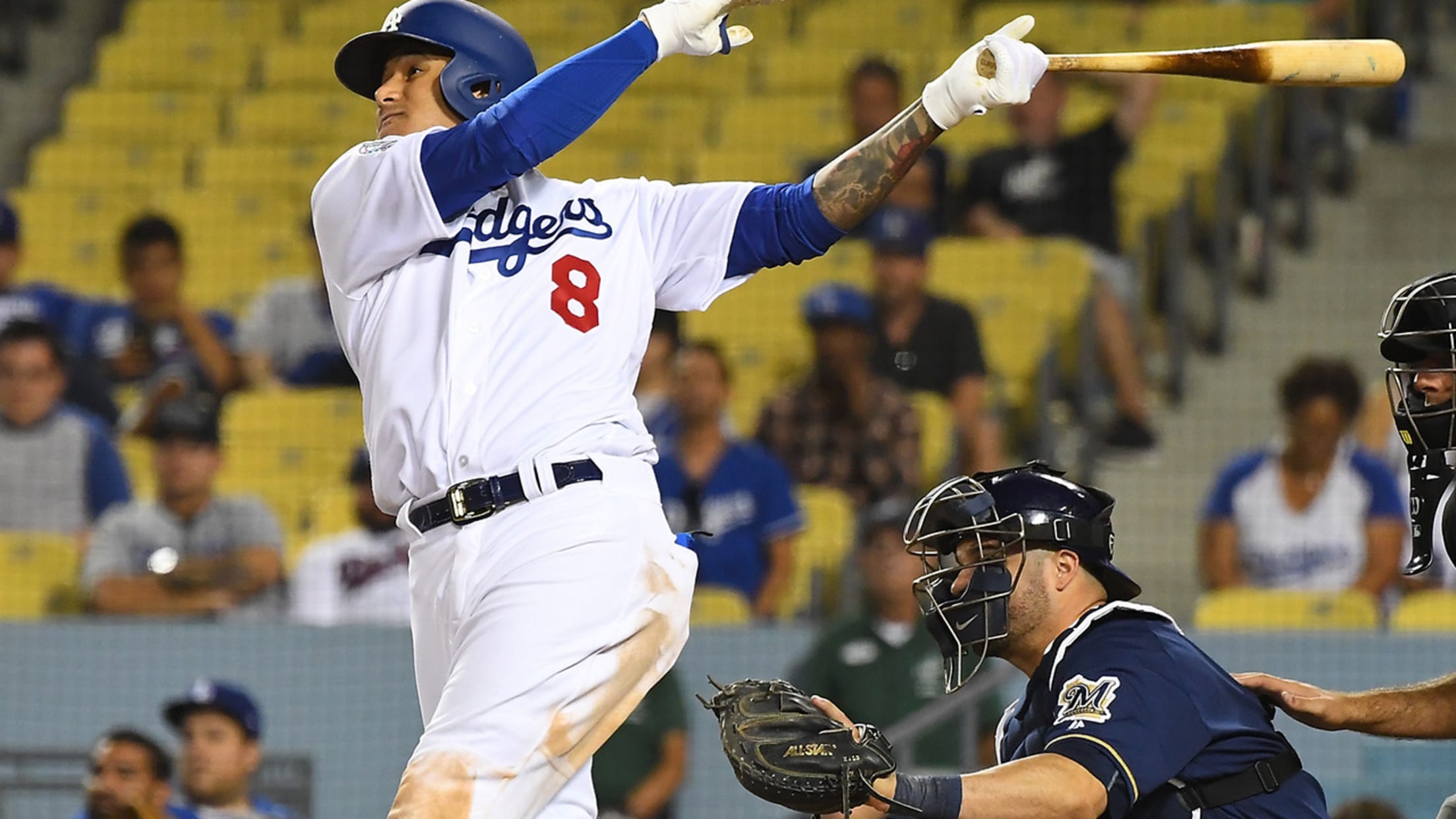 LOS ANGELES, CA - JULY 30: Manny Machado #8 of the Los Angeles Dodgers hits a solo home run in the ninth inning of the game against the Milwaukee Brewers at Dodger Stadium on July 30, 2018 in Los Angeles, California. (Photo by Jayne Kamin-Oncea/Getty Images) (Jayne Kamin-Oncea/Getty Images)
The non-waiver Trade Deadline passed with a barrage of transactions on Tuesday afternoon, capping a two-week stretch since the All-Star Game that featured more than 40 deals and many high-profile players.With the dust now settled and lots of faces in new places, it's time to take stock of the talent
The non-waiver Trade Deadline passed with a barrage of transactions on Tuesday afternoon, capping a two-week stretch since the All-Star Game that featured more than 40 deals and many high-profile players.
With the dust now settled and lots of faces in new places, it's time to take stock of the talent that has changed uniforms. So with help from Statcast™, here is a look at several categories and the recently traded players who stand out the most in each.
Note: All numbers are as of Tuesday's Trade Deadline.
Hardest hitter: Manny Machado, Dodgers
Machado was the biggest star moved before the Deadline, and his thunderous bat is a big reason for that. Machado's 170 hard-hit batted balls -- those with at least a 95-mph exit velocity -- are the most in the Majors. He also ranks in the top 10 with 42 barrels -- batted balls with an ideal combination of exit velocity and launch angle -- which typically produce extra-base hits.
Best contact hitter:Ian Kinsler, Red Sox
The 13-year veteran isn't the offensive force he once was, although he comes to Boston with an .860 OPS in July. But one thing the Sox can count on from Kinsler is to put the bat on the ball. Roughly 88 percent of his swings this season have resulted in either a foul or a ball in play, which is the sixth-highest rate among more than 200 hitters with 500-plus swings taken.
Highest launcher:Eduardo Escobar, D-backs
The versatile infielder also has become a surprising source of pop, slugging better than .500 with 15 home runs in 2018. A key part of that is Escobar's commitment to lifting the ball. There are nearly 200 players who have put at least 200 balls in play this season, and Escobar ranks ninth in both highest average launch angle (19.3 degrees) and rate of line drives and fly balls (58.3 percent).
Unluckiest hitters:Adam Duvall, Braves; Tommy Pham, Rays
Duvall has raised his hard-hit rate by nearly 10 percentage points over last year (to 42.4 percent), while Pham ranked among the National League leaders in that category (48.0 percent). But among 133 NL hitters with 200-plus plate appearances, both Pham and Duvall ranked in the top 10 in terms of underperforming their Statcast™ expected numbers, which are based on a hitter's strikeouts and quality of contact. For example, both had an expected slugging percentage nearly 100 points higher than their actual slugging percentage.
Strongest arm (outfield):Brett Phillips, Royals
Part of the return Milwaukee sent to Kansas City for Mike Moustakas, Phillips has another claim to fame. In limited playing time with the Brewers last season, Phillips uncorked four throws tracked at 101 mph or harder. To put that in context, all other MLB outfielders since the start of 2015 have had 22 such throws tracked. Phillips had a 104.7 mph heave last Sept. 19 that is the second fastest in Statcast™ history, and a 104.0 mph strike to home plate last Sept. 13 that is the second-fastest assist.
Strongest arm (catcher):Martin Maldonado, Astros
Brought in to help out behind the plate with Brian McCann injured, Maldonado controls the running game, with a career 37 percent caught-stealing rate (46 percent this year). The veteran does so in part with a cannon arm. His average velocity on "max-effort" throws in 2018 is 87.6 mph, which ranks second among catchers, behind only the Phillies' Jorge Alfaro.
Fastest runner:Cameron Maybin, Mariners
The 12-year veteran is now 31, but he still has wheels. His average sprint speed -- measured on competitive baserunning plays -- is 28.6 feet per second. That puts Maybin well above the MLB average of 27 ft/sec and in the top 15 percent of MLB players. Given that speed is highly correlated with age, that's all the more impressive, with Maybin ranking in the top 10 in sprint speed among those 31 or older.
Most decorated player:Cole Hamels, Cubs
Like Kinsler and Machado, Hamels has made four All-Star teams in his career -- the most recent in 2016. The left-hander also has 152 career victories, four top-six Cy Young Award finishes and a World Series ring with the 2008 Phillies. Hamels was a star that postseason, earning MVP honors in both the NLCS against the Dodgers and the World Series against the Rays.
Most fastball reliant:Lance Lynn and J.A. Happ, Yankees
The Yankees have built a reputation recently for having pitchers who eschew the fastball in favor of more secondary pitches. So it's a bit ironic the Bombers added Lynn and Happ for their rotation. Only one qualified starter even approaches Lynn's 88.3 percent fastball usage this year, and that's Cubs righty Tyler Chatwood -- who just moved to Chicago's bullpen. Happ's 74.5 percent usage rate ranked ninth on that list, and Lynn and Happ rank fourth and fifth, respectively, in swings-and-misses on heaters.
Most breaking ball reliant:Chris Archer, Pirates
Will Archer alter his pitch mix in Pittsburgh? It's one of the more interesting analytical questions coming out of the Deadline, considering how drastically Archer has grown to love his slider. The righty threw his slider roughly 30 percent of the time over his first three seasons to 40 percent in 2015-16 and now 44.1 percent since the start of last season -- the highest slider usage of any starter in that span. The Pirates' reputation as a fastball-reliant club makes for an interesting match in the Steel City.
Best at limiting hard contact:Zach Duke, Mariners
A barrel, according to Statcast™, is the best type of batted ball for hitters, and the contact a pitcher wants to avoid most. So how was Duke, a 35-year-old pitcher now on his ninth team, still a Deadline target in 2018? Entering Tuesday, the southpaw had induced 119 balls in play and not a single one of them were barreled up. The pitcher with the next-closest total of balls in play without a barrel was Tony Sipp -- with only 66.
The A's, meanwhile, acquired their own "damage control specialist" in Jeurys Familia. Entering Tuesday, Familia's 2.2 percent rate of barrels allowed was the absolute lowest among 288 pitchers who had allowed at least 400 batted balls since the start of 2016.
Best "worm-burner":Brad Ziegler, D-backs
Arizona was plenty familiar with the abilities of Ziegler, who returns to the desert with an MLB-best 73.9 percent ground-ball rate. Ziegler's submarine delivery helps him deceive hitters and often thrive with one of the slowest fastballs in the game.
Honorable mention must be given to the Yankees' new bullpen addition, Zach Britton, who owns an 81 percent grounder rate in July that harkens back to his historic 2016 campaign.
Fastest flamethrowers:Nathan Eovaldi as SP, Red Sox; Ken Giles as RP; Blue Jays
Eovaldi is pitching with as much confidence right now as he has at perhaps at any point in his big league tenure, and that's trouble for hitters considering he already owned a fastball that trails only Luis Severino and Noah Syndergaard in average velocity among qualified starters at 96.9 mph. The Twins went just 2-for-14 against Eovaldi's four-seam/cutter combination in his Red Sox debut on Sunday. Giles is a bit of a reclamation project after falling out of favor in Houston, but he remains one of the game's hardest throwers, averaging 97.4 mph with his heater.
Most "unhittable" pitch:Brad Hand's slider, Indians
There's a reason Hand has been nicknamed "Andrew Miller Lite" this trade season. Hand throws his slider more than half the time, but hitters still have a hard time handling it: They've hit just .127 (29-for-229) against the southpaw's spinner since the start of last season.
Best strikeout pitcher: Happ, Yankees
Hand's 34.7 percent strikeout rate leads all pitchers traded at the Deadline, but Happ is perhaps the surprising leader among starters. The 35-year-old lefty has become a more strikeout-heavy pitcher in recent years, and his K-rate sits at a career-best 26.6 percent in 2018. That ranks 17th among qualified pitchers, sandwiched between Lance McCullers and Carlos Carrasco.
Best "spinner":Thomas Pressly, Astros
Houston rode a host of spin-rate kings like McCullers, Charlie Morton and Justin Verlander to their first World Series title in 2017, and Pressly's pitch metrics figure to fit right in. Only Garrett Richards has averaged a higher average spin rate on curveballs this year than Pressly, who also ranks among the Majors' 10 best spinners on four-seam fastballs.
Highest-ranked prospect:Francisco Mejia, Padres
The 22-year-old, acquired in the Hand deal, has made it to the Majors briefly with the Indians and Mejia remains ranked as the No. 21 prospect in baseball by MLB Pipeline. A switch-hitter, Mejia has a great reputation with the bat, although it remains to be seen if he will stick at catcher.
Oldest player: Ziegler, D-backs
It's been an unusual career arc for Ziegler, who didn't debut in the Majors until he was 28 and now is in his 11th big league season. Ziegler is one of just 12 active players to suit up in his age-38 season or older in 2018, and he will turn 39 in October.
Youngest player: Jean Carmona, Orioles
Acquired from the Brewers in the Jonathan Schoop deal, Carmona was barely alive for the end of the 20th Century. The infielder was born in the Dominican Republic on Oct. 31, 1999, making him 18 years old for this whole season, his second in pro ball. The switch-hitting infielder, who has been playing in the Rookie-level Pioneer League, has impressed scouts with his strong arm, above-average speed and power potential.