Posey, Bumgarner recall Wall of Fame honorees
Cain, Vogelsong, Wilson being recognized in ceremony Saturday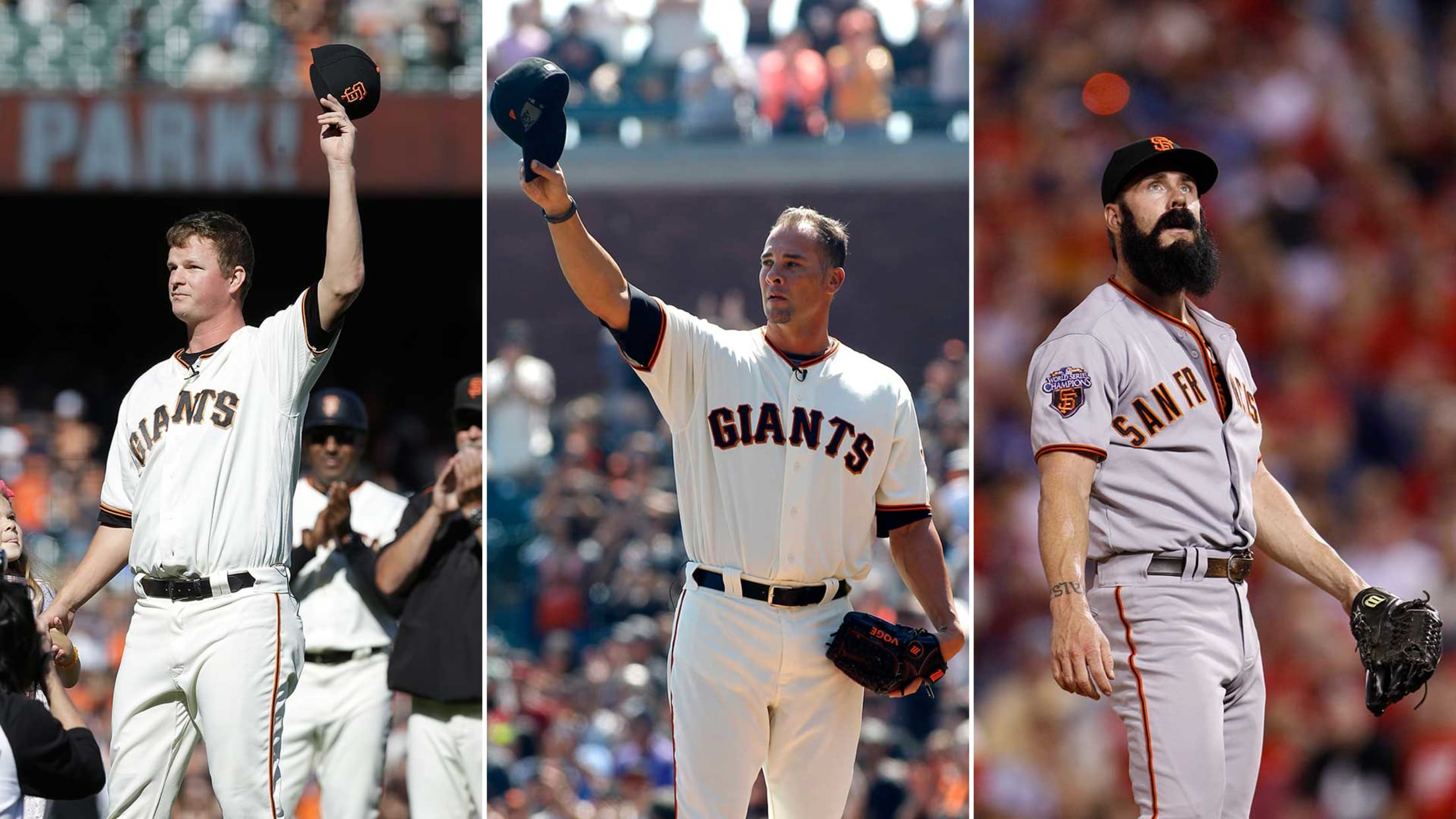 SAN FRANCISCO -- Let the celebration resume.Saturday's pregame ceremony during which right-handers Player Page for Matt Cain, Ryan Vogelsong and Brian Wilson will join the franchise's "Wall of Fame" will give the Giants and their fans another opportunity to revel in the club's stretch of three World Series titles in
SAN FRANCISCO -- Let the celebration resume.
Saturday's pregame ceremony during which right-handers Player Page for Matt Cain, Ryan Vogelsong and Brian Wilson will join the franchise's "Wall of Fame" will give the Giants and their fans another opportunity to revel in the club's stretch of three World Series titles in five years.
Cain played in all three seasons; Vogelsong was on the 2012 and 2014 squads; and Wilson was a member of the 2010 and 2012 ballclubs.
"I think when time goes by, we'll appreciate and cherish those moments more," Giants catcher Buster Posey said Friday. "When you're in the moment, there's such a heightened focus on doing the job."
Cain, Vogelsong and Wilson represent the faction of Giants who did their jobs better than most. They will join the 49 previous Giants who have been recognized for their service to the franchise. Wall of Fame honorees must have played a minimum of nine seasons for the Giants, or at least five years with one All-Star Game selection, since the franchise's move to San Francisco in 1958.
Cain carved out a 104-118 record that included his perfect game against Houston on June 13, 2012. One of five players who spent at least 10 years in the big leagues and performed exclusively for the Giants, Cain was already entrenched with the team when current San Francisco ace Madison Bumgarner was a rookie in 2010. Yet it wasn't anything Cain did on the field that impressed Bumgarner.
"Right from the start when I got here, he was somebody you wanted to be around and gravitated towards," Bumgarner said. "He's one of my good friends, not [for] anything to do with baseball."
Vogelsong's distinction eclipses his 61-75 career Major League record, which included a 48-49 mark with the Giants from 2000-01 and 2011-15. He won admirers for the perseverance that enabled him to endure demotions to the Minors, going to Japan to keep his career afloat and being released in 2010 after pitching in Triple-A. Less than one year later, he was a National League All-Star with the Giants.
Posey suggested that Vogelsong's refusal to yield, regardless of the situation, fueled his longevity. Vogelsong retired following the 2016 season at age 39.
"As I get older and I see how your body changes, it gives me greater appreciation for what he probably had to go through in the offseason and stay at that level to keep the job," Posey said. "I think it was a combination of his passion for the game and sheer willpower."
Wilson was a three-time NL All Star during his 2006-12 tenure with the Giants. He ranks third on San Francisco's all-time saves list with 171, trailing Robb Nen (206) and Rod Beck (199).
With his beard, his occasional preference for wearing outlandish costumes and an ardor for the spotlight, Wilson attracted attention. Yet he never became a distraction.
"He's actually one of the best teammates that I've had," Bumgarner said. "He had a different lifestyle. There was no secret about that. I don't know if me and him had a lot in common, but here at the field ... he showed up every day and worked hard, as hard as you could work. He never let any of his off-the-field stuff get in the way of anything he did in here. He was a ballplayer."