Preparing to visit Wrigley Field in 2017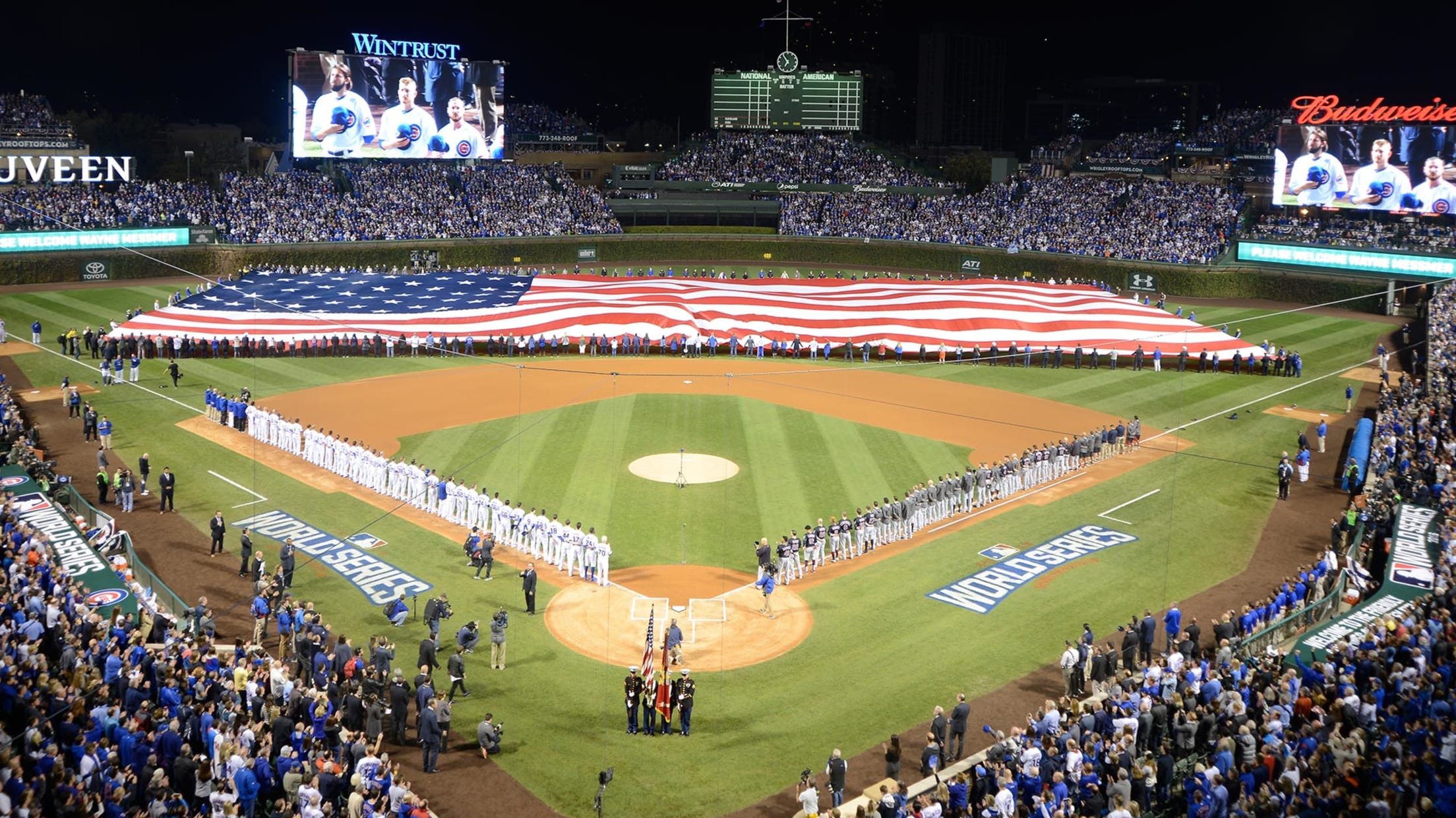 The Chicago Cubs are ready to kick off another exciting season of baseball at Wrigley Field!As we prepare to welcome our world-class fans back to the Friendly Confines, below is the detailed information you need to prepare for Opening Night Monday, April 10, and the rest of the season.All gates
The Chicago Cubs are ready to kick off another exciting season of baseball at Wrigley Field!
As we prepare to welcome our world-class fans back to the Friendly Confines, below is the detailed information you need to prepare for Opening Night Monday, April 10, and the rest of the season.
All gates are scheduled to open at 5:05 p.m. CDT on Opening Night. In anticipation of capacity-crowds, please make sure to arrive early, give yourself extra time to enter the ballpark, use the entry gate listed on your ticket and follow posted signage and directions given by Wrigley Field personnel. For additional information on all things Wrigley Field, please visit Cubs.com/AZguide.
Transportation and Parking
The Cubs strongly encourage the use of public transportation, including Metra trains, Pace shuttle buses and CTA buses and trains.
The Cubs will continue to offer free remote parking at 3900 N. Rockwell St., just east of the Chicago River and immediately south of Irving Park Road. The lot will be available Opening Night and for all night and weekend games throughout the season. This lot includes free shuttle service to and from Wrigley Field. Services begin two and half hours before first pitch, and returning shuttles board postgame and run approximately one hour after the end of the game.
Limited cash-only parking will be available in the Toyota Camry Lot at 1126 W. Grace St.
The Toyota RAV4 Lot, located at 1140 W. Eddy St., will not generally be available for cash parking.
The Cubs free bicycle valet service will continue during all Cubs home games. This year, the service will be located in the alley just east of the main entrance for the CTA Red Line stop on Addison Street. The bicycle valet will begin approximately two hours before the start of the game and end one hour after the game ends.
As in the past, we anticipate the Chicago Police Department will close Waveland Avenue, from Clark Street to Sheffield Avenue, to vehicular traffic one hour before the game begins and reopen one hour after the game ends. Sheffield Avenue from Waveland Avenue to Addison Street also is expected to be closed to vehicular traffic one hour before the game begins and reopen one hour after the game ends.
Waveland Avenue will be open to pedestrians on both the north and south sides of the street. Pedestrians will have access to the east and west sides of Sheffield Avenue, as well as the east and west sides of Clark Street. For the most up-to-date information on street closures, please visit 44thward.org.
Residents with vehicles on Clifton Avenue will be able to exit on Waveland Avenue heading west toward Clark Street only.
Click here for additional traffic, transportation and parking information.
Bus Staging Locations
Group charter and coach buses will unload and pick up on Irving Park Road, just east of Clark Street.
Pace buses will be asked to stage on Clark Street between Waveland Avenue and Grace Street.
CTA buses will continue to provide service on Addison Street from the same locations as in prior years.
Ticket Windows
The Wrigley Field Ticket Office, located near Gate F at the corner of Clark and Addison streets, will be open at the ballpark Opening Night and throughout the season. Hours of operation are available here.
The Budweiser Bleacher Ticket Windows, located on Waveland Avenue by the main bleacher entrance, will be open on gamedays two hours before the start of the game.
Entry to the Ballpark
All Wrigley Field gates will open two hours prior to game time unless otherwise specified. Please be sure to use the entry gate listed on your ticket.
Our new Gate H, located on Clark Street on the western side of the ballpark, will be available for entry and exit beginning Opening Night. Fans with seats in the terrace level or upper deck can utilize the new stairwells located at Gate H.
Fan safety is a top priority for the Cubs and Major League Baseball. The Cubs have security screening at all Wrigley Field gates through the use of metal detectors. This enhanced screening is in addition to bag check stations for guests carrying items that need inspection. Guests entering without a bag, purse or container can use express lines.
The following items are prohibited at Wrigley Field: Alcohol, bags larger than 16 x 16 x 8 inches, brooms, containers (cans, glass, hard-sided coolers, thermoses or flasks), illegal drugs, inflatables, laser pointers, luggage or car seats, nets, noisemakers, non-factory sealed plastic bottles, portable stadium seats, selfie sticks, unmanned aerial vehicles, weapons of any kind and any other item deemed inappropriate by ballpark operations personnel.
Mobile Ticketing
New this year, the Cubs are offering mobile ticketing via the MLB.com Ballpark app. Mobile ticketing has replaced print-at-home as a more secure instant delivery option when purchasing tickets to Cubs games at Wrigley Field. Mobile ticketing is a convenient way for fans to buy, share and scan their tickets for entry. The app is free to download and use with a MLB.com account.
To enter Wrigley Field, simply have the Ballpark app open, pull up your ticket barcode for that day's game and present it to the gate attendant to be scanned. If you're entering with a group, you have the option to scan multiple tickets on one device or forward tickets to your group in advance to be scanned via the Ballpark app on their individual devices. If you plan to scan multiple tickets on one device, please be sure to enter Wrigley Field with all members of your party present.
Visit Cubs.com/Ballparkapp for more details about Cubs mobile ticketing, including a video tutorial and detailed frequently asked questions.
Fan Services
The Fan Services Booth is located on the main concourse directly behind home plate. Available services include answers to general fan questions, ballpark food locations, information about events and services at Wrigley Field, directions and mass transit information. Fans may also share their feedback regarding their experience at Wrigley Field and obtain pocket schedules.
For assistance during the game, guests can use the fan texting service to alert event personnel of a fan services issue. Text the keyword "Friendly" along with your issue and location to 69050. You will receive a confirmation your message has been received. Standard message and data rates may apply.
The Advocate Health Care First Aid station is located behind home plate on the main concourse on the third-base side of Gate F. Signage identifies this area. An Advocate Health Care physician, registered nurse and Superior Ambulance emergency medical technicians are typically on hand for all games. First Aid also includes a family restroom that may be used by nursing mothers, individuals with accessibility needs or parents with children.
Elevators
There are two main elevators available for use: One is located in the left-field concourse by Gate K, and the second is located near the Budweiser Bleacher Gate. In addition, there are two single-story elevators providing access to the left and right field porches in the Budweiser Bleachers.
Opening Night Entertainment and Promotions
Promotions: Up to the first 30,000 early arriving fans will receive a Cubs Magnet Schedule presented by Giordano's
Fans are encouraged to arrive early for Opening Night pregame festivities, which will start at approximately 6:15 p.m. CDT.
God Bless America: Julianna Zobrist
National Anthem: Wayne Messmer
Banner Raising Ceremony: The Cubs will raise their championship banners during the Opening Night pregame ceremony at Wrigley Field.
First pitch: Members of the Ricketts family
7th inning stretch: Cubs Hall of Famers Fergie Jenkins, Ryne Sandberg and Billy Williams
Budweiser Bleachers
The Budweiser Bleacher Gate is located at the corner of Waveland and Sheffield avenues. Please note for the regular season, Budweiser Bleacher seating is general admission and is on a first-come, first-served basis. Early arrival is suggested for better seat selection.
Fans in the Budweiser Bleachers will have access to our Budweiser Bleacher Bar as they enter the Budweiser Bleacher Gate. This bar offers an array of beer, cocktails and wine for purchase on the main concourse level.
Bleacher guests also have access to five display cases showcasing Cubs and Wrigley Field history, a replica ivy wall perfect for photo opportunities and additional décor throughout the bleacher concourse.
For more information about Budweiser Bleacher group spaces, please visit Cubs.com/Bleachers.
Restrooms
Main Concourse: Men's and women's restrooms are available on both the first-base and third-base sides of the main concourse. Two family restrooms, one near Gate F and one in the Advocate Health Care First Aid station located behind home plate, also are available.
Upper Deck: Men's and women's restrooms are available in the left-field and right-field sides of the upper deck. A family restroom also is available on the first-base side.
Budweiser Bleachers: Men's and women's restrooms are available in the Budweiser Bleachers concourse. A family restroom also is available in the upper Budweiser Bleachers.
All fans are welcome to use any restroom in the ballpark provided their ticket permits access to the area in which the restroom is located.
ATM Locations
Wintrust automated teller machines (ATMs) are available throughout Wrigley Field for our fans' convenience. Locations include inside Gate F and D; on first and third base ramps to the Upper Deck; on the Jim Beam Patio; in the DraftKings Fantasy Sports Zone and in the Budweiser Bleachers near the stairwells and on the ramp.
Concessions
Food and beverages are available throughout the ballpark at concession stands and portable carts managed by Levy Restaurants. Fans can ask a Wrigley Field associate or stop by the Fan Services Booth, located behind home plate on the main concourse, for the most up-to-date list of food and beverage choices and locations.
For the first hour after gates open, all food and nonalcoholic beverages are sold at a 25 percent discount.
There are several new food and beverage concession stands and offerings coming to Wrigley Field in 2017, including a new Giordano's Pizza concession stand located near Gate K that will be available Opening Night. To see new food and beverage offerings click here.
Enhanced concessions near Gate F will be available in June. In the meantime, portable carts featuring traditional ballpark fare will be open near Gate F.
Cellular Service
Cellular service will be available throughout the ballpark for fans in 2017. AT&T is Wrigley Field's provider of cellular service and we continue to work closely with them to provide quality service for our fans during the season.
To continue to enhance the fan experience, we are planning a complete upgrade/overhaul of our Wi-Fi and cellular services to be ready by Opening Day 2018. We will continue to communicate relevant updates to our fans as they become available.
Wrigley Field Statues and Personalized Pavers
All Cubs tribute statues (Ernie Banks, Harry Caray, Ron Santo and Billy Williams) will be on display during the 2017 season.
Wrigley Field personalized pavers are installed outside the Budweiser Bleachers on Sheffield and Waveland avenues. Specific locations will be provided to paver owners. Paver owners with any questions can contact Fan Services at 800-THE-CUBS or fanservices@cubs.com.
Cubs Merchandise
Merchandise stores can be found in the following locations inside Wrigley Field's main concourse: Behind home plate above Gate F, in the right-field concourse near Gate D and in the left-field concourse by Gate K, which will be the home of our new shop, the New Era Team Store.
A merchandise store also is available on the Budweiser Bleacher concourse for fans with a Budweiser Bleacher ticket.
The Park at Wrigley, the new gathering space adjacent to Wrigley Field, will be home to the Cubs Store at the Park beginning April 10. The retail shop features authentic Chicago Cubs gear, merchandise and memorabilia and items exclusive to this location.
Ongoing Development Outside the Ballpark
Park at Wrigley
Adjacent to Gate H on the western side of Wrigley Field, the Park at Wrigley becomes a backyard for Wrigley Field on gamedays - a space where ticket holders can celebrate before, during and following each game. Gameday ticket holders can find outdoor space, food and beverage options, gameday activities, and view the game and post-game highlights on the video board at the Park at Wrigley. The Park at Wrigley officially opens Monday, April 10, and is open to gameday ticket holders two hours prior to game time at Wrigley Field.
In addition to gameday activities, the Park at Wrigley offers a beautiful open-air destination for farmers markets, community events, outdoor movies, festivals, dining and much more. The Park at Wrigley serves as Wrigleyville's town square - a year-round gathering place for neighbors, families, fans and visitors.
For more details on the Park at Wrigley, visit parkatwrigley.com.
Hotel Zachary
Work on Hotel Zachary, a boutique, lifestyle hotel located at the corner of Clark and Addison streets across from Wrigley Field, will continue throughout the season. This community asset is scheduled to open in 2018. For more details on Hotel Zachary, visit hotelzachary.com.