Hartsell wins PG All-American Classic Home Run Challenge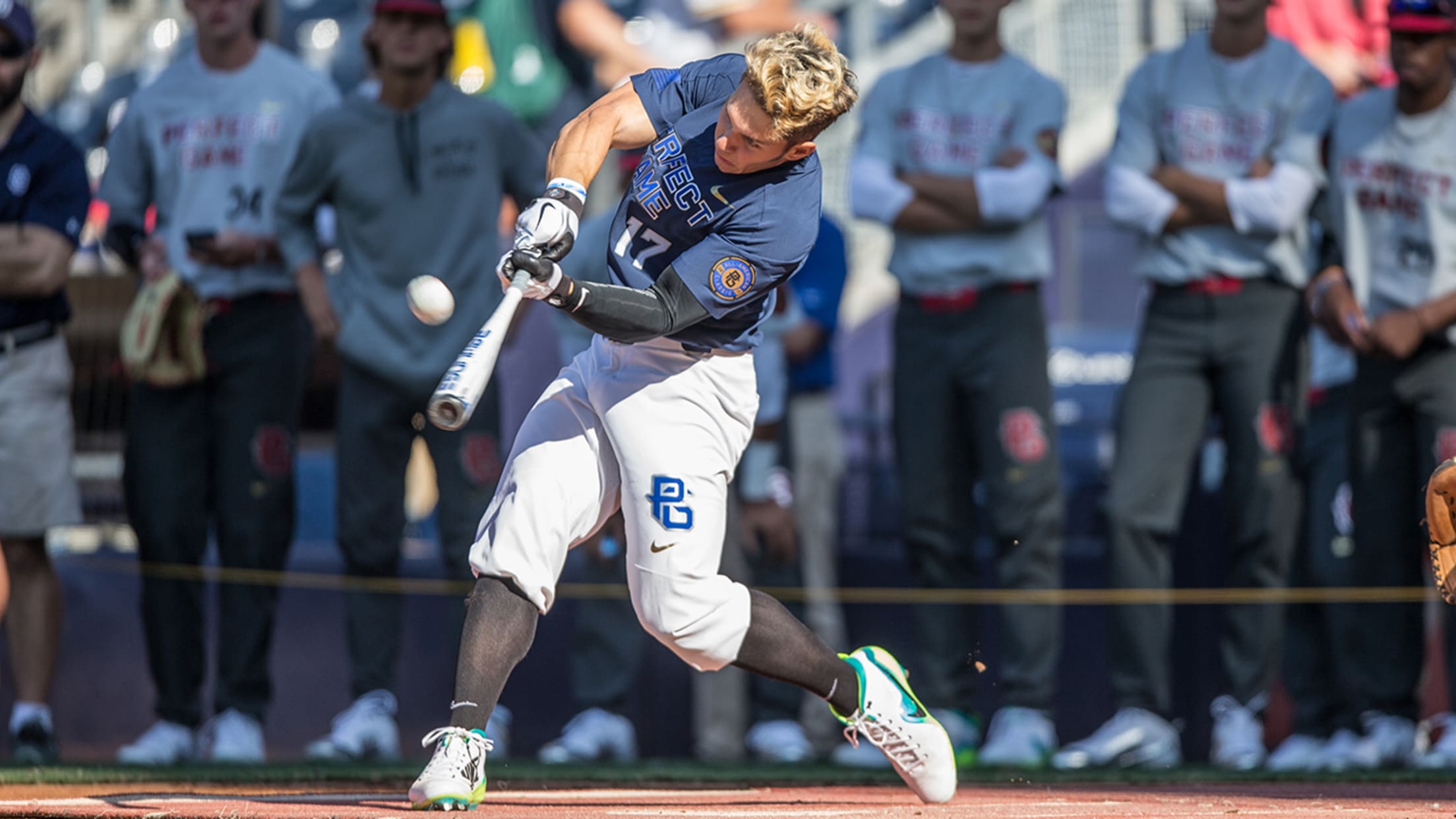 SAN DIEGO -- Preston Hartsell certainly had a difficult road to the finals of the Perfect Game All-American Classic Home Run Challenge.Hartsell had a semifinal matchup against Nolan Gorman, who already won the Under Armour High School All-America Game B45 Home Run Derby at Wrigley Field and the All-Star Game
SAN DIEGO -- Preston Hartsell certainly had a difficult road to the finals of the Perfect Game All-American Classic Home Run Challenge.
Hartsell had a semifinal matchup against Nolan Gorman, who already won the Under Armour High School All-America Game B45 Home Run Derby at Wrigley Field and the All-Star Game High School Home Run Derby in Miami.
But Hartsell was able thwart Gorman's three-peat attempt. He belted seven home runs in the first round to knock Gorman out before hitting nine in the finals to defeat Nicholas Northcut and win the title on Sunday at Petco Park.
Hartsell, who attends Corona del Mar High School (Newport Coast, Calif.), had by far the biggest family contingent behind him and flashed his trophy and a gigantic smile in their direction shortly after winning.
Here's your HR Derby winner @prestonhartsell, touting his new hardware to his large family fan section. pic.twitter.com/Igd751XVRx

— Ryan Posner (@ryanposner_) August 13, 2017
"I only live about an hour away so it means the world to me that they would come down," he said. "I've done [home run challenges] before so I knew I had the strength to get them out, but I had to bring up my leg kick a little to get some momentum toward right field."
Hartsell acclimated himself well with the right-field seats at Petco Park, hitting all nine of his homers in the finals in that direction. The USC commit hooked the game-winner down the line in his first swing of a 30-second bonus round for hitting back-to-back homers in regulation.
Preston Hartsell hooks the game-winner down the line. He's your @PerfectGameUSA Classic HR Derby champion. pic.twitter.com/kBTifUWaSg

— Ryan Posner (@ryanposner_) August 13, 2017
Northcut, a Vanderbilt commit out of William Mason High School (Mason, Ohio), also received a 30-second bonus in the finals for hitting back-to-back home runs, including three in a row at one point. He hit five in the first round to take down Nander De Sedas, who made the finals at the Under Armour All-American derby.
Gorman was unable to replicate his magic, hitting four home runs in the first round. He and De Sedas hit 10 home runs in the opening round of the challenge Saturday at Fowler Park on USD's campus.
Hartsell finished with nine home runs on Saturday to earn his spot in the semifinals.
"I knew [Petco Park] was a little bigger so I had to hug the right-field line," Hartsell said. "But I feel like I can get it out of anywhere. It was a lot of fun out there."
Ryan Posner is a contributor to MLB.com based in Los Angeles.