New bench coach Scott a master organizer
Longtime player-development maestro brings different philosophy to Collins' staff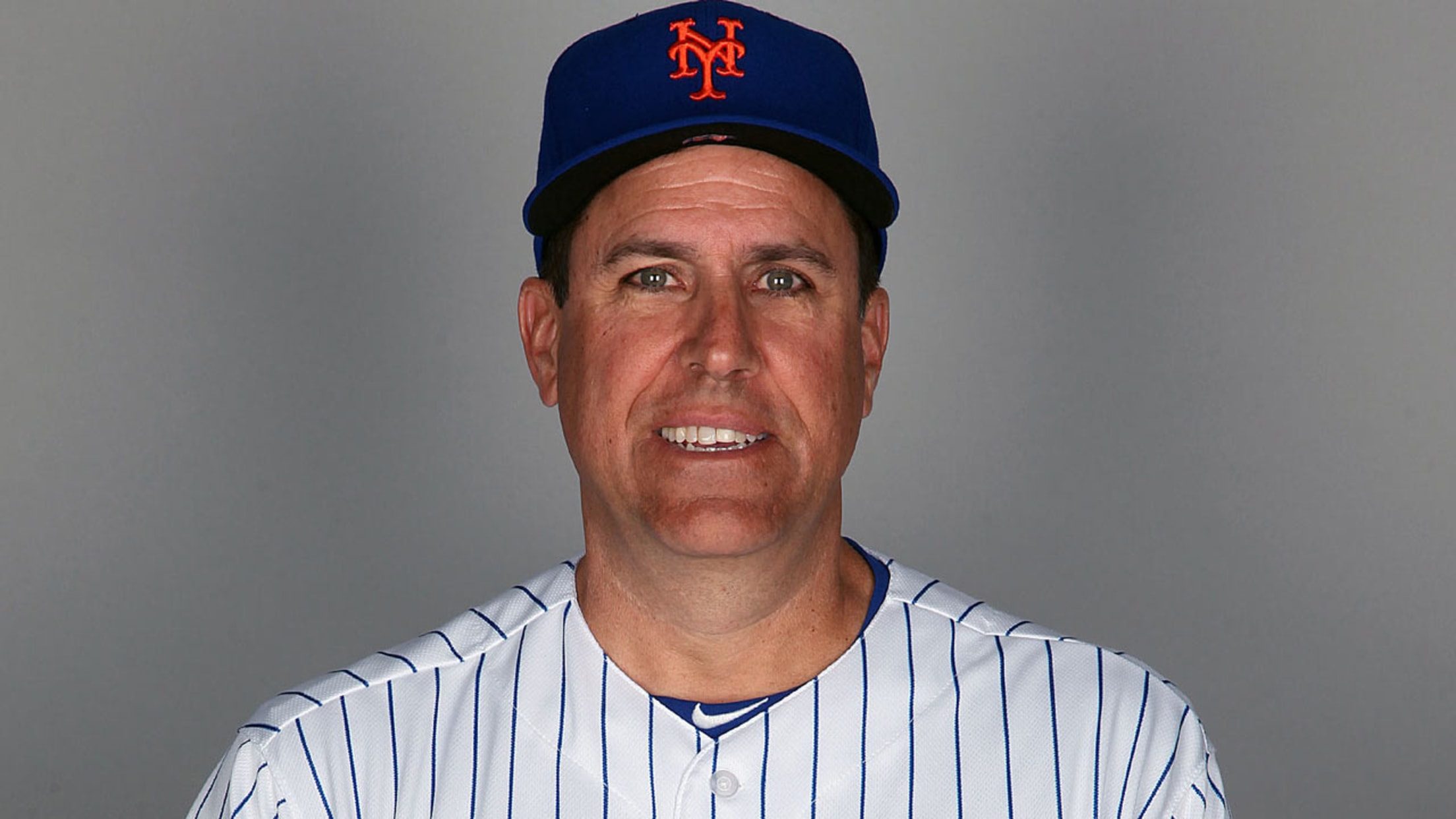 Bench coach Dick Scott served as the Mets' director of player development from 2013-15. (Getty)
LAKE BUENA VISTA, Fla. -- The network of mountain biking trails in Scottsdale, Ariz., is expansive. The weather in January tends to be idyllic. So about three times per week this winter, the Mets' past and present bench coaches rode their bikes around the area, whiling away the hours with
LAKE BUENA VISTA, Fla. -- The network of mountain biking trails in Scottsdale, Ariz., is expansive. The weather in January tends to be idyllic. So about three times per week this winter, the Mets' past and present bench coaches rode their bikes around the area, whiling away the hours with baseball conversations.
Sometimes, Bob Geren and Dick Scott talked about the game in general. Other times, Geren offered Scott advice on what to expect in his first year on the bench.
"When you take these jobs ... there's no manual," said Scott, whom the Mets named Terry Collins' right-hand man in December. "There's a lot of learning on the fly. And I'm glad that he was able to spend the time."
• Spring Training:Schedule | Tickets | Complete info
Friends since their initial meeting as Yankees Minor League teammates 30 years ago, Geren and Scott are not necessarily philosophical twins. The former is a former big league manager who, in Mets general manager Sandy Alderson's words, was "curious ... to the point of being proactive" about analytics. The latter is a longtime player-development maestro who prides himself on organization and preparation.
Over the winter, that took the form of Scott grilling Geren and bench coaches around the game about what to expect. Geren's unexpected departure fresh off a World Series appearance -- he left the Mets to take the same job with the Dodgers, moving closer to his West Coast-based family -- left a premium vacancy on Collins' staff. When the Mets awarded it to Scott, the longtime baseball man wanted to make sure he was ready.
"For me, it's a big change ... shifting gears for me from my previous job," said Scott, who served as the Mets' director of player development from 2013-15 and their Minor League field coordination from 2011-12. "I think organizationally, I bring a lot. I understand the flow of things pretty well. What I said to those guys, the group that was interviewing me, was that I will do anything I can just to help out. Obviously it's a great situation. We made the World Series last year. I'll do the best I can to plug myself in."
Though Scott reported to Spring Training with no prior experience on a big league coaching staff, his appointment did not necessarily come as a surprise. Alderson has kept tabs on Scott since he joined the A's as a Minor League player in 1989, hiring him as a Minor League manager two years later. Over the next four seasons, Scott jumped from affiliate to affiliate, winning Manager of the Year honors in three of his first four stops. But he never broke through to a big league staff, instead spending time in various scouting and player-development roles with the D-backs, Astros, Blue Jays and Mets.
That changed when Geren left this winter and Scott decided "it was time" to shoot for a big league job. Though some around the organization expected the Mets to hire a bench coach with catching experience to replace Geren, a former big league backstop, the Mets made due by giving longtime catching coordinator Bob Natal more exposure in big league camp. Likewise, rather than hire someone well versed in analytics, the Mets are plugging members of their research team into more visible clubhouse roles.
Those changes give Scott the freedom to do what he does best: organize and prepare a fountain of information for Collins to use.
"He brings a very well-rounded approach to the game and his responsibilities," Alderson said. "I don't think that there's one signature quality. He's a good baseball man. He's open-minded. He doesn't have a ton of experience with analytics, but understands what we're trying to do -- and has embraced that aspect of the job in his preparation. In time, I have confidence in his ability."
For Scott, it may become a lucrative appointment. Collins, 66, has made it clear that he does not wish to manage into his 70s, which could make his recently-signed two-year contract his last. A successful run for Scott would place him among the prime candidates to succeed Collins whenever retirement comes -- a question that he answers with "maybe."
"Right now, I'm not even thinking about it," Scott said. "My outlook on every job that I've had is just do the best you can with the job you have, and stuff takes care of itself."