Top prospect finds home in Indians system
17-year-old Valera, ranked 5th in organization by MLB Pipeline, can play all three outfield positions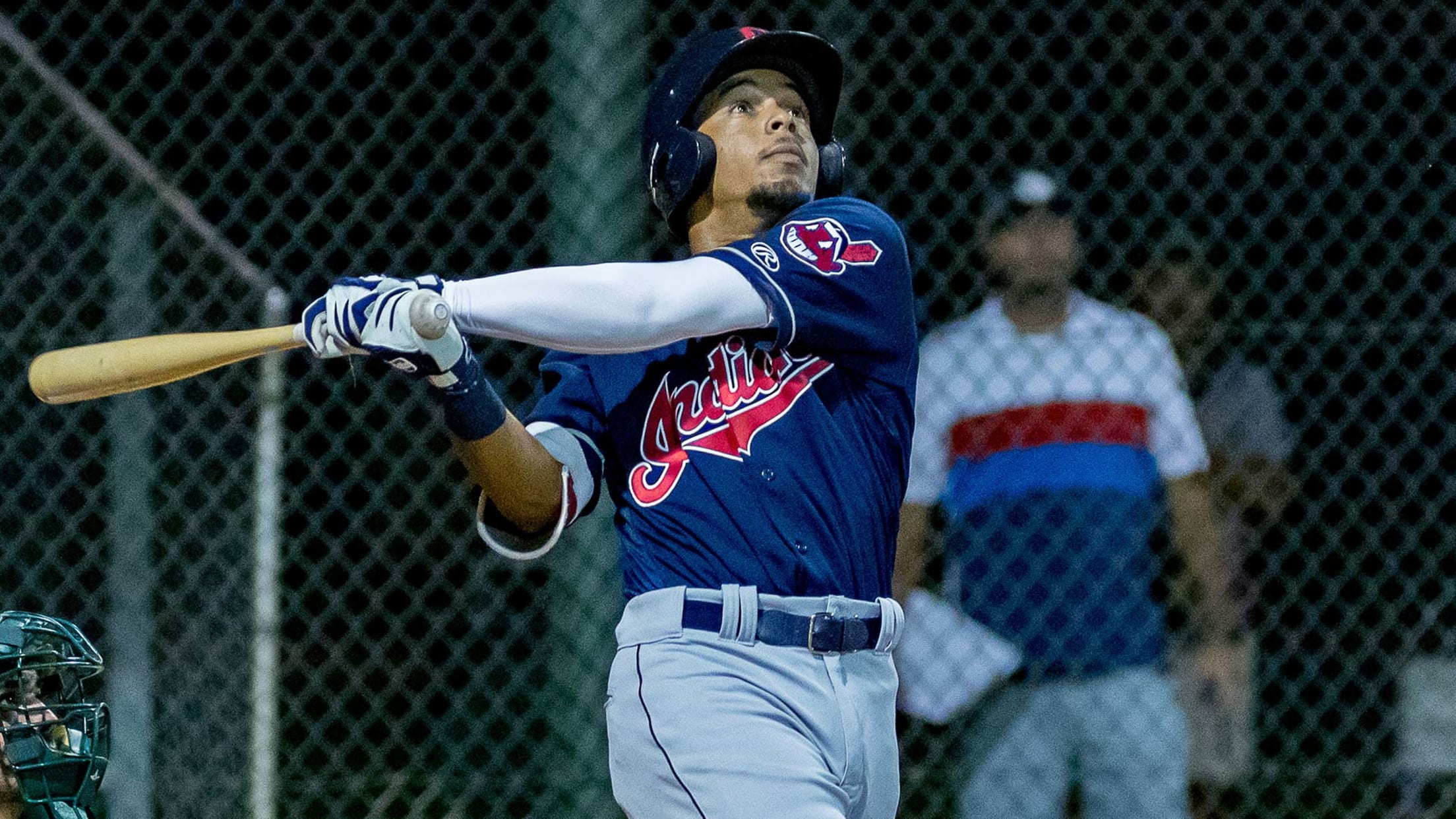 PHOENIX -- Indians prospect George Valera used to consider the Dominican Republic his second home, the place where he visited family and always had a great time, but it wasn't really his home-home.Valera was a native New Yorker, a kid from the Bronx with tons of talent and bright future
PHOENIX -- Indians prospect George Valera used to consider the Dominican Republic his second home, the place where he visited family and always had a great time, but it wasn't really his home-home.
Valera was a native New Yorker, a kid from the Bronx with tons of talent and bright future in the United States. His parents were the ones raised in San Pedro de Macoris, not him.
By 12, Valera had scholarship offers to play at some of the top high schools in the city. At 13, he was living in the middle of San Pedro with his parents after a family crisis flipped his life upside down.
"I was so mad at first and my Spanish wasn't the best, but I had to go," said Valera, 17, who when he moved was at the age domestic and international scouts start to pay attention. "I had everything in New York and life in the Dominican is so much different, but I had no choice. You go where your parents go."
The adjustment to everyday life in the D.R. wasn't easy and it was hard for him to leave his two older siblings, who were both in their 30s, but the teenager's experience helped to shape him into the young man he is today. The Indians are reaping the rewards of his development. Valera, who ranked No. 22 on MLB.com's Top International Prospect List in 2017, is ranked No. 5 among the club's prospects.
"One of the interesting things about him is that he can adapt to anything, and he's a guy that can play all three in outfield positions, so there are a lot of options," said Indians farm director James Harris. "He's also physically mature for his age, there's some speed there, and some pop in the bat that's only going to get better. When you see him play, you don't see a 17-year-old, you see a guy that's advanced. You a see a guy that's mature and not just mature on the field."
Valera, who signed a $1.3 million bonus with the Indians on July 2, 2017, shined during extended spring training in Arizona and was among the youngest players to participate in the Arizona Rookie League this year. He was sidelined early in the season after breaking the hamate bone in his right hand while swinging in a game. Valera was off to a hot start in the AZL before the injury, reaching base in each of his first six games and going 6-for-18 with a double, homer, three walks and six RBIs. He is expected resume play in the Dominican Instructional League later this summer.
"He needs some at-bats and we'll make sure he gets them," Harris said. "Then he'll come to Spring Training and we'll see where he goes from there."
Going back home to Dominican Republic will be much easier this time. Valera's family originally moved back to the island four years ago after his father was in a car accident that damaged his arms and legs so severely that metal rods were inserted. The New York winters proved to be too hard on his father, so the family moved back to the warm Caribbean climate. The Valeras eventually started a real estate company and opened a flower shop.
The teen will also get a chance to fulfil the promise he made to his mother to earn a high school diploma. Before Valera signed with the Indians, he attended a school in the Dominican Republic. He continued his studies online and completed his final exam earlier this month.
"My mother is strict, and school has always been important to her," Valera said. "I remember having to go to school in the mornings and in the Dominican, baseball programs usually operate in the mornings, so I would miss out. I remember going to couple of programs and they didn't let me hit or anything. They just looked at body and asked my age and told me to come back another day because they were too busy to train me. I was a nobody."
Valera spent most of those early days on the island in a frustrating search for a place to train. Arias & Goodman Baseball Academy finally took a chance on him after watching the desperate teen try out in his school uniform. The Indians eventually saw him, too, and later offered him a deal.
"In hindsight, our international scouts were right about him," Harris said. "And once you meet him in person and see how he interacts, there is character that goes with his high level of play. Those are the type of players you look for and that's exactly who he is."
It didn't take long for Valera to assume a leadership role, even among his older teammates, once he signed. Fluent in Spanish and English, Valera can communicate with everyone in the clubhouse. He also understands both cultures, and their struggles, so he often serves as a bridge between his English- and Spanish-speaking teammates.
"I just appreciate things more than I ever did," Valera said. "I understand how hard people worked to get off the island and I know what people in the United States have to go through. It's different. It all just opened my mind so much."