1 future star to watch from the 30 player pools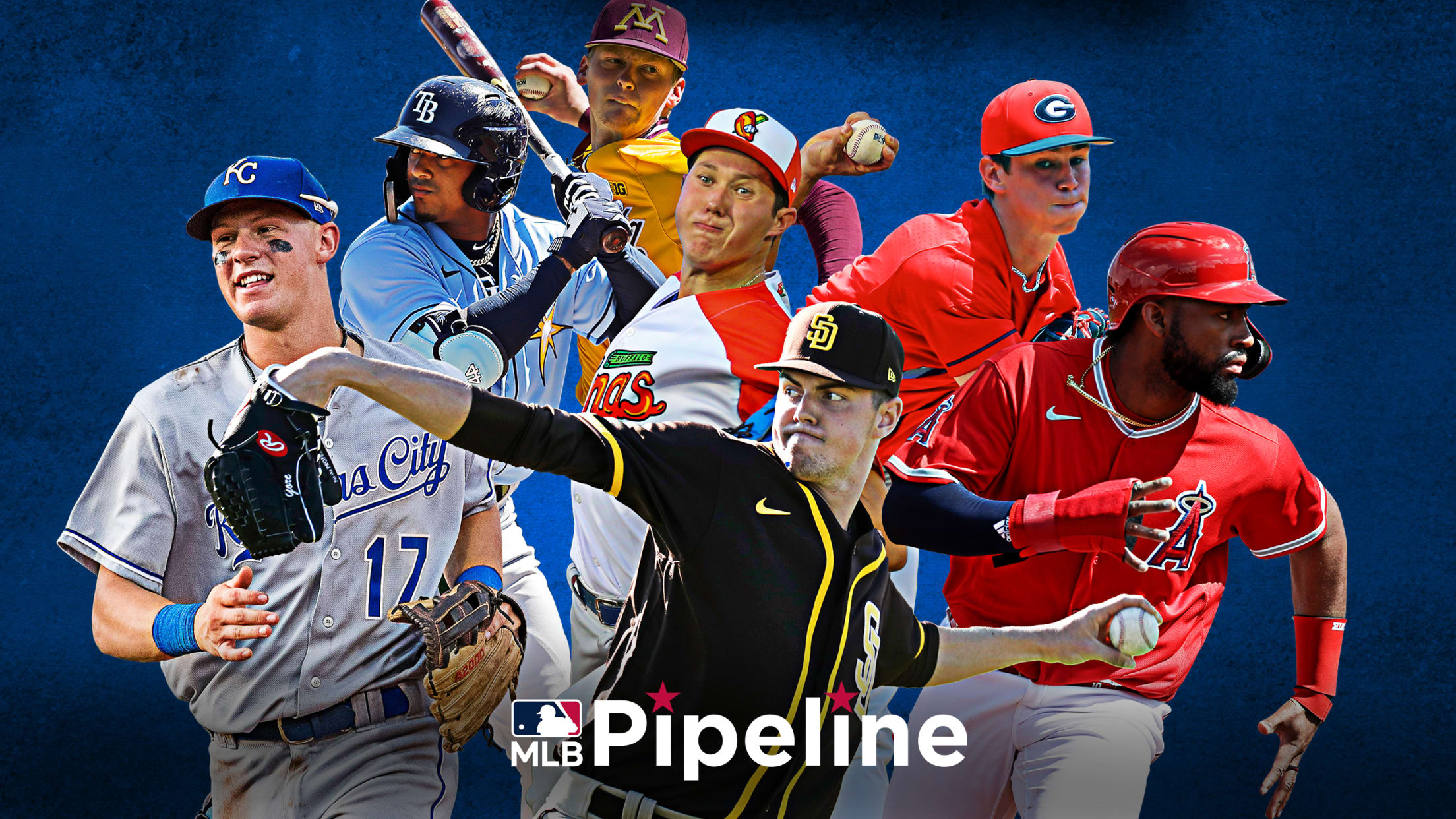 While the main purpose of the 60-man lists that clubs submitted to MLB is to identify players eligible to participate in Major League action, they also include several prospects unlikely to get big league time in 2020. Those youngsters will benefit from a structured development opportunity that will come from
While the main purpose of the 60-man lists that clubs submitted to MLB is to identify players eligible to participate in Major League action, they also include several prospects unlikely to get big league time in 2020. Those youngsters will benefit from a structured development opportunity that will come from being able to train with their organizations, an important consideration in the wake of the Minor League season getting cancelled.
The 60-man pools are still fluid because teams have left open spots to add players in the future. Below, we take a look at each team's most intriguing prospect who has been included thus far.
AMERICAN LEAGUE EAST
Blue Jays: Nate Pearson, RHP (No. 1/MLB No. 8)
With his triple-digit fastball, swing-and-miss slider and impressive overall feel for pitching and repeating his delivery, Pearson's impact potential is undeniable. The fact that the Blue Jays managed his workload as they did in 2019, limiting the 6-foot-6 right-hander to 101 2/3 innings but also pushing him up to Triple-A, sets him up to contribute as either a starter or multi-inning reliever in this year's 60-game regular season.
Orioles: Austin Hays, OF (No. 5)
The Orioles initially announced just 44 players, limiting their contingent to those who have a chance to make their Opening Day roster, so many of their top prospects (including 2019 No. 1 overall pick Adley Rutschman) weren't included. Hays became the first player from the 2016 Draft to reach the Majors when the third-rounder got to Baltimore in September 2017; he was sidetracked by injuries the last two years before making a triumphant return last September. He could win the center-field job and make good on his 20-20 potential.
Red Sox: Bobby Dalbec, 3B/1B (No. 3)
Though the Red Sox included few prospects on their first 60-man list, Dalbec could make an impression with his light-tower power. A fourth-round choice in 2016, he ranks sixth in the Minors with 59 homers over the past two seasons. He offers similar power and better defense than Rafael Devers, but Dalbec will have to be content with competing for at-bats at first base and DH.
Rays: Wander Franco, SS (No. 1/ MLB No. 1)
Franco's inclusion in the Rays' 60-man player pool shouldn't come as a surprise considering he's baseball's No. 1 prospect. Splitting the 2019 season -- his age-18 campaign -- between Class A Bowling Green and Class A Advanced Charlotte, the switch-hitting shortstop produced a .327/.398/.487 line with 43 extra-base hits in 114 games to bring his career line to .336/.405/.523 through 175 games, during which he's recorded more walks (83) than strikeouts (54).
Yankees: Luis Medina, RHP (No. 10)
Of the nine pitchers from our Yankees Top 30 on the 60-man, none has a higher ceiling than Medina. Signed for $280,000 out of the Dominican Republic in 2015, he has only two games of experience above low Class A but can push his fastball to 102 mph while flashing a hammer curveball and a devastating changeup. He may be ready to take off after finding a consistent release point and reliable control last summer.
AMERICAN LEAGUE CENTRAL
Indians: George Valera, OF (No. 4)
Valera earned a $1.3 million bonus out of the Dominican Republic as one of the best hitting prospects in the 2017 international class. He missed most of 2018 after breaking the hamate bone in his right hand but logged an .802 OPS as the second-youngest regular (age 18) in the short-season New York-Penn League last summer. Having him train as part of their 60-man pool will help the Indians to continue to accelerate his development.
Royals: Bobby Witt Jr., SS (No. 1/MLB No. 10)
Witt Jr., the No. 2 overall pick from the 2019 Draft, is unlikely to contribute in the Majors this year, which would have marked his first full professional season, but the Royals are still eager to further his development. He's a potential five-tool shortstop with 20-20 upside, and at 20 years old, is the youngest Royals Top 30 prospect to be included in the team's 60-man player pool.
Tigers: Riley Greene, OF (No. 3/MLB No. 31)
Greene owned one of the better bats in the entire 2019 Draft class and raked his way up to full-season Class A West Michigan after the Tigers selected him sixth overall. The 19-year-old outfielder was anything but overmatched this spring in big league camp, posting an impressive .417/.611/.917 line with two homers and six walks in 18 plate appearances. He's more advanced than the typical prep pick but doesn't fit into Detroit's 2020 plans like some of the team's pitching prospects do.
Twins: Royce Lewis, SS (No. 1/MLB No. 9)
Will the real Royce Lewis please stand up? Is he the guy who batted .236/.290/.371 between high Class A and Double-A last year, or the guy who earned MVP honors in the Arizona Fall League while hitting .353/.411/.565 and showing the tools that made him the No. 1 overall pick in the 2017 Draft? If it's the latter, he could contribute to one of the top American League contenders while playing a variety of positions this summer.
White Sox: Michael Kopech, RHP (No. 3/MLB No. 20)
The White Sox have four 60-man players ranked in the top 40 of MLB Pipeline's Top 100 Prospects, starting with prime Rookie of the Year candidate Luis Robert. But Kopech may be even more integral to their playoff hopes, bolstering their rotation if the 2014 Red Sox first-rounder can come back from Tommy John surgery with the high-octane stuff he had before he blew out in September 2018.
AMERICAN LEAGUE WEST
Angels: Jo Adell, OF (No. 1/MLB No. 6)
In a healthy world, Adell would get a little more seasoning in Triple-A, but that obviously can't happen this year. The 10th overall pick in the 2017 Draft has some of the best all-around tools in the Minors and could surface in right field for the Angels at some point, especially if Brian Goodwin regresses.
Astros: Forrest Whitley, RHP (No. 1/MLB 19)
For two straight years, Whitely has missed time during enigmatic regular seasons before performing well in the Arizona Fall League. Still one of the game's best pitching prospects, the 2016 first-round choice has five offerings that grade as plus or better when they're on, making him a candidate to help fill the void left by Gerrit Cole in Houston's rotation.
Athletics: Robert Puason, SS (No. 4)
The youngest player on any 60-man list, Puason won't turn 18 until September and has yet to make his pro debut since signing for $5.1 million out of the Dominican Republic. A switch-hitter with projectable power and impressive defensive skills at shortstop, he reminds some scouts of five-time All-Star Tony Fernandez.
Mariners: Emerson Hancock, RHP (first-round pick)
No pitcher in the 2020 Draft combined stuff and polish better than Hancock, whose ability to locate a 94-99 mph fastball, mid-80s slider and deceptive changeup earned him a $5.7 million bonus. The Mariners added more 2020 draftees to their 60-man list than any club, with outfielder Zach DeLoach (second round), second baseman Kevin Polcovich (third) and third baseman Tyler Keenan (fourth) also making the cut.
Rangers: Nick Solak, INF/OF (No. 5)
Acquired from the Rays last July in exchange for Peter Fairbanks, Solak played well for the Rangers down the stretch. The 2016 Yankees second-rounder has blossomed into at least average power with plus speed and potentially could emerge as a starter at second base, third base, left field or center field.
NATIONAL LEAGUE EAST
Braves: Jared Shuster, LHP (2020 first-round pick)
Taken by Atlanta with the 25th overall pick in this year's Draft, Shuster, a Wake Forest product, is part of a loaded Braves player pool that includes the top 12 prospects on the team's Top 30 list. The 6-foot-3 left-hander's three-pitch mix is headlined by a plus changeup, and he made gains as a strike-thrower in last year's Cape Cod League, which carried over into his abbreviated junior season with the Demon Deacons.
Marlins: Max Meyer, RHP (first-round pick)
The first pitcher selected in June, Meyer signed for $6.7 million as the No. 3 overall pick and has the stuff and competitive makeup to pitch in the Majors in the near future if the Marlins so desire. His 87-91 mph slider was the best pitch in the 2020 Draft, and his 93-100 mph fastball wasn't far behind.
Mets: David Peterson, LHP (No. 10)
The former first-round pick (2017) from Oregon State pitched well in big league camp this spring and received at least some consideration for the Mets' Opening Day roster before being reassigned to the Minors. After recording a 4.19 ERA, 122/37 K/BB (116 IP) and the Double-A Eastern League's third-best ground-ball rate (52.6 percent) in 2019, the 6-foot-6 lefty should get his first crack at the big leagues at some point in '20.
Nationals: Seth Romero, LHP (No. 9)
Off-the-field issues followed by Tommy John surgery have limited Romero, Washington's 2017 first-round pick, to just 47 1/3 innings in the pro ranks, but team officials said that the left-hander looked great when he finally returned to action last fall, with some even pegging him as one of the organization's highest-ceiling prospects. The Nationals aren't afraid to push their pitching prospects and could do exactly that in 2020 with Romero, who could offer value either as a starter or reliever.
Phillies: Spencer Howard, RHP (No. 2/MLB No. 34)
Howard has a big up arrow next to his name after he dominated down the stretch at Double-A Reading last year and encored with an equally impressive showing in the Arizona Fall League. The 23-year-old righty will have to answer questions about his durability after an early-season oblique injury limited him to just 71 innings in 2019, though neither Howard's lack of a previous workload nor his injury history should be limiting factors for him in this year's abbreviated season.
NATIONAL LEAGUE CENTRAL
Brewers: Drew Rasmussen, RHP (No. 9)
The Brewers bet on Rasmussen's ability to return from a second Tommy John surgery when they took him in the sixth round of the 2018 Draft, and he did exactly that in '19, flashing dominant stuff (96 K in 74 1/3 IP) while ascending from Class A to Double-A in his pro debut. With an upper-90s fastball and swing-and-miss power slider, Rasmussen shouldn't have any trouble finding a home in Milwaukee's bullpen and is durable enough to handle a multi-inning role.
Cardinals: Dylan Carlson, OF (No. 1/MLB No. 17)
One of the top breakout prospects of 2019, Carlson won the Texas League MVP award as a 20-year-old and ultimately posted a .292/.372/.542 with 64 extra-base hits and 95 runs between Double- and Triple-A. He also finished with 26 home runs and 20 steals, making him one of 10 Minor Leaguers in '19 to record a 20/20 season. The Cardinals addressed their outfield logjam during the offseason by trading Jose Martinez and Randy Arozarena to the Rays in a deal that ostensibly opened the door for Carlson's 2020 debut.
Cubs: Brennen Davis, OF (No. 3/MLB No. 78)
A 2017 second-rounder who was also a basketball star in high school, Davis exudes upside as a center fielder with 30-30 potential. He's unlikely to play in Chicago this year after spending 2019 in low Class A, but could use some development time after finger injuries limited him to 50 games in his first full pro season.
Pirates: Oneil Cruz, SS (No. 3/MLB No. 64)
The 6-foot-7 shortstop was sidelined for two months with a foot fracture last season but still made it up to Double-A in his age-20 campaign, finishing with a combined .298/.356/.475 line in 73 games. He hits the ball as hard and far as just about anyone in the Minor Leagues, combining size, strength and bat speed with a leveraged left-handed swing that could help land him a pinch-hitting role with the Pirates, if not more, in 2020.
Reds: Jose Garcia, SS (No. 5)
The Reds clearly had high hopes for Garcia when they signed him for nearly $5 million during the 2016-17 international signing period. The Cuban defector stood out with his glove since signing, didn't show much with the bat until his Class A Advanced Florida State League campaign (.280/.343/.436, 46 XBH) in 2019. He continued to perform in the Arizona Fall League and stood out this spring during Cactus League play, hitting four homers and slugging .769 in just 26 at-bats.
NATIONAL LEAGUE WEST
Dodgers: Gavin Lux, SS/2B (No. 1/MLB No. 2)
All Lux did last year was become the first middle infielder age 21 or younger to post a 1.000 OPS in the upper Minors since Gregg Jefferies in 1987, come within .001 of OBP of leading all Minor League shortstops in all three slash stats for the second straight season and become the youngest player to pinch-homer in the MLB postseason. The 2016 first-rounder was the runaway winner when we asked club executives to identify the rookie who would contribute the most in 2020.
Giants: Marco Luciano, SS (No. 2/MLB No. 35)
He's not ready for prime-time duty at age 18, but Luciano made a spectacular pro debut last year by batting .302/.417/.564 with 10 homers in 47 games as one of the youngest players in professional baseball. Signed for $2.6 million out of the Dominican Republic in 2018, he has electric bat speed and may possess more raw power than any infielder in the Minors.
D-backs: Blake Walston, LHP (No. 6)
The D-backs landed one of the 2019 Draft's more projectable hurlers in Walston, selecting the North Carolina prep with their second first-round pick. The 6-foot-5 southpaw's velocity ticked up during his pro debut, with his fastball consistently reaching the mid-90s, and scouts expect him to add more velo as he grows into his ultra-athletic frame. He complements his heater with a plus curveball and also shows feel for a slider and changeup.
Padres: MacKenzie Gore, LHP (No. 1/MLB No. 5)
The No. 3 pick in the 2017 Draft seemed likely to pitch in the Majors in 2020 even before the regular season was reduced to 60 games. In 2019, Gore's first fully healthy season, the then-20-year-old southpaw paced the Minors (100 IP min.) in ERA (1.69) and WHIP (0.83), ranked second in opponent average (.164), third in strikeout-to-walk rate (28.3 percent) and fifth in strikeout rate (35.7 percent). He's still scraping the surface of his potential but possesses all the qualities needed to become a legitimate ace.
Rockies: Ryan Rolison, LHP (No. 2)
The Rockies' 2018 first-rounder (No. 22 overall) is consistently around the strike zone and knows how to use his entire four-pitch mix, though only his curveball is regarded as a plus pitch. He survived pitching in the California League's extremely hitter-friendly ballparks last season with Class A Advanced Lancaster and likely would have opened the 2020 season in Double-A.