Q&A: Sharon Robinson, Jackie's daughter
MLB educational consultant opens up about father's legacy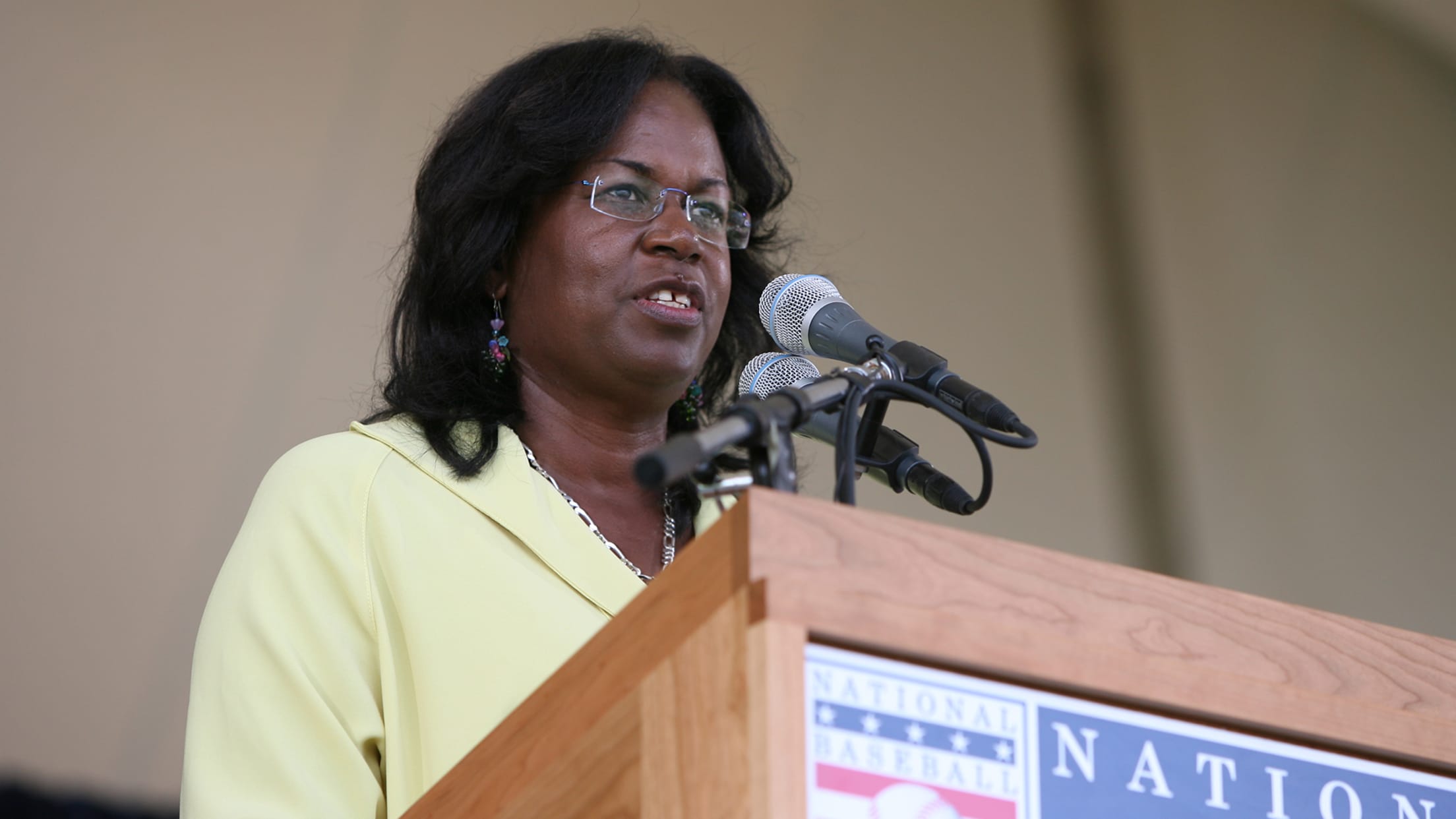 Sunday is Jackie Robinson Day all across baseball and for good reason: On April 15, 1947, Robinson broke the color barrier in Major League Baseball. What a player he was. Robinson's grace on and off the field made him one of the greatest sports figures in history.Baseball is making sure
Sunday is Jackie Robinson Day all across baseball and for good reason: On April 15, 1947, Robinson broke the color barrier in Major League Baseball. What a player he was. Robinson's grace on and off the field made him one of the greatest sports figures in history.
Baseball is making sure that Robinson's legacy never fades away. A tradition since 2009, MLB will celebrate Jackie Robinson Day with all players and on-field personnel wearing Robinson's No. 42, with all proceeds from sales of the special gear going to the Jackie Robinson Foundation.
No one knew Robinson better than his daughter, Sharon. MLB.com caught up with her by phone recently and talked to her about her father's legacy.
MLB.com: What exciting things can we expect to see Sunday during Jackie Robinson Day?
Sharon Robinson: This year, baseball is doing a unique thing. Clubs across baseball will have a special warmup jacket with No. 42 on it. There is a cap. There are different ways they are enhancing the profile of Jackie Robinson Day. That is very important to us.
For the first time in a number of years, my mother [Rachel], brother [David], our family and the Jackie Robinson Foundation will be together at Citi Field. That's special for us because we will do something in New York City with our Mets. Mom is 96, and we feel especially blessed to have her on the field with us.
MLB.com: How is your mother doing?
Robinson: She is remarkable. That's all I can say. She is absolutely remarkable. She is quite well. She seems to weather every hard moment she has. She comes through with shining colors. She fully intends to live into her 100s.
MLB.com: If your father were alive, how would he feel about the game of baseball today?
Robinson: It's hard to speak on his behalf. I don't know how he would feel. I can only speak about how we feel. We are very excited by the diversity of the game. We like to see the numbers of African-American players on an upward tick and hope that continues. We love it when we have African-American managers, and we love the fact that Derek [Jeter] is now an owner, along with Magic Johnson. All of that, we are very happy with. And we want to see more of it.
MLB.com: We have recently seen women become successful in baseball. How do you feel about it?
Robinson: I think that is also exciting. I was in Compton last year, when they had the girls baseball series. I was excited to be with them, to feel their energy and their passion for the game. I share their hope that, at some point, we will have women playing on a baseball team. We want diversity across the board.
MLB.com: We are not only seeing women playing the game at various levels, we are seeing them in front offices in the Majors. What do you think?
Robinson: Essential. We are having a changing of the guard in the Commissioner's Office and some of the young women have advanced in that office. It's very exciting. They have big plans and big hopes for inclusion across Major League Baseball.
MLB.com: Your father was not only a great baseball player, he was part of the Civil Rights Movement. What do you think about his work in the movement?
Robinson: It's not as well-known, but that's how I grew up, because I was 7 years old when my father retired from baseball. So I knew him more as an activist than I did as a baseball player. Many people don't understand what a key role he played in fundraising, motivating, marching and supporting the movement. I'm working on a book from 1963. I didn't know when his interactions with Dr. [Martin Luther] King began, but now I understand. It's clearer -- the role my father played from raising funds for the NAACP and the Southern Christian Leadership Conference to the rebuilding of the bombed-out churches during that period. I know it affected us as a family -- how we marched together as a family on the March on Washington. That's an important part of my father's life and a legacy that needs to be well-known.
MLB.com: You are vice chair of the Jackie Robinson Foundation, which helps kids get an education. Anything new going on with the foundation?
Robinson: Our big emphasis in 2019 will be opening the Jackie Robinson Museum in Manhattan. We are very excited about it. It is in the planning stages, so we will be able to open up in collaboration with my dad's 100th birthday (in 2019).
Our program is strong and growing. We support about 225 young people who are in colleges across the country. In addition to that, they are part of our leadership development program. So in March, we had them all in New York City and had an exciting conference and a chance for them to engage in cultural activities from dance to music to opera to going to museums. All of that happens during the five days they are with us. We have the Jackie Robinson Foundation dinner, where they get a chance to take networking to a higher level. They are spotlighting their work in college and their plans for the future.
MLB.com: I know you said you were 7 when he retired, but do you have a favorite baseball moment involving your father?
Robinson: It doesn't come from me remembering him in the baseball stadium. After my dad retired, he was vice president of personnel for Chock Full o'Nuts. He used to take me with him on father-daughter day. It always started off at Chock Full o'Nuts. While he would check his mail, he would leave me downstairs in the cafe with his employees. The employees painted a picture of my dad's playing days that I will never forget. ... They were describing how thrilling it was to watch his performance on the field. They talked about how good they felt during that historic time. Seeing film clips, reading books and writing books about my dad has helped me see a solid picture of the man and the baseball player.
MLB.com: What's the biggest thing you want people to know about your father?
Robinson: His consistency in terms of his passion, dedication, determination as he is stealing home. His strategy, which we also saw at home -- he tested the ice before we were allowed to go ice skating on our pond. He took that risk, stepped out there for his kids and neighborhood children. He did that even though he couldn't swim. We thought of him as a very big man, very courageous man, someone who was willing to step forward for us. That was consistent with who he was as a person.
Bill Ladson has been a reporter for MLB.com since 2002. He covered the Nationals/Expos from 2002-2016. Follow him on Twitter and Facebook.