Iglesias happy in Cincy, not focused on rumors
Reds closer linked to trade speculation this offseason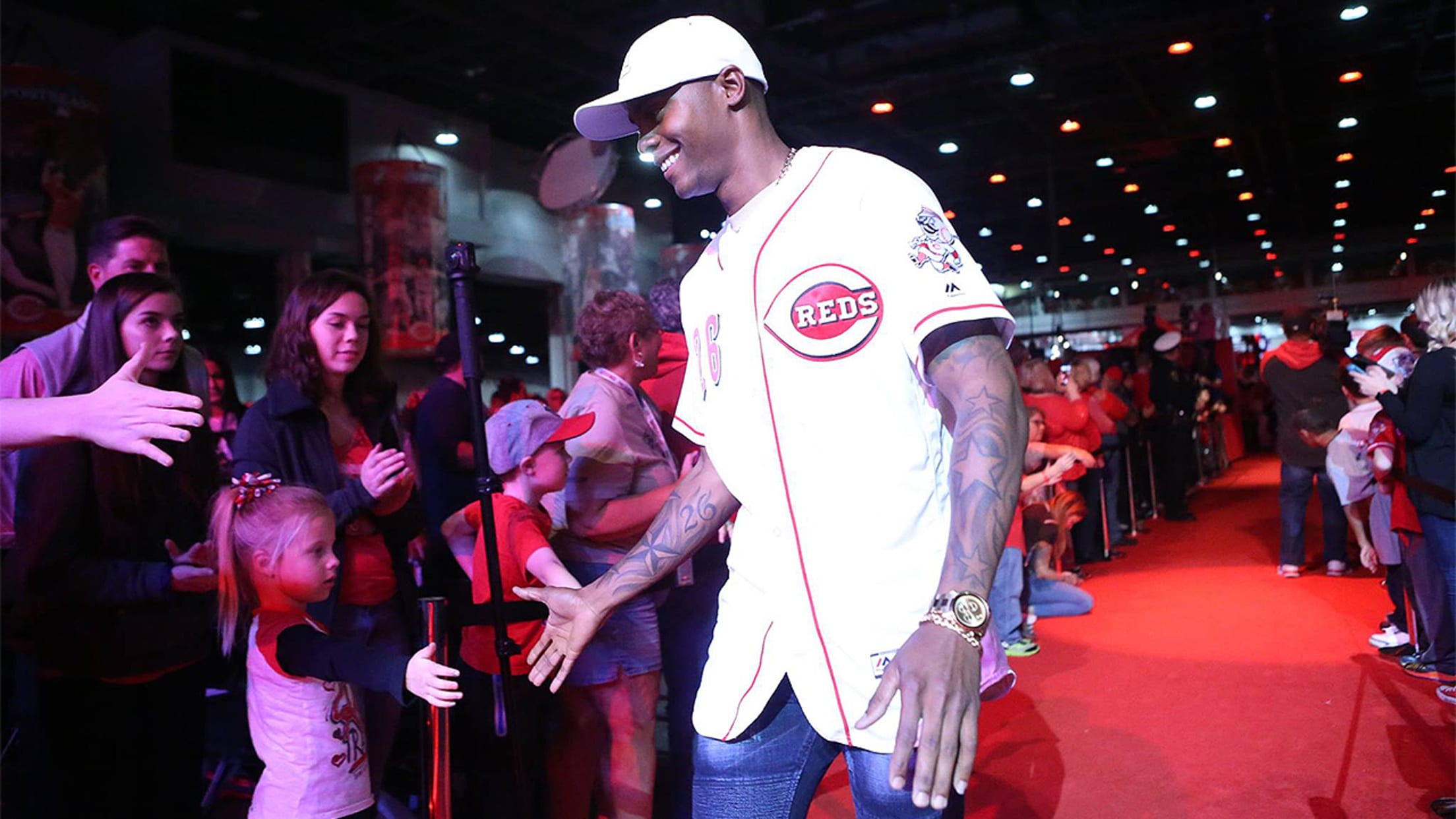 "Hopefully I can play the rest of my career in Cincinnati," Reds closer Raisel Iglesias said recently at Redsfest. (Reds)
CINCINNATI -- As a closer coming off a strong season, Raisel Iglesias could be the Reds' strongest trade asset. There were some rumors of interest in Iglesias centering on the Twins in November, but that doesn't concern the right-hander."I'm not worried about it," Iglesias said on Saturday at Redsfest via
CINCINNATI -- As a closer coming off a strong season, Raisel Iglesias could be the Reds' strongest trade asset. There were some rumors of interest in Iglesias centering on the Twins in November, but that doesn't concern the right-hander.
"I'm not worried about it," Iglesias said on Saturday at Redsfest via interpreter Julio Morillo. "I'm doing my work in the offseason, and if the team decides to trade me, they'll let me know. Right now, I'm focused on being as strong as I can be and being healthy for next season."
Another area that's not a worry for Iglesias: salary arbitration.
Although he signed a seven-year, $27 million contract in 2014 that will pay him $4.5 million in 2018, Iglesias held the right to opt out of the deal. Because he is still under club control for at least three more seasons, he would have been eligible for arbitration. He won't be a free agent until after the 2021 season.
Entering the offseason, it seemed unlikely Iglesias would elect to go through the arbitration process.
"I talked to my agents about it. I decided just to prepare myself for the season," Iglesias said. "I'm going to have a great season like this year and continue with the contract I have now."
Iggy! Raisel Iglesias takes home the 2017 Johnny Vander Meer Award for the Reds' Most Outstanding Pitcher! #Redsfest pic.twitter.com/i3cjQ1aHdC

— Cincinnati Reds (@Reds) December 1, 2017
Iglesias is due to make $5 million per year in the 2019 and '20 seasons. That cost-efficient salary is another reason he's attractive to clubs that need a closer.
There is, of course, what he's done on the mound. Iglesias, who turns 28 on Jan. 4, was 3-3 with a 2.49 ERA last season. He had 1.11 WHIP and 28 saves in 30 attempts in 63 appearances over 76 innings.
Iglesias led the Majors with eight saves of at least two innings and was tied with Kenley Jansen of the Dodgers for the lead with 12 saves of more than one inning.
During his time with the Reds, Iglesias has become comfortable and wasn't looking for an exit to another team.
"I feel very comfortable here in Cincinnati. It's my second home," Iglesias said. "I feel like it was back in Cuba. When I go around, people say hi to me and know who I am. Hopefully I can play the rest of my career in Cincinnati."