Rangers prepare for 2017 Fan Fest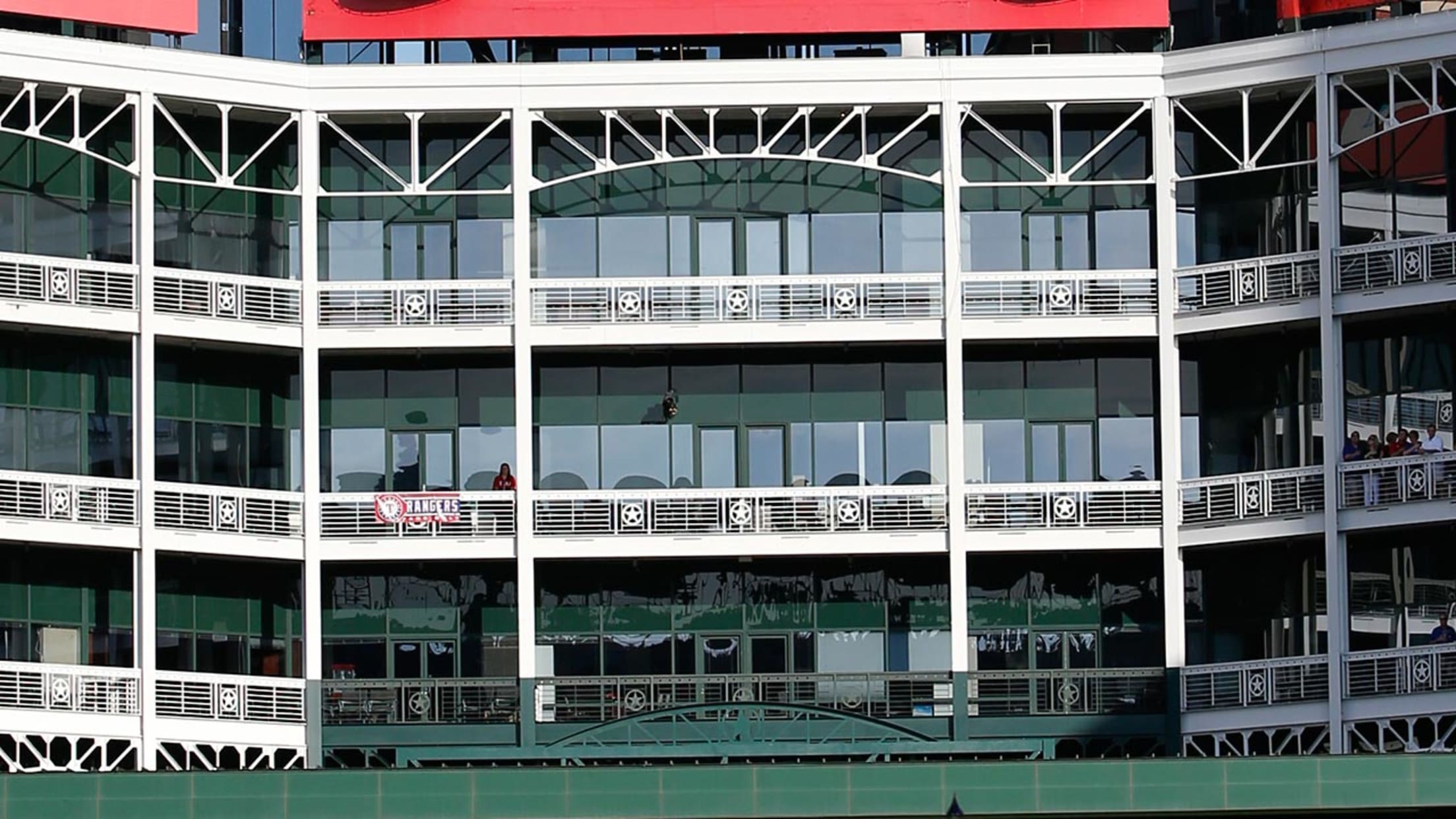 Globe Life Park hosts the 2017 Texas Rangers Fan Fest on Saturday. (Jim Cowsert/AP) (Jim Cowsert/AP)
ARLINGTON -- The 2017 Texas Rangers Fan Fest presented by AT&T will take place Saturday from 9 a.m. to 4 p.m. at Globe Life Park in Arlington.Admission is $10 for adults, $8 for season-ticket holders and $5 for children 13 and under. Advance tickets can be purchased here, and tickets
ARLINGTON -- The 2017 Texas Rangers Fan Fest presented by AT&T will take place Saturday from 9 a.m. to 4 p.m. at Globe Life Park in Arlington.
Admission is $10 for adults, $8 for season-ticket holders and $5 for children 13 and under. Advance tickets can be purchased here, and tickets can also be purchased at the Globe Life Park First Base Ticket Office beginning at 7 a.m. on Saturday. The First Base and Home Plate Gates at Globe Life Park will open at 8:45 a.m. for fans to enter Fan Fest. Parking at Globe Life Park is free for the event.
The 2017 Fan Fest will feature autograph sessions with current Rangers players and coaches, with individuals signing in the Capital One Club, Hyundai Club, Jack Daniel's Club and Texas Rangers Hall of Fame (Third floor).
Other highlights of the 2017 Fan Fest:
• Interactive Question & Answer sessions with Rangers executives, players and announcers in the Rangers Hall of Fame (1st floor)
• On-field events to include running the bases and photo opportunities (weather permitting).
• Pitching, hitting, and fielding clinics conducted by Texas coaches and alumni
• Free tours of the Rangers' clubhouse and dugout
• Free play in the Kids Zone
• Photo stage with current and former Texas players
• Rangers Baseball Foundation Sale
• Food and beverages on sale at The Short Stop Grill, Captain Morgan Club, and other concession stands
• Merchandise on sale at Ballpark Gift Shop locations
In addition, 2017 season-ticket and mini-plan packages will be on sale.
2017 FAN FEST AUTOGRAPH GUIDELINE
There will be six designated autograph sessions on Saturday, at which the first 7,000 fans in attendance at Fan Fest are eligible to receive a winning autograph card, which can be found in the center of the event program. Potential winning Fan Fest programs will not be distributed with less than one hour remaining prior to each designated autograph session.
9:30 a.m. -- Adrian Beltre
9:30 a.m. -- Nomar Mazara
Noon -- Elvis Andrus
Noon -- Ivan Rodriguez
2:00 p.m. -- Yu Darvish
3:00 p.m. -- Jonathan Lucroy
All other Fan Fest autograph times will be available on an insert within the Fan Fest program handed out at the gates. Entrance to the designated line will be granted on a first-come, first-served basis. Individuals who use wheelchairs must adhere to the same first-come, first-served process as all other fans. When lines are at the designated capacity, an "END OF LINE" sign will be posted and no further guests will be allowed to enter the line. Players will sign approximately 225 autographs per session. Players will not sign beyond their allotted time. Prior to the 2017 Fan Fest, Fast Passes were sold online at texasrangers.com. Up to 75 guests will have the opportunity to skip to the front of each autograph session.
Rangers signing autographs: Andrus, manager Jeff Banister, Preston Beck, Beltre, Matt Bush, Andrew Cashner, Robinson Chirinos, Shin-Soo Choo, Darvish, Delino DeShields, Sam Dyson, John Fasola, Joey Gallo, Reed Garrett, Dillon Gee, Carlos Gomez, Chi Chi Gonzalez, Ronald Guzman, Josh Hamilton, Michael Hauschild, Keone Kela, Lucroy, Nick Martinez, Mazara, Yohander Mendez, Brett Nicholas, Rougned Odor, Rodriguez, Tyson Ross, Ryan Rua, Tanner Scheppers, Jose Trevino and Michael Young.
Individuals participating in Q&A sessions: Andrus, Banister, Beltre, general manager Jon Daniels, Rodriguez, Rangers TV/radio announcers Rob Matwick and Jack Hill.
Individuals participating in clinics: Tony Beasley (infield/baserunning); Steve Buechele (hitting); Doug Brocail/Brad Holman (pitching); Jose Vazquez (strength and conditioning).
Rangers alumni, coaches and broadcasters signing autographs: Beasley, Josh Bonifay, Brocail, Buechele, Rusty Greer, Tom Grieve, Toby Harrah, Matt Harrison, Matt Hicks, Bobby Jones, Mark McLemore, Kevin Mench, David Murphy, C.J. Nitkowski, Pete O'Brien, Darren Oliver, Dave Raymond, Jeff Russell and Jared Sandler.