Beltre progresses to taking BP, fielding grounders
Rangers third baseman sidelined with strained right calf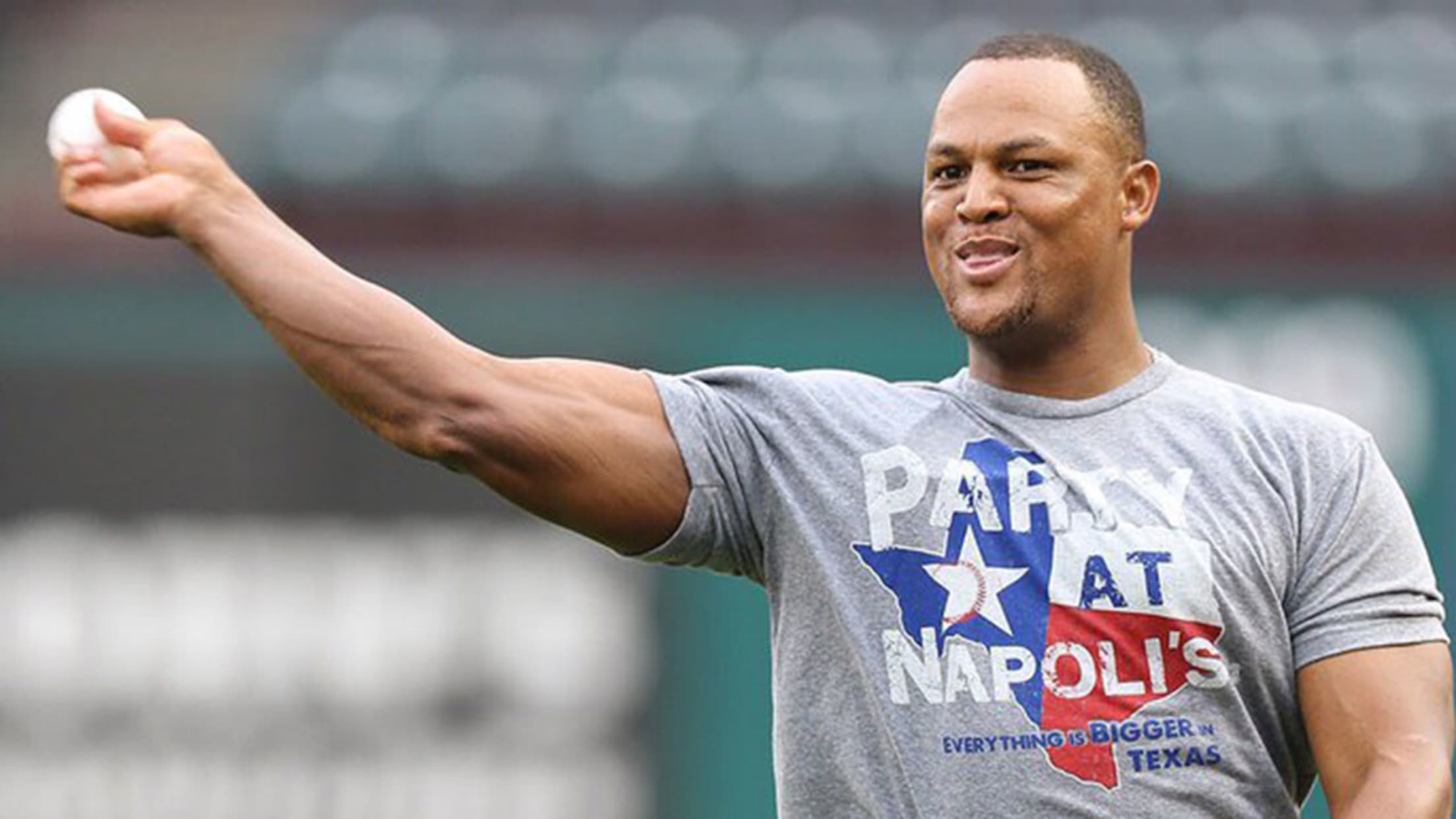 Adrian Beltre fielded grounders and participated in batting practice before Thursday's game vs. San Diego. (Rangers)
ARLINGTON -- Adrian Beltre, who is on the disabled list with a strained right calf muscle, was able to take batting practice on the field with his teammates on Thursday. It's the first time Beltre has been able to do that since he re-aggravated the muscle three weeks ago."The ball
ARLINGTON -- Adrian Beltre, who is on the disabled list with a strained right calf muscle, was able to take batting practice on the field with his teammates on Thursday. It's the first time Beltre has been able to do that since he re-aggravated the muscle three weeks ago.
"The ball sounded good off the bat," manager Jeff Banister said. "Anytime Adrian is in the batter's box, he sounds good and looks good."
Beltre was also able to field ground balls, but he has not yet been able to run at full speed.
"He has been on a treadmill and he has been in a swimming pool," Banister said. "He hasn't done anything on flat ground. He'll be ready when he is ready. There is no timetable to speak of."
Banister said the Rangers haven't decided if Beltre will go on a medical rehabilitation assignment in the Minor Leagues before he is activated. Beltre did so in 2011 when he missed a month because of a strained left hamstring, but he did not in '15 when he missed three weeks because of a sprained left thumb.
Banister said Beltre could get extra at-bats in extended spring action in Arizona. But he has not reached that point yet.
Locke selected as Rangers Honorary Bat Girl
Kimberly Locke of Aledo has been selected as the Rangers Honorary Bat Girl for Mother's Day. She will throw out the first pitch before Sunday's game against the Athletics.
Locke, an Arlington native and a lifelong Rangers fan, was diagnosed with invasive ductal carcinoma and is currently undergoing treatment. The Honorary Bat Girl program was introduced in '09 to raise additional awareness and support for the annual Going to Bat Against Breast Cancer initiative celebrated on Mother's Day. In nine years, thousands of unique testimonials have been submitted and millions of fan votes have been cast.
Going to Bat Against Breast Cancer is a Major League Baseball initiative supported by MLB charitable partners, Stand Up To Cancer and Susan G. Komen. This initiative raises awareness about the breast cancer cause, while also raising funds to support breast cancer research.
Rangers beat
• Rangers pitchers went into Thursday's game having held opponents to a .224 batting average with runners in scoring position. That was tied for the second lowest in the American League.
• Pitcher Tanner Scheppers has been placed on the disabled list at Triple-A Round Rock.
• Matt Bush recorded his second save on Wednesday, the most on the Rangers. The leader on every other AL team has at least five saves.