Bibens-Dirkx still chasing his big league dream
31-year-old has pitched in 405 career games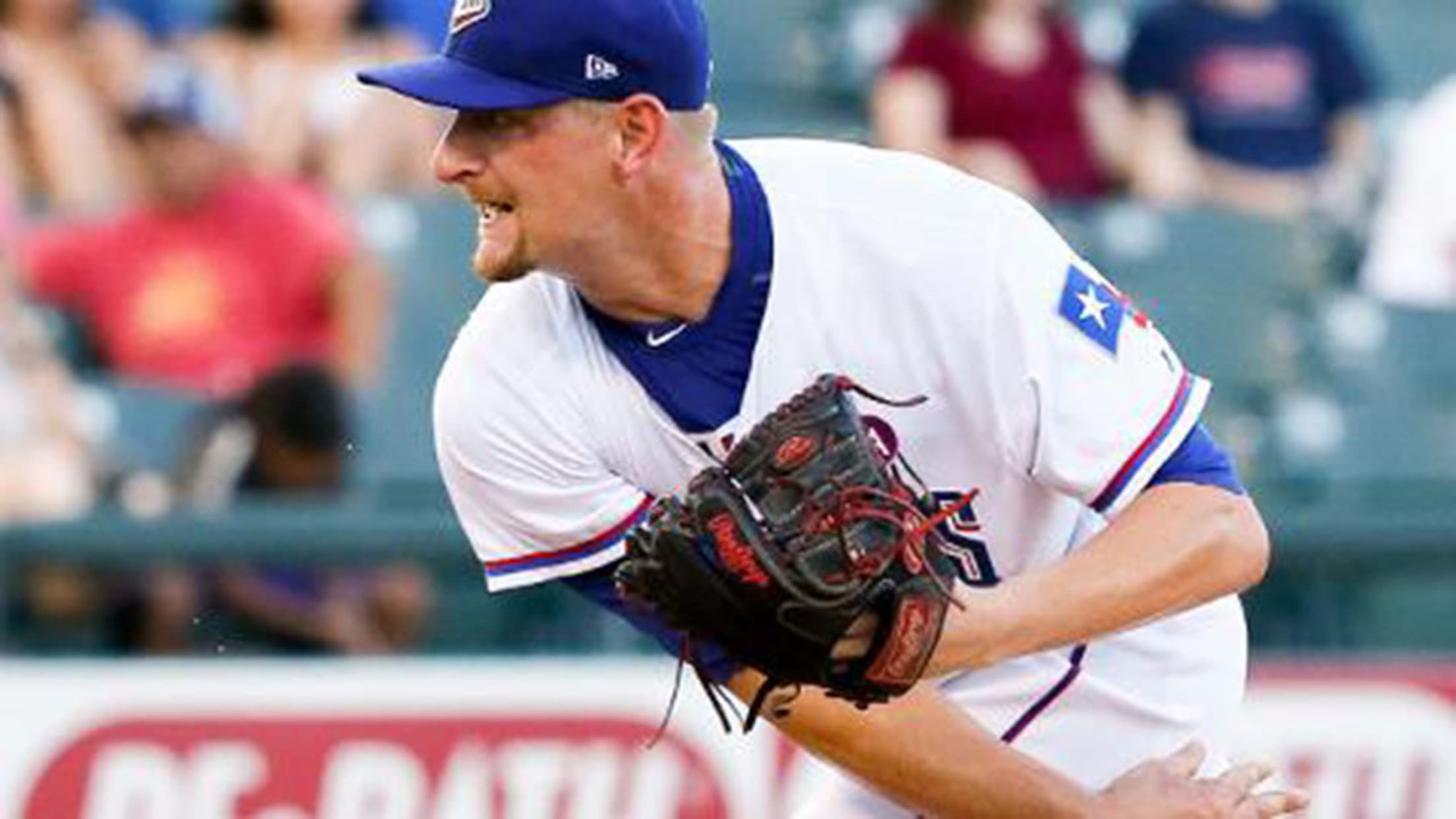 Austin Bibens-Dirkx, in Minor League camp with the Rangers, is still trying to make it to the big leagues. He's pitched 11 seasons and in 405 professional games all over the globe. (Rangers)
SURPRISE, Ariz. -- Right-hander Austin Bibens-Dirkx is tied for the Rangers lead with four Cactus League appearances this spring.If he got just one appearance in the Major Leagues, it would be an amazing story."It would mean a lot," Bibens-Dirkx said. "It has been my goal since I started practicing my
SURPRISE, Ariz. -- Right-hander Austin Bibens-Dirkx is tied for the Rangers lead with four Cactus League appearances this spring.
If he got just one appearance in the Major Leagues, it would be an amazing story.
"It would mean a lot," Bibens-Dirkx said. "It has been my goal since I started practicing my signature when I was seven years old. My grandma still has that ball. It would mean the world to me."
He has never pitched in the big leagues, but it seems like he has pitched everywhere else in his 11-year professional career. There have been seven seasons in winter ball, including six in Venezuela.
Twice he has had to restart his career in an independent league, including last year with the Lancaster Barnstormers in the Atlantic League. The Rangers signed him to a Triple A contract in June and he was 3-2 with a 4.34 ERA in 17 games for Triple-A Round Rock.
Bibens-Dirkx is 31 but refuses to give up his dream.
"I've always been one that if I want something bad enough I would go after it," Bibens-Dirkx said. "Until they tell me I stink or pull the jersey off my back, I'm going to keep after it."
He's not in big league camp but the Rangers use him as a JIC. That's the term for Minor Leaguers used in a game "just in case." All told he has pitched in 405 games in his career counting Minor Leagues, winter ball and independent teams.
"It has been a grind," Bibens-Dirks said. "I think I have experienced everything, the highs and the lows, but I see the endline and I want to do everything I can to get there."
He has been close. Bibens-Dirks was drafted by the Mariners in the 16th round of the 2006 Draft out of the University of Portland but released in 2009.
He pitched for the Victoria Golden Seals in the Golden Baseball League before the Cubs signed him. He started flourishing in their system and was a midseason All-Star in the Double A Southern League in 2010. He was beginning to get noticed.
Bibens-Dirkx was promoted to Triple-A Iowa but was 5-4 with a 4.61 ERA at the end of 2010 and 4-5 with a 6.07 ERA in 2011. It was bad timing because the Cubs were in rebuilding mode and looking at any possible pitcher.
"I think I would have had the opportunity if I had been pitching better," Bibens-Dirkx said. "But things didn't go my way, I didn't do my job."
He was in big league camp with the Nationals in 2012 and had solid years in the Blue Jays system in 2013-15 but not enough to get the call. He continued to pitch almost every winter in Venezuela or the Dominican Republic.
"I love baseball," Bibens-Dirkx said. "I plan on doing baseball as long as I can as long as somebody gives me the opportunity."
Bibens-Dirkx pitched 1 1/3 innings in relief against the Dodgers on Friday night. He came out after the fifth inning and could have gone immediately to the clubhouse to call it a night.
Instead he stayed in the dugout until the final out, taking it all in with a smile. His wife, Leah, was waiting for him afterward and Bibens-Dirkx went home with the dream still burning inside of him.
"If it never happens, I can look back and know I gave everything I could to baseball," he said. "I have had opportunities that I let slip through because I wasn't pitching well. I'll just have to live with it."