Rangers surprise retiring Jones with Mustang
In 50th season in baseball, coach throwing out first pitch before Game 1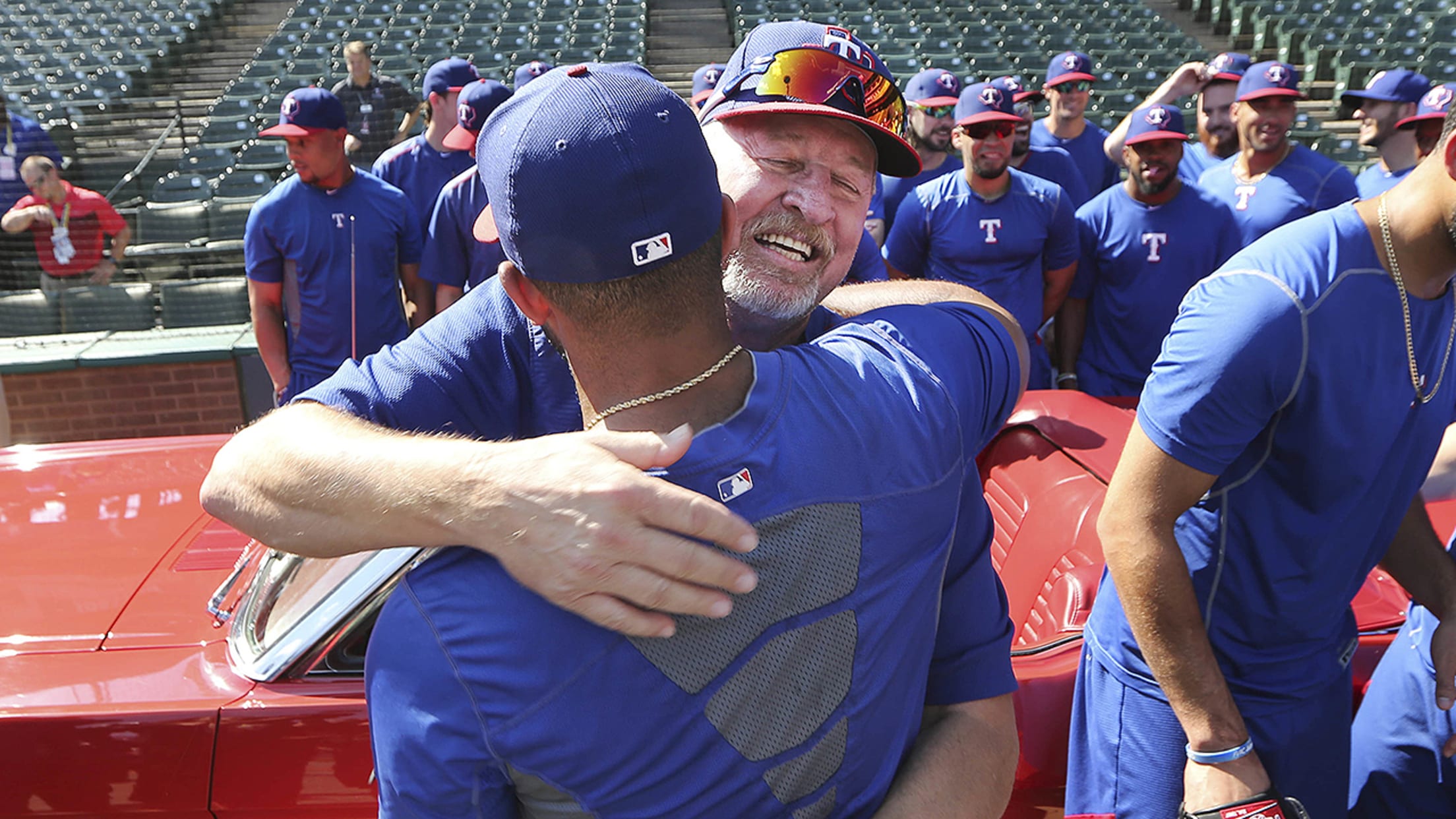 Texas Rangers assistant coach Bobby Jones, center, gets a hug from Adrian Beltre after the Rangers organization presented Jones with a vintage Ford Mustang before the team workout in preparation for Game 1 of the American League Division Series baseball game against the Toronto Blue Jays in Arlington, Texas, Wednesday, Oct. 5, 2016. (AP Photo/LM Otero) (LM Otero/AP)
ARLINGTON -- Bobby Jones may very well end up with a World Series ring to cap his final year with the Rangers, but if that does happen, jewelry won't be the only valuable keepsake he'll have to remember the 2016 season.Jones may have had dreams of driving off into that
ARLINGTON -- Bobby Jones may very well end up with a World Series ring to cap his final year with the Rangers, but if that does happen, jewelry won't be the only valuable keepsake he'll have to remember the 2016 season.
Jones may have had dreams of driving off into that proverbial sunset, but now, thanks to the Rangers, that ride just got a lot sweeter.
Before the team began its final tuneup for Game 1 (Thursday on TBS/SNET, 4:30 p.m. ET/3:30 p.m. CT) with a workout at Globe Life Park on Wednesday, the players and staff conducted an impromptu on-field ceremony for the Jones, the club's video replay coordinator who is retiring after 50 seasons in baseball, and 29 years with the Rangers.
:: ALDS: Blue Jays vs. Rangers coverage ::
The gesture included a gift valuable in both practicality and sentimentality -- a 1965 Mustang, driven onto the field by pitcher Colby Lewis.
Why that particular car? It was the same make and model as the car Jones gave to his brother when Jones left for a tour of duty in Vietnam in December 1969. His brother sold the car during Jones' time in Vietnam, leaving him with no wheels to come back to when he returned home 14 months later, in February 1971.
Jones, who will throw out the ceremonial first pitch before Game 1, had no idea the Rangers had planned this presentation until he saw the car rolling out onto the field.
"It's unbelievable," Jones said. "I can't explain it. I have been a part of this organization all these years and I'm getting ready to retire. To come out and have something like this, I can't explain it. I thank the Rangers' organization and players. It's a dream come true. I always wanted another one."
During his three decades of service to the Rangers, Jones has been a first-base coach, third-base coach, assistant hitting coach, outfield instructor and now, replay coordinator. He also was the organization's Triple-A manager for 11 of 12 seasons from 2002-13.
In 2008, Jones was honored as the inaugural recipient of the Mike Coolbaugh Award, an annual distinction reserved for the individual who shows an outstanding baseball work ethic, knowledge of the game and skill in mentoring young players.
Jones' service to the United States, however, merits its own separate, admirable recognition. During his 14-month tour in Vietnam, Jones, who is deaf in his right ear as a result of being section chief in a 105-millimeter howitzer group, received a Bronze Star Medal. While he received the medal upon his return home, Jones never had the medal officially presented to him until Sept. 11, 2014, when the Rangers invited a senior military officer to do the honors during a pregame ceremony at Globe Life Park.
Two years later, Jones will be honored again. The Rangers' ceremony Wednesday was a private affair, but on Thursday, he'll throw out the ceremonial first pitch in front of a standing room only crowd before one of the biggest games of the year.
What a sendoff.
"He is everybody's favorite guy," Texas general manager Jon Daniels said. "Bobby is never one for the spotlight or the credit but he has literally touched everybody in the organization in some positive manner from Day 1. You look at his 50 years, this was a small way to thank him."
Thursday's pregame ceremony will also include country music singer Neal McCoy, a native of Jacksonville, Texas, performing the U.S. national anthem. The Canadian anthem will be performed by Michael Borts.
The colors will be presented by the United States Air Force Honor Guard. The American flag will be unfurled in center field by members of the U.S. Air Force and the Texas flag will be unfurled in the batter's eye by members of the U.S. military. A flyover of four planes from the Cavanaugh Flight Museum: a C-47, two AT-6's and a P-51 will follow the national anthems.