Late detective honored at Rangers caravan stop
Proceeds from Frisco, Tex., events donated to family of Jerry Walker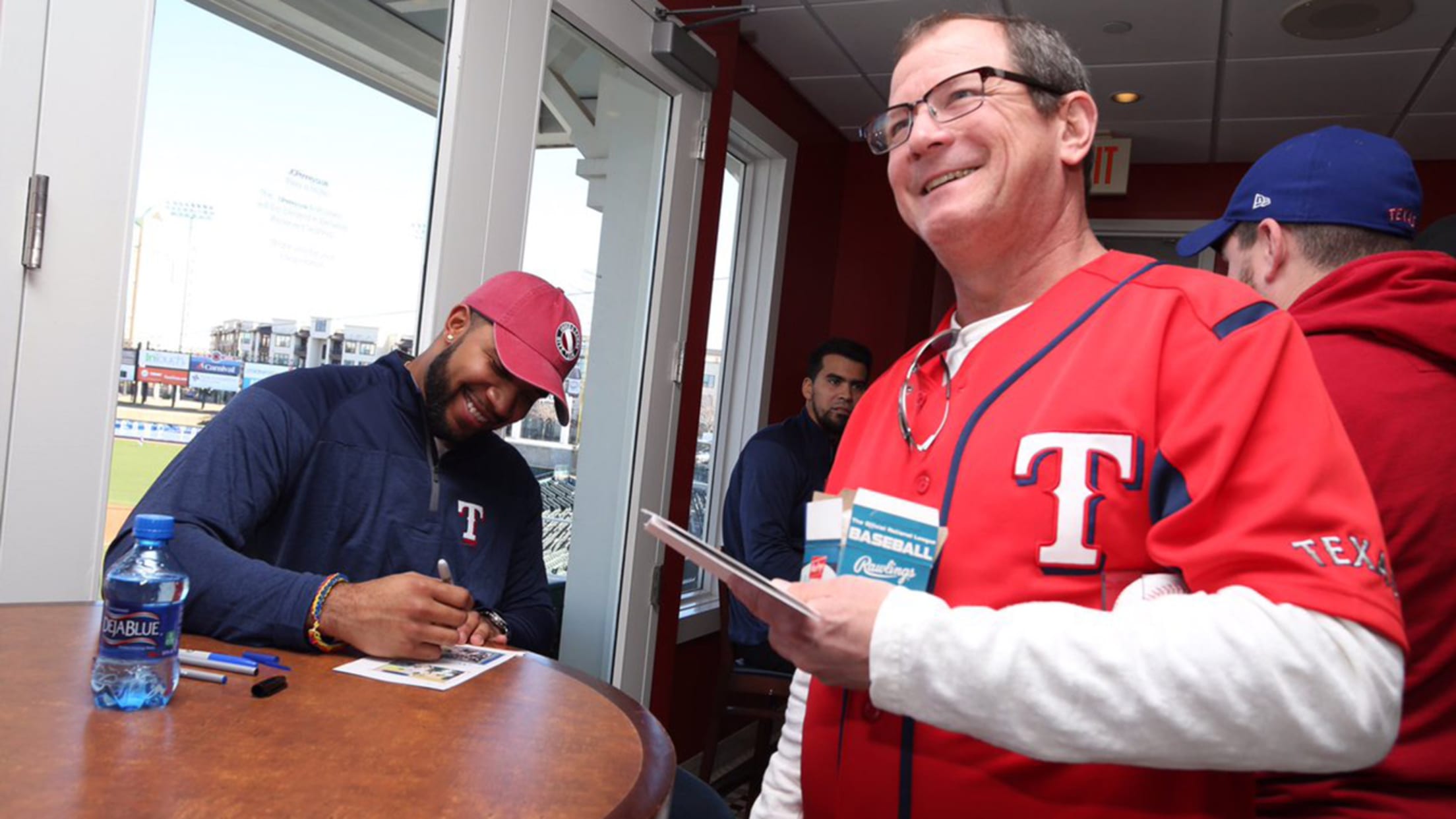 Chi Chi Gonzalez and Jeff Banister were in attendance at the Frisco, Tex., Winter Caravan event on Saturday. (Rangers Twitter)
FRISCO, Tex. -- Every stop the Rangers have made on their Winter Caravan has been memorable. Saturday's event at Dr. Pepper Ballpark, the home of the Double-A Frisco Roughriders, was more than that -- it was meaningful.Frisco decided that all of the proceeds from the event would go to the
FRISCO, Tex. -- Every stop the Rangers have made on their Winter Caravan has been memorable. Saturday's event at Dr. Pepper Ballpark, the home of the Double-A Frisco Roughriders, was more than that -- it was meaningful.
Frisco decided that all of the proceeds from the event would go to the family of Det. Jerry Walker, the Little Elm, Tex., police detective who was killed in the line of duty on Jan. 17.
Manager Jeff Banister and several players were on hand for a VIP autograph session and brunch. Ticket-sale money from the event is headed to the family, along with money raised from a mystery baseball sale and a silent auction. There were also donation buckets located throughout the park where fans could contribute cash earmarked for Walker's family.
The Rangers were honored to be involved.
"That's one of the biggest things I love about this organization is the sense of community we have here," said right-hander A.J. Griffin. "When terrible things like that happen, people in this area of Texas and the DFW area come together and really help out everyone in need. Especially when you see things like what happened last year in downtown Dallas [a police shooting], and then what happened in Little Elm, the community here is so inclusive, and they come together and do their best to make everyone feel loved and included and try to help everyone out."
Hanging out with the fans in Frisco. #WinterCaravan #LetsRide pic.twitter.com/bbjEGtuQsq

— Texas Rangers (@Rangers) January 28, 2017
Griffin was joined by teammates Elvis Andrus, Robinson Chirinos, Tanner Scheppers and Chi Chi Gonzalez at the park, along with Banister.
Banister has had the opportunity to speak with several law-enforcement groups this offseason, and he realizes how important it is to be able to help.
"When you see and hear how they have such a strong desire to make a difference in their community, you know how challenging it becomes when we lose an officer, especially in the line of duty," Banister said. "We all feel that. For us, we don't appreciate our officers enough for the sacrifices their families make. I'm fortunate to have a voice and to represent an organization that believes in what our officers do for us. They do these things for us. For us to be able to do something like this is huge, because Officer Walker paid the ultimate price for what he believed in. For us to be able to help the family is huge."
If Saturday's attendance is any indication, the event will go a long way in helping out Walker's wife and four children. The field was packed, as were the gift shop and autograph lines for players. The Rangers signed for an hour after having a private signing for VIPs.
Knowing where the proceeds are going made giving up some time on a Saturday a no-brainer for the Rangers.
"It means a lot," Andrus said. "When an accident or something bad happens like that day -- especially for his family -- with four kids, they're devastated for sure," Andrus said. "We know we can't stop the sadness, but we can contribute. They have family, and it's important to help them go through this tough process. We're not just here to bring joy on the baseball field, but to try and bring joy and happiness outside the stadium."
Anthony Andro is a contributor for MLB.com based in Arlington.