Rangers to get long look at catching depth
Trevino, Cantwell under spotlight as teammates head to Classic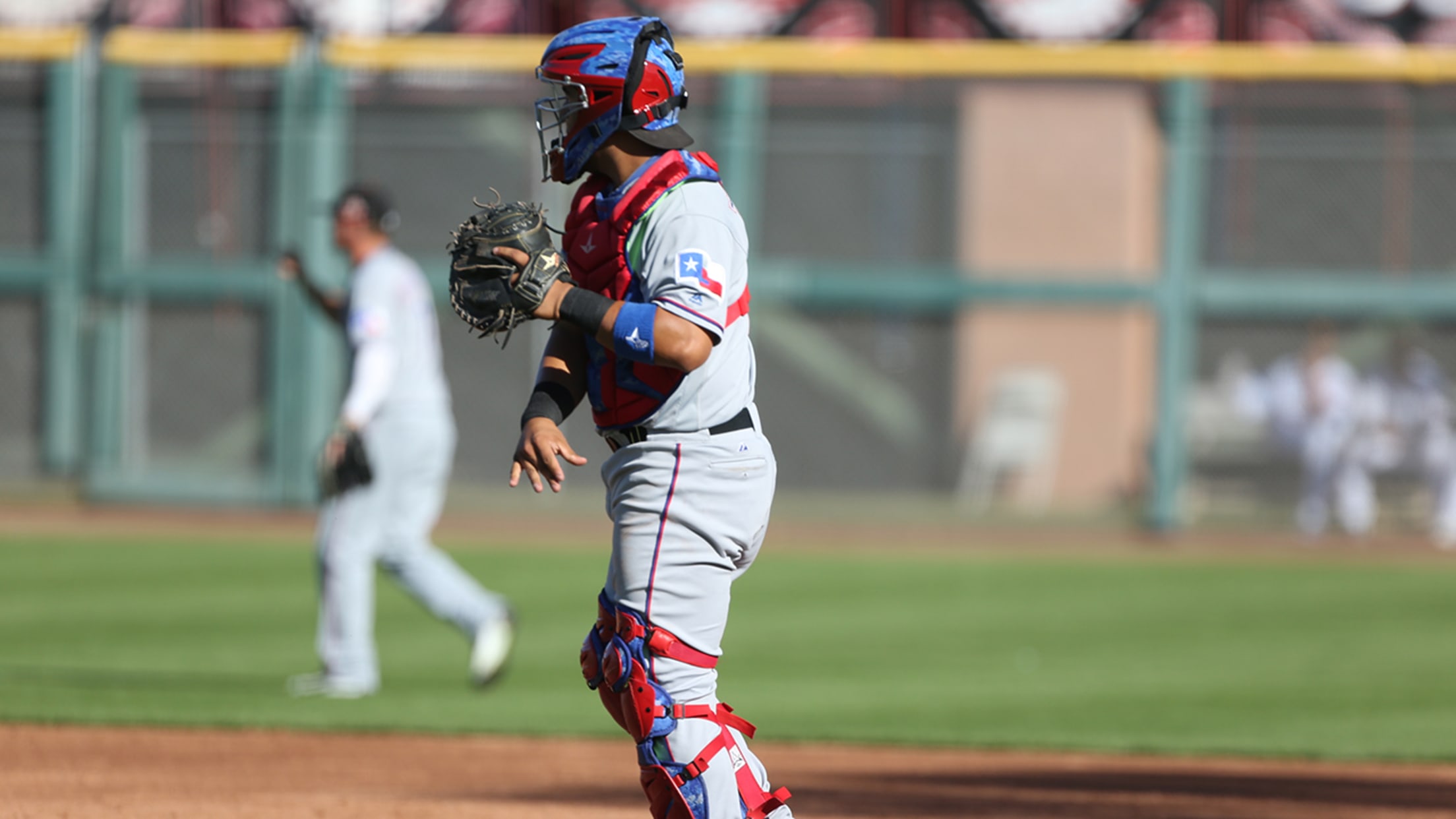 Rangers catcher Jose Trevino will have a big opportunity in Spring Training due to teammates heading to the World Baseball Classic. (Jason Wise/MiLB.com)
SURPRISE, Ariz. -- The Rangers catching depth will be tested well before the end of Spring Training.Jonathan Lucroy and Robinson Chirinos leave March 6 to play in the World Baseball Classic, leaving behind prime opportunity for six catchers -- including top prospect Jose Trevino -- trying to make an impression on
SURPRISE, Ariz. -- The Rangers catching depth will be tested well before the end of Spring Training.
Jonathan Lucroy and Robinson Chirinos leave March 6 to play in the World Baseball Classic, leaving behind prime opportunity for six catchers -- including top prospect Jose Trevino -- trying to make an impression on the Rangers.
"We just need to make sure things run smoothly and we don't hit a bump in the road when they are away," Brett Nicholas said. "It's also a big opportunity…usually those guys get most of the playing time."
:: 2017 World Baseball Classic ::
Nicholas was part of the depth last year, getting called up twice from Triple A and playing in 15 games. The Rangers were 6-4 in his 10 starts.
"That's the key," Nicholas said. "It's not about the numbers, it's all about winning."
Nicholas' success was a reward after committing to switch from first base to catcher in 2014. He has worked his way into being the first line of defense in case of injury.
"He has really improved a lot…night and day," Rangers catching instructor Hector Ortiz said. "He hasn't stopped working since being told he was primarily a catcher."
Trevino may be the most intriguing catcher in camp. He is the Rangers' top catching prospect after hitting .303 with nine home runs and 68 RBIs at Class A Advanced High Desert in the California League last year. He was also the best defensive catcher in the league, throwing out 48 percent of attempted basestealers.
Trevino was drafted as an infielder out of Oral Roberts in 2013, but the Rangers switched him to catcher.
"I said to myself, if I really want to do it and achieve a childhood dream, this is what we're going to have to do," Trevino said. "I sat down and really thought about it. Now I love it."
This is his first Major League camp and a precursor to trying to make the critical jump from High Desert to Double-A Frisco.
"The biggest thing is let it happen," Trevino said. "Don't get caught up in the pressure of it being a big year. Just go out and play baseball."
This could also be a pivotal year for Patrick Cantwell, a third-round pick out of SUNY Stony Brook in 2013. He has reached Triple-A on his outstanding defense, but has yet to hit well enough to accelerate the process.
He is a career .244 hitter with a .316 slugging percentage in five Minor League seasons. Cantwell was having a good season last year at Round Rock when he was sidelined by two concussions after getting clobbered by foul tips. The first one as mild at the beginning of August. The second came on Aug. 17 on medical rehab assignment and was more severe, eliminating the possibility of participating in Instructional or Winter League.
"It was bad…pretty bad," Cantwell said. "It wasn't until the end of October I passed the concussion protocol and finally in December I was completely clear."
The Rangers also have veterans Brett Hayes, Steven Lerud and A.J. Jimenez in camp on Minor League invites. Those three have a combined 191 games played in the Majors and 1,838 in the Minors.
They are also here for depth, just as Nicholas, Bobby Wilson and John Holaday were last season. The Rangers were a combined 44-30 in games started by those three at catcher.
"Extremely valuable to have depth," manager Jeff Banister said. "It's a tough position. It's rare to have a catcher complete an entire year."
The Rangers will be missing their top two in Spring Training, which will reveal much about their depth for the season.