Ross to make at least one more rehab start
Right-hander pitching for Triple-A Round Rock again Saturday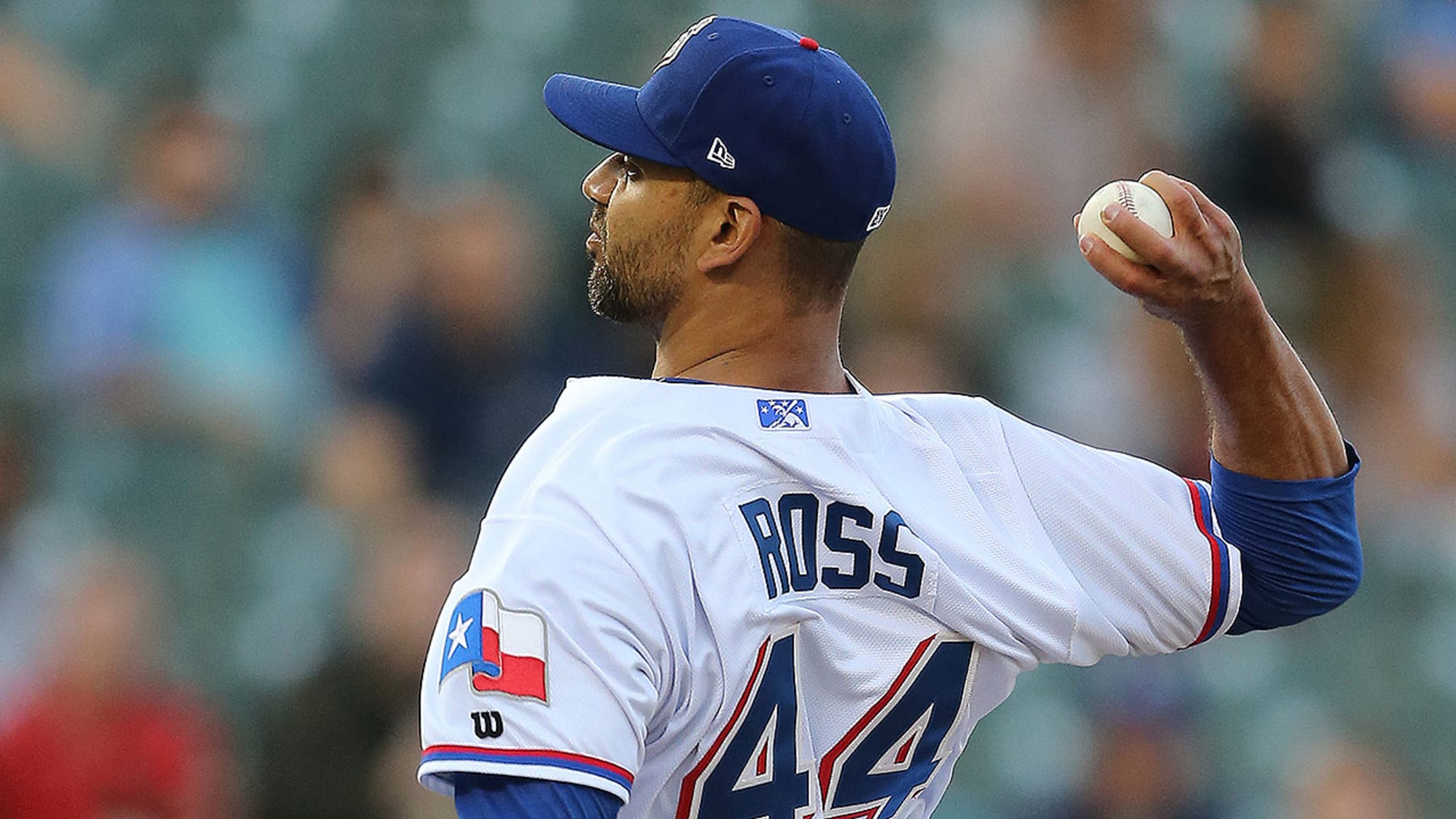 Tyson Ross pitched for Triple-A Round Rock on Saturday, going 5 1/3 innings and allowing two runs. (MiLB)
ARLINGTON -- The Rangers want Tyson Ross to make at least one more start on his rehab assignment, so the right-hander will pitch for Triple-A Round Rock on Saturday against New Orleans.Ross is still recovering from offseason shoulder surgery, and agreed that at least one more rehab start is the
ARLINGTON -- The Rangers want Tyson Ross to make at least one more start on his rehab assignment, so the right-hander will pitch for Triple-A Round Rock on Saturday against New Orleans.
Ross is still recovering from offseason shoulder surgery, and agreed that at least one more rehab start is the right move. He threw 86 pitches for Round Rock on Monday against Omaha, and would like to get to 100.
"I'm not at my full pitch count yet," Ross said. "I've got to get there, and continue to sharpen my stuff."
Ross pitched 3 1/3 innings against Omaha, allowing six runs on six hits and five walks. It was worse than his first start against Las Vegas, when he threw five scoreless innings, allowing two hits and a walk, while striking out five.
"I was just inconsistent," Ross said. "It's been a while since I've had consistent work, and it's not always a smooth progression. But I was happy I extended my pitch count, I got up and down, and my recovery is good."
The Rangers have three off-days in the next nine days, so they won't need a fifth starter until June 13 against the Astros. That means Ross could get two more starts in the Minor Leagues, but he is an option for the Rangers.
Napoli still missing from lineup
First baseman Mike Napoli was out of the lineup for the second straight game on Tuesday against the Rays, with tightness in his lower back. Joey Gallo started at first base again, with third baseman Adrian Beltre back in the lineup.
Manager Jeff Banister said Napoli is available off the bench. Napoli could be back in the lineup Wednesday, but he is also 1-for-19 with 11 strikeouts in his career against Rays starter Chris Archer.
"That means he is due," Banister said.
Outfielder Delino DeShields has also been bothered by back spasms, the result of trying to make a diving catch Friday in Toronto. But he was back in the lineup Tuesday.
Worth noting
• Outfielder Carlos Gomez, who is on the disabled list with a strained right hamstring, took batting practice on the field Tuesday for the first time since sustaining the injury two weeks ago. Gomez did some light sprinting Monday, and recovered nicely from that. He will try more running Wednesday.
• Banister on Angels outfielder Michael Trout being out 6-8 weeks after undergoing thumb surgery, "I like to have all our best players on the field, whether they are on our side or the other side. It's best for the game, and best for the fans. When you suit up, you don't always get to choose who you are competing against, but you hope to compete against the best."