Rays unveil 2020 Opening Day roster
Club rolls with 16 pitchers to begin 60-game season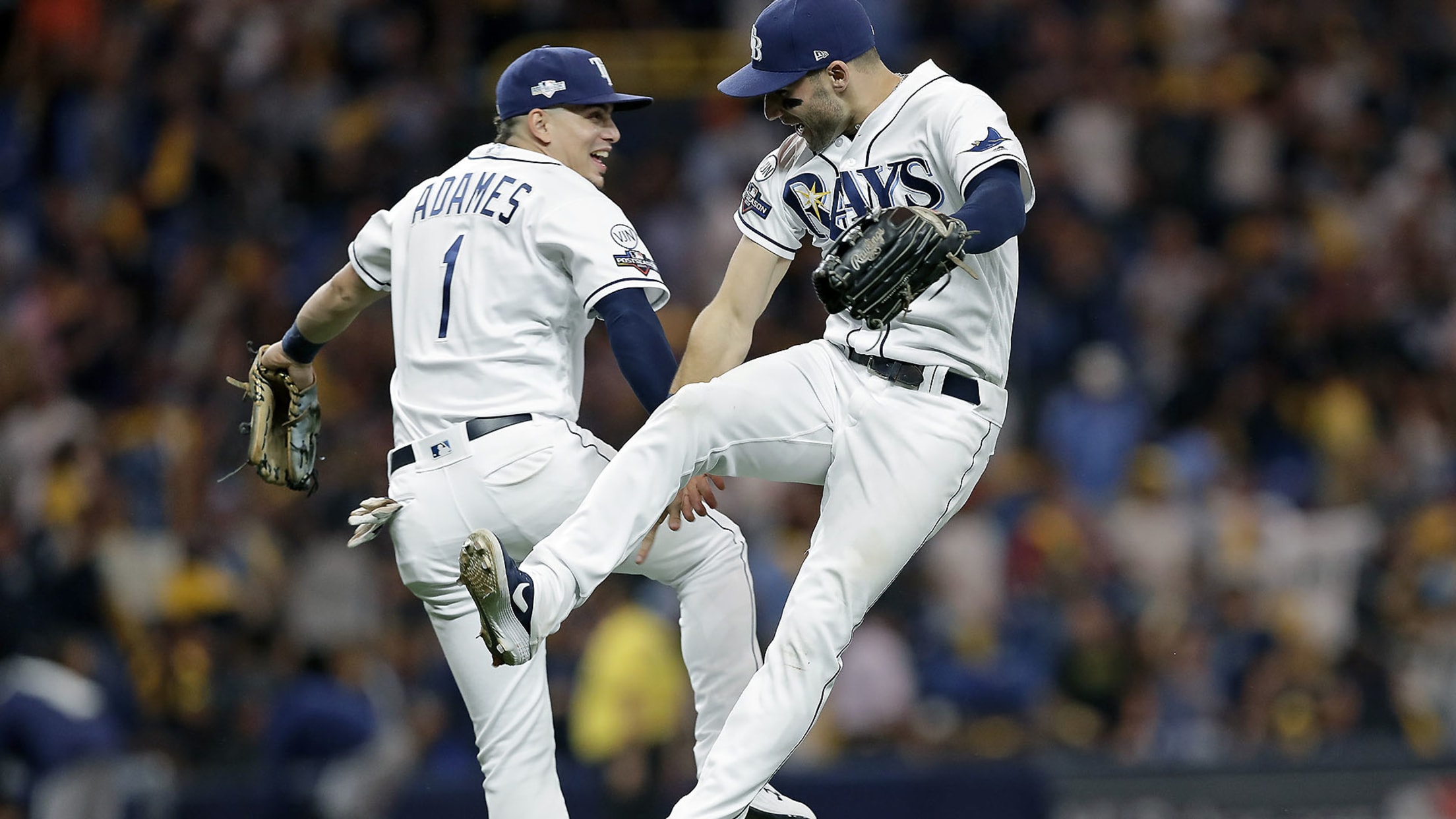 ST. PETERSBURG -- After three weeks of Summer Camp, the Rays finalized their 30-man Opening Day roster on Thursday. Tampa Bay ultimately decided to go with three catchers, seven infielders and four outfielders. The club also elected keep 16 pitchers, which should help the team get enough length with starters
ST. PETERSBURG -- After three weeks of Summer Camp, the Rays finalized their 30-man Opening Day roster on Thursday.
Tampa Bay ultimately decided to go with three catchers, seven infielders and four outfielders. The club also elected keep 16 pitchers, which should help the team get enough length with starters not expected to go more than four innings in their first turn through the rotation.
"I think it's a talented team that has pitching depth and has a lot of versatility on the position-player side [of] the roster," said Rays manager Kevin Cash. "[I'm] confident that we're going to really do our best and be good at catching the ball defending. The guys have taken so much pride in that."
It's also important to note that the Rays will trim their roster to 28 players after two weeks and then it will be cut to 26 players on Day 29 of the season. Here's a look at who Tampa Bay will carry in its Opening Day matchup against the Blue Jays on Friday at Tropicana Field.
Catchers (3): Mike Zunino, Michael Perez, Kevan Smith
Zunino and Perez will handle most of the catching duties, with Smith, who made a good impression over the last few weeks, filling in as a key right-handed bat off the bench and a potential option at designated hitter against left-handed pitchers. The decision to go with three catchers came down to retaining depth at the position. Because Smith doesn't have any options, the Rays had to add him to the 40-man roster or risk losing him on waivers.
First basemen (2): Ji-Man Choi, José Martínez
Despite missing the first two weeks of camp, Martínez was able to get enough at-bats to make the Opening Day roster. Expect Martínez to be in the lineup against all lefties this season. Choi will handle first-base duties against right-handed pitchers -- and he could be the leadoff hitter against righties with Austin Meadows still recovering from a positive COVID-19 test.
Second basemen (3): Brandon Lowe, Joey Wendle, Mike Brosseau
Lowe and Wendle get the nod as the primary second basemen, but the two will also play other positions. Lowe will play right field -- at least until Meadows returns -- and Wendle can play all over the infield, being a plus defender at second, third and short. Adding Brosseau over Daniel Robertson was one of the last decisions for the Rays. Brosseau can play multiple positions in the outfield, but his ability to play the corner outfield spots ultimately won him the roster spot.
"The decision between Brosseau and Robertson [was] a difficult one," Cash said. "Brosseau really did some special things for us last year. He's had a tremendous camp; he's versatile and he helps in so many ways where he can play defensively."
Cash also noted that he fully expects Robertson to help the big league club at some point during the 2020 season.
Shortstop (1): Willy Adames
Adames played 152 games last year and there's a chance he could play all 60 games in the condensed season. Adames became one of the top young shortstops last season and he could make a run for a Gold Glove Award in 2020.
Third baseman (1): Yandy Díaz
Now that he's fully recovered from a left foot fracture, Díaz was one of the standouts during Summer Camp. He will get most of the team's reps at third base, but he could also fill in at first base. Díaz hit a career-high 14 home runs last season and he is trying to build off that this year.
Outfielders (4): Kevin Kiermaier, Hunter Renfroe, Yoshi Tsutsugo, Manuel Margot
With Meadows and Randy Arozarena not available at the beginning of the season, the Rays will go with just four outfielders. Kiermaier will handle most of the duties in center field, with Renfroe and Tsutsugo playing as the corner outfielders. Margot will play some center field against lefties, but he could also play left field in order to strengthen the outfield defense.
Starting pitchers (6): Charlie Morton, Blake Snell, Tyler Glasnow, Ryan Yarbrough, Yonny Chirinos, Trevor Richards
No surprises here. Morton, Snell, Glasnow, Yarbrough and Chirinos should make up one of the best starting rotations in the Majors. Chirinos' status was uncertain after he missed the first two weeks of camp, but after watching the right-hander pitch three innings in a simulated game on Thursday, the Rays felt confident that he was ready for the start of the season. Richards provides starting depth, but he could also be used as a long reliever.
"I feel good," Chirinos said. "The work that I did at home really allowed me to feel comfortable facing batters [on Thursday]."
Relief pitchers (10): Nick Anderson, Diego Castillo, Chaz Roe, Oliver Drake, José Alvarado, Pete Fairbanks, Andrew Kittredge, Aaron Loup, Ryan Thompson, Jalen Beeks
No surprises here, either. The Rays were contemplating going with 17 pitchers to start the season, but they felt that they had enough length to go with 16 pitchers. Anderson and Castillo will likely assume the high-leverage roles, but there's plenty of depth with Roe, Drake, Alvarado and Fairbanks. After an impressive showing, Thompson makes the roster after beginning Summer Camp at the Port Charlotte alternate training site.
"I don't think we had a firm number, we just wanted to round out the best roster to get us going for Day 1," Cash said. "I certainly don't think we'll stay consistent with 16 pitchers the whole time -- sometimes we'll have 16, sometimes we might have 18, I don't know how that will unfold. We will always prioritize the health of the pitchers and making sure we have plenty of coverage, because that's such a strong point for us."
Juan Toribio covers the Rays for MLB.com. Follow him on Twitter @juanctoribio.