Rays let late lead slip away, drop into 2nd place
After Lowe hits go-ahead RBI double in 8th, Alvarado blows save in 9th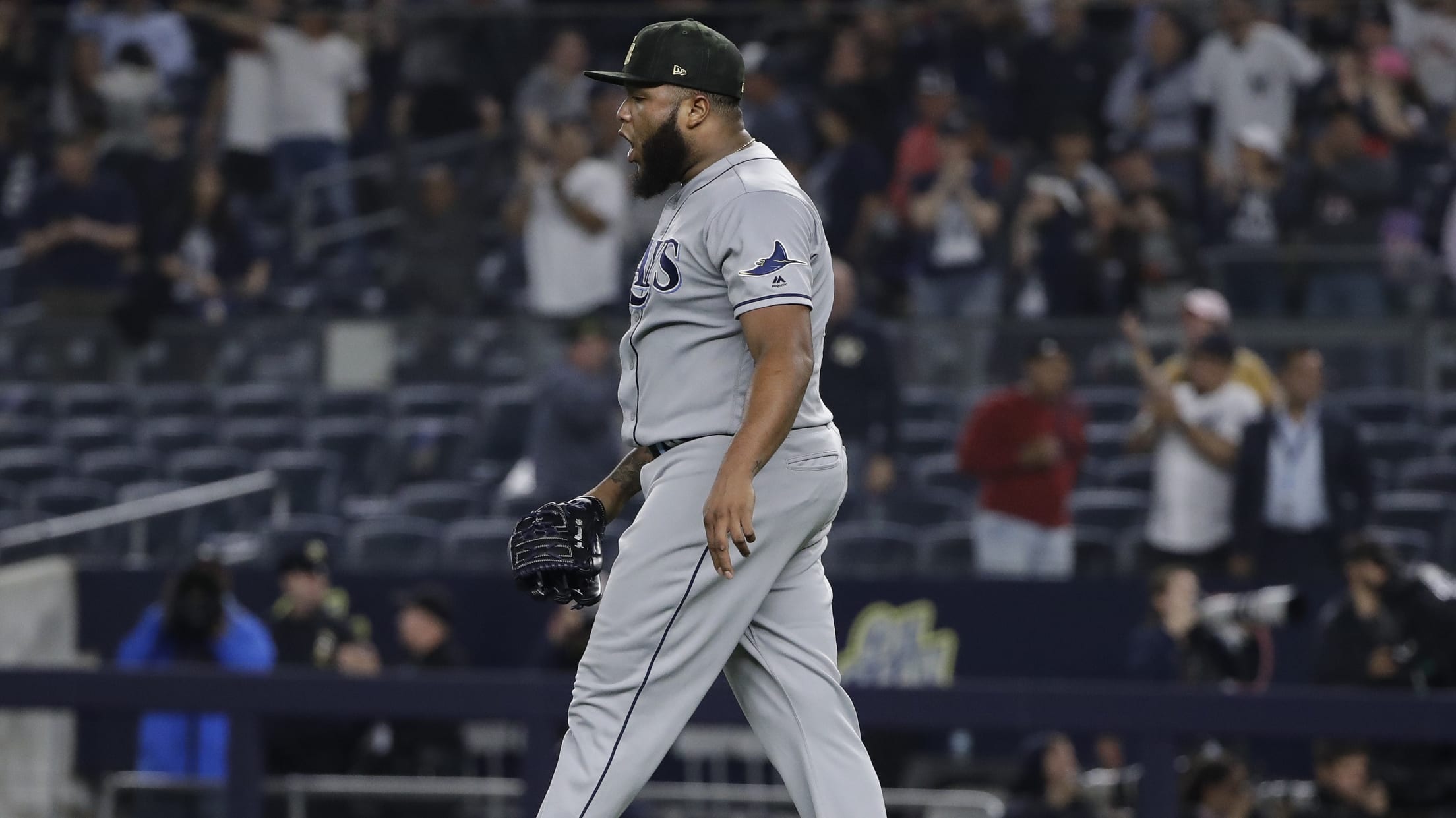 NEW YORK -- The Yankees showed on Friday night that they plan to be a factor in the American League East race. The Rays blew a two-run lead in the ninth inning and lost to the Yankees, 4-3, on a walk-off single by Gio Urshela at Yankee Stadium. The Yanks
NEW YORK -- The Yankees showed on Friday night that they plan to be a factor in the American League East race. The Rays blew a two-run lead in the ninth inning and lost to the Yankees, 4-3, on a walk-off single by Gio Urshela at Yankee Stadium. The Yanks moved into first place in the AL East and are now a half-game up on the Rays.
The Rays were three outs away from increasing their lead in the AL East race to 1 1/2 games thanks to a two-run eighth inning in which Brandon Lowe delivered a go-ahead RBI double, but the Yankees rallied against Rays left-hander José Alvarado, who has been lights-out this season. Luke Voit led off and hit a first-pitch home run over the right-center-field wall to make it a one-run game.
"[The Yankees] must have remembered what I was throwing them in the last series [in St. Petersburg]," Alvarado said. "You can tell they were sitting on the same pitch. They all seem to be comfortable out there, but it was one of those days where it wasn't my day. They just beat me."
After Gary Sanchez singled and Kendrys Morales struck out, Gleyber Torres battled Alvarado in a 10-pitch at-bat against the lefty. Torres ended up winning the battle when he swung at a 3-2 pitch and doubled over the head of left fielder Tommy Pham to put runners on second and third. Clint Frazier was walked intentionally to load the bases before Alvarado threw a wild pitch that scored pinch-runner Thairo Estrada with the tying run.
"We know we're up against a tough customer in Alvarado there, but guys expect it," Yankees manager Aaron Boone said. "Guys have been so good in the compete department that I wasn't surprised that they'd go down fighting. But to string together the level of at-bats against that guy right there was really impressive."
Two batters later with two outs, Urshela doubled over the head of center fielder Kevin Kiermaier, scoring Frazier to end it.
"There is no excuse for what happened," Alvarado said. "It's part of the game. It's going to happen, but they must have been ready. I was doing everything I could to have them put the ball in play like I normally do. But they must have been sitting on my fastball and they won."
Rays manager Kevin Cash said it was a tough way to lose a game. However, he liked what he saw the first eight innings, when Rays relievers allowed just a run on five hits.
"You have to give the Yankees some credit," Cash said. "They really had some good at-bats against Jose. I think we would all agree he has been outstanding this year. Just a little blemish and he'll bounce back. Yeah, tough to lose a ballgame that way."
Bill Ladson has been a reporter for MLB.com since 2002. He covered the Nationals/Expos from 2002-2016. Follow him on Twitter and Facebook.